UCLA's X1 Robotics seeks to engage students in hands-on projects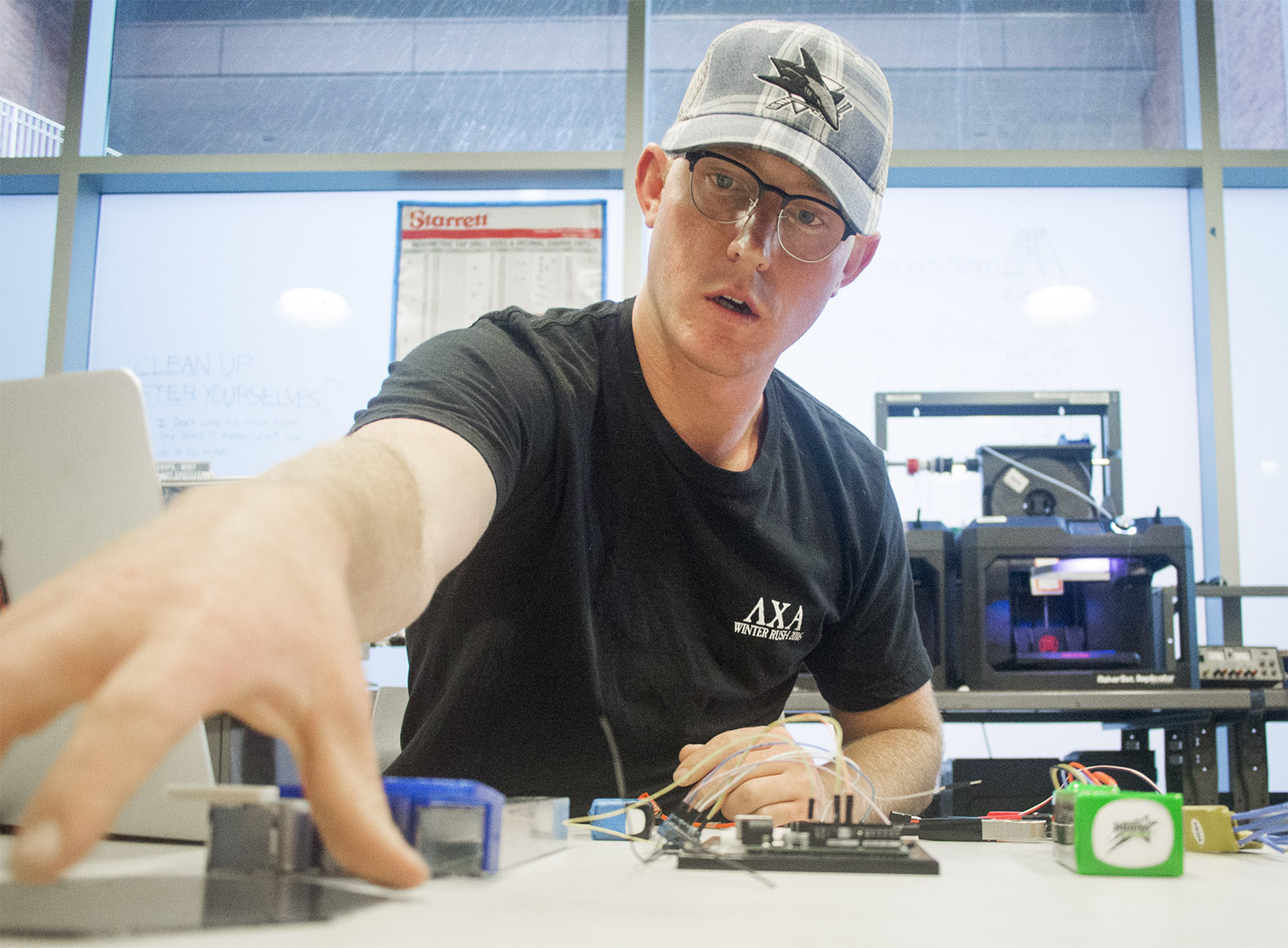 Prescott Rynewicz, a third-year aerospace engineering student, is part of X1 Robotics, a student-run robotics club that aims to engage engineering students in projects. (Ken Shin/Daily Bruin)
The second floor of Boelter Hall is often heard before it's seen.
Filled with sounds of metal striking metal, the open workspace is cluttered with wires, rods and circuit boards, serving as the home base for multiple engineering and computer science groups – and now, X1 Robotics.
X1 Robotics is a student-run robotics club founded in the fall that aims to engage engineering students in projects, said third-year aerospace engineering student Prescott Rynewicz. The 25-member club is working to build its first engineering project – a semi-autonomous iPhone-controlled drone. The club aims to finish building the drone by the end of the quarter.
Rynewicz said he thinks some engineering clubs are repetitive and don't give students independence when creating projects, which motivated him to start his own.
He said he wants to make X1 Robotics a club where students can be engaged in hands-on projects, such as building automated robotics. He added he is interested in working on projects that improve the efficiency of everyday tasks.
"People do things a certain way because … of tradition," Rynewicz said. "It may be working, but it may not be working as well as it could."
For initial funding, the club asked each member to give a $20 to $30 donation upon joining. In 2016, X1 Robotics became affiliated with the American Society of Mechanical Engineers, which is now the club's main source of funding.
Rynewicz first pitched the idea of the club to several fraternity brothers in Lambda Chi Alpha, including Kyle Baker, a third-year computer science student and one of the project leads.
Baker said he worked on smaller projects and a remote-controlled car at a hackathon, but he has never worked with a larger organization.
"A lot of clubs take on one specific project and do it every year," said Baker, a signatory of the club. "(X1 Robotics) can go in any direction we want, and I'm interested in working with people from other engineering disciplines on a robotics project we all want to do."
Baker works on the commands coded via Raspberry Pi – a compact, hackable, single-board computer that will be placed in the drone. Baker said he entered UCLA as an electrical engineering student, but was soon drawn to the logical thinking and puzzle-like challenges in computer science. As the lead of the Raspberry Pi team, he collaborates with the iPhone team to ensure software properly connects to the mobile device.
Baker said the club is currently split into five teams working on the various subsystems of the drone, including a flight controller team, a mechanical engineering team, an iPhone app team, a systems engineering team and the Raspberry Pi team.
Other members said they wanted to join X1 Robotics because it would give them a chance to apply lessons from the classroom to original projects and broaden their technical breadth.
Yungunn Ko, a Raspberry Pi team member and fourth-year chemical engineering student, said he is working to create an ad hoc network or a hotspot between the iPhone and Raspberry Pi.
Ko said the Raspberry Pi team is formatting the iPhone GPS so that it sends commands to the Raspberry Pi when it is attached to the drone. Even if the connection between the two devices drop, the single-board computer will remember the GPS system on the iPhone and direct the drone back to the ground.
"I wasn't interested in robotics at first," Ko said. "What I like about X1 is that you get to take initiative. (You are not) modeling other people's works."
Ko said he wants to implement Oculus virtual reality glasses and experience the sensation of flying through the drone's camera.
Members of the club plan on completing most of the software development, transitioning from coding on a computer screen to physically building the drone. As students work on embedding the Python code in the Raspberry Pi, they are surrounded by rods and sheets of metal, all produced by a 3-D printer.
Rynewicz said he is working on ways to diversify the types of activities students can do to hone their robotics skills. He is planning on adding three new divisions to the club next year, including the continuation of the drone project, a national competition team and perhaps a small group to focus on daily-life automation robotics.
He added he hopes to foster a more interactive and streamlined learning environment through small projects and workshops led by the project leaders and ASME.
With the next wave of recruits in the fall, X1 Robotics plans to improve its project education program. Rynewicz said he wants the program to include computer design, machine programming, software specialization and other courses related to robotics.