Bruin Republicans discuss candidate Donald Trump, upcoming primary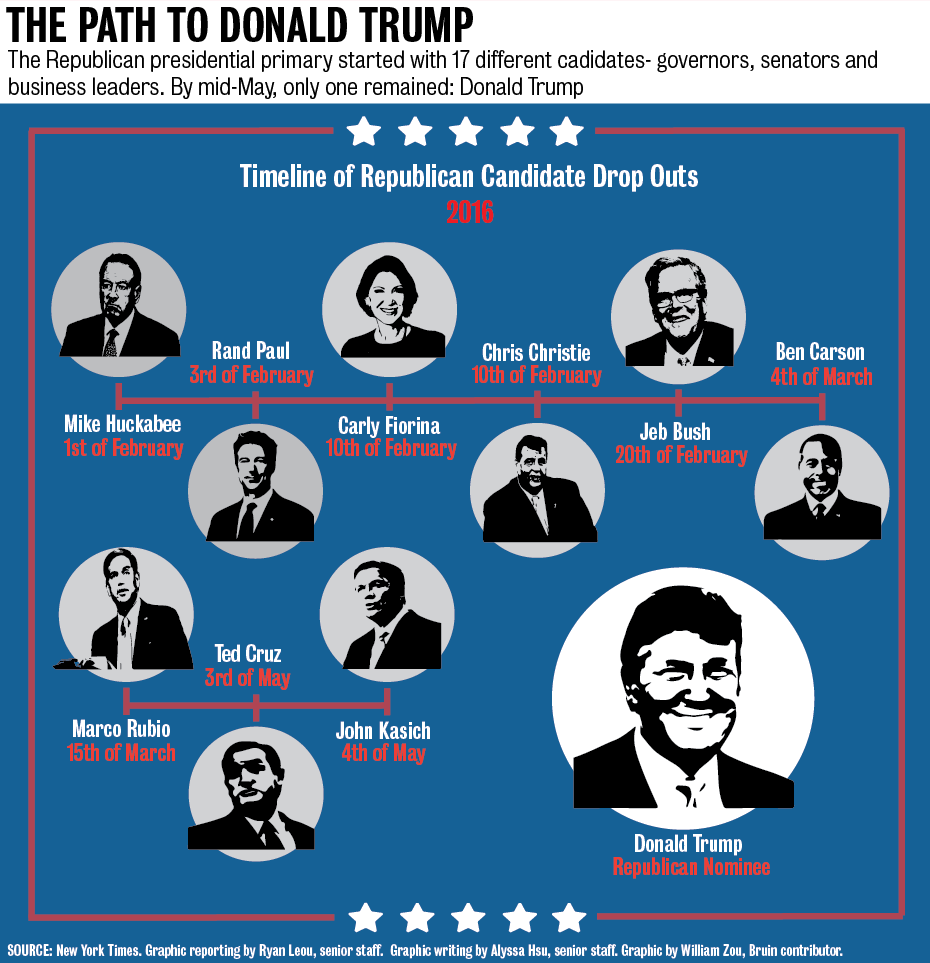 By
Daily Bruin Staff
May 19, 2016 12:32 a.m.
Members of Bruin Republicans said they are uncertain about how they will vote in the California primary, after several major Republican candidates dropped out of the race.
Republican presidential candidate Donald Trump won the Oregon primary unopposed Tuesday. While some members of Bruin Republicans, a student-run conservative political organization, supported Trump even before he was the last GOP candidate left, others are disappointed he will likely be the Republican nominee.
Bruin Republicans endorsed Sen. Marco Rubio, R-Fla., back in January.
Some members of Bruin Republicans are concerned about Trump's trustworthiness and how well he represents conservative values.
Michael Bezoian, Bruin Republicans issues director and third-year political science student, said he is unsure about what Trump stands for because he has changed positions on many issues. Bezoian said he plans to vote reluctantly for Trump if he is the Republican nominee.
Jim Newton, a lecturer in the communication studies department and editor in chief of Blueprint, a UCLA magazine about state governance, said Trump's social policies also do not appeal to many social conservatives.
Haley Nieves, Bruin Republicans external vice president and second-year political science and international development studies student, said she disagrees with Trump's positions on social issues, such as his support for Planned Parenthood.
She added she also disagrees with Trump's stances on some economic issues, like his support for protectionism in trade.
Nieves said she will focus on supporting Republican candidates in state and local elections rather than the presidential election, because she does not plan to support Trump or the Democratic Party. She added she is working with the California College Republicans to reach out to potential voters by phone and in person for various local officials.
Alex Rhim, Bruin Republicans president and third-year political science student, said he thinks Trump's policies would infringe upon the basic liberties conservatives emphasize.
"The few policy paths offered by the Trump campaign have demonstrated a complete disregard for limited government, individual freedom (and) civil liberties," Rhim said.
Rhim added he especially opposes Trump's proposed ban on Muslim immigration based solely on religion. He also opposes Trump's plan to deport undocumented individuals because he thinks the process would be indiscriminate and disregard the privacy of Americans.
Communication studies professor Bill Schneider said he thinks Trump has created a division in the Republican party because of his views, which will make it very difficult for him to win the presidency.
"(Trump) has developed a constituency that rejects a lot of mainstream decisions, but that's not anywhere the majority," Schneider said.
Newton added he thinks Trump may also damage Republican Party candidates at the state and local level. Republican candidates in states such as Illinois and New Hampshire might have a hard time winning if their presidential candidate is not popular, he said.
Rhim said he would vote for a Libertarian or Democratic candidate because he would rather see the Republican Party disintegrate than see a Trump-led party survive.
"I want the the GOP to die out," Bezoian said. "Republicans have stopped supporting conservative values. They campaign on being conservatives but their voting records don't back it up, and, when push comes to shove, Republicans always back down."
Zev Yaroslavsky, director of Los Angeles initiative at UCLA Luskin School of Public Affairs, said he thinks despite the fact that Trump's road to the presidency will be a difficult one, voters should not underestimate Trump. He added he thinks Trump has tapped into voters who never used to vote actively, which gives Trump a certain amount of political power.
Rhim said Bruin Republicans currently has no plans to endorse any candidate for the primary.
The California presidential primary will take place June 7. The deadline to register and change parties is Monday.