Student helps girls keep on track through running, self-reflection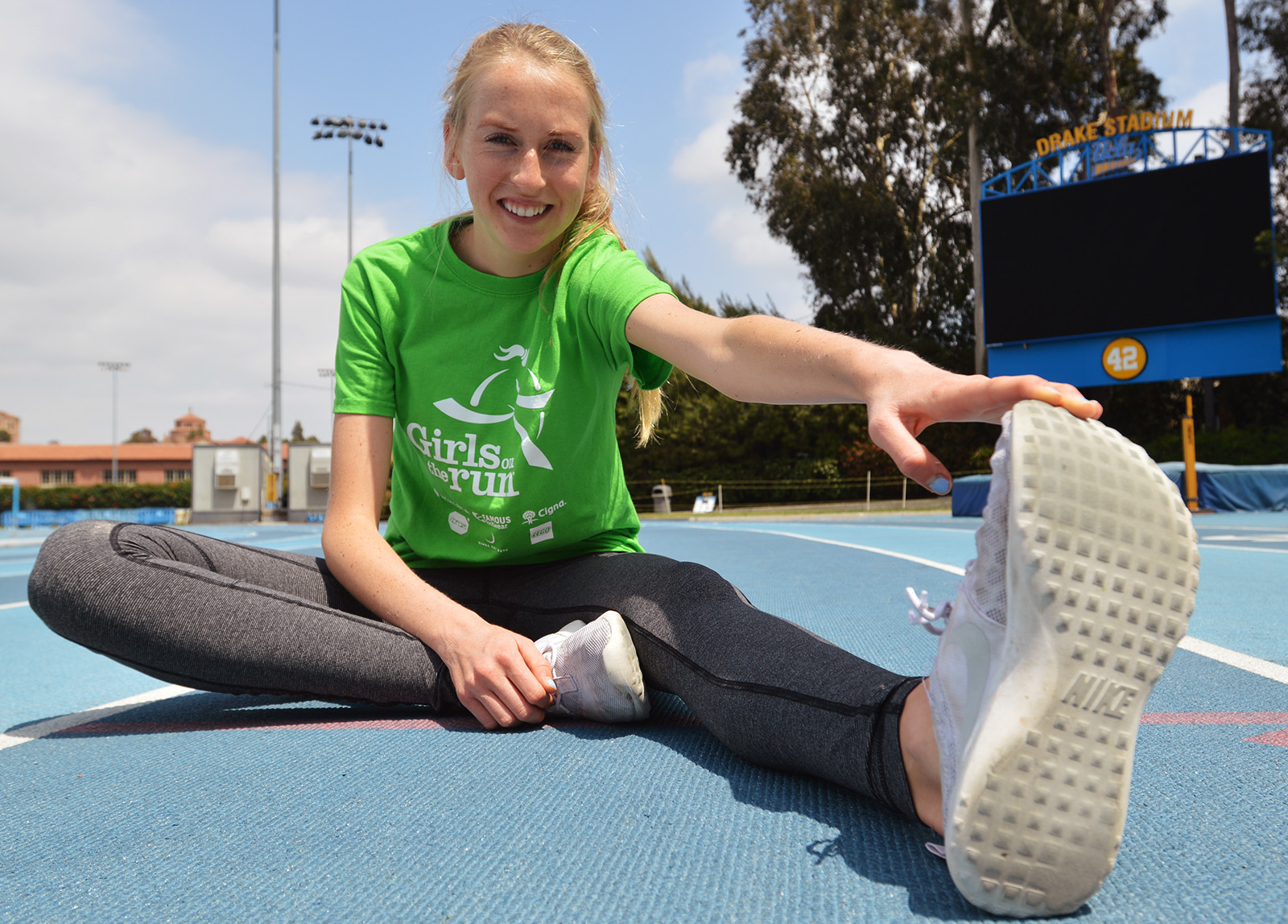 Becca Waggoner, a first-year pyschobiology student, mentors and coaches girls through Girls on the Run, a nonprofit team-building and running program.
(Shelby Scoggins/Daily Bruin)
Becca Waggoner still remembers the rush she felt when she completed her first long run when she was 13 years old. She was nervous, but the thrill of the race stuck with her.
Now, Waggoner works as a mentor to girls much like her 13-year-old self as a coach for Girls on the Run, a nonprofit program that aims to empower girls through running and team-building.
Waggoner, a first-year psychobiology student, said she became interested in the idea of sharing her love of running with younger girls after she heard of Girls on the Run through the president of her sorority.
Waggoner began running as part of her high school's cross-country club, and wanted to stay involved after she left for college. In March, she began working as a coach for Girls on the Run at Roscomare Road Elementary School with girls from third through fifth grade.
Girls on the Run participants run laps, reflect on their days and discuss issues such as body image, Waggoner said.
Janey Almaraz, Waggoner's co-coach and a first-year psychology student, said coaching often involves more than simply running alongside the team because the girls are young.
"(The girls) are in elementary school, and it can be a difficult time," Almaraz said. "Maintaining their focus is hard, but Becca is a good team leader and head coach."
Katie Bradshaw, volunteer manager for Girls on the Run, added Waggoner's experience as a runner makes her a better coach, especially as the girls are training for their first 5-kilometer race Sunday.
"She's always engaged and enthusiastic," Bradshaw said. "She really believes in the next generation of young women."
Sabrina Fleischman, mother of Alyson Fleischman, a third-grade student who participates in Girls on the Run, said her daughter never wants to leave practice because she enjoys it so much, and has recently become more motivated to exercise.
"She asked me and my husband if we wanted to race with her," Fleischman said. "We're not ready, but she is."
Girls on the Run coaches begin practice by asking the girls to think about a word, such as generosity, and how they have experienced it, Waggoner said. She added she noticed two girls became friends after coaches led a lesson about friendship.
Waggoner said the program allows the girls to find their own pace, both in running and within the social groups at their schools.
When the team first started practicing, she said she noticed girls would often run slower to stay with their friends.
"As we've been going on, they are more willing to run with somebody who's faster and not necessarily their best friend," she said.
Waggoner, a longtime runner herself, said girls often recover from fights with other girls in the program because running helps relieve the tension and affords them time to reflect on their lives.
"When you're so young, a lot is changing … and it's important to have time in your day to think about who you are and who you want to be," Waggoner said.
Last week, Waggoner's team completed a practice 5-kilometer in preparation for their upcoming race.
"Each one of them wanted to go the whole three miles – they were very enthusiastic about finishing it," Waggoner said.
She added the excitement she felt upon seeing her Girls on the Run team finish up its longest run reminds her why she keeps running.
Bradshaw added the lessons of hard work and motivation are relevant even after the girls leave the program.
"Working hard, getting sweaty and feeling strong – those are things that are valuable to women of all ages," Bradshaw said. "They feel alive when they're part of the program."