Q&A: Blogger Bobby Knight talks NCAA Men's Tennis Tournament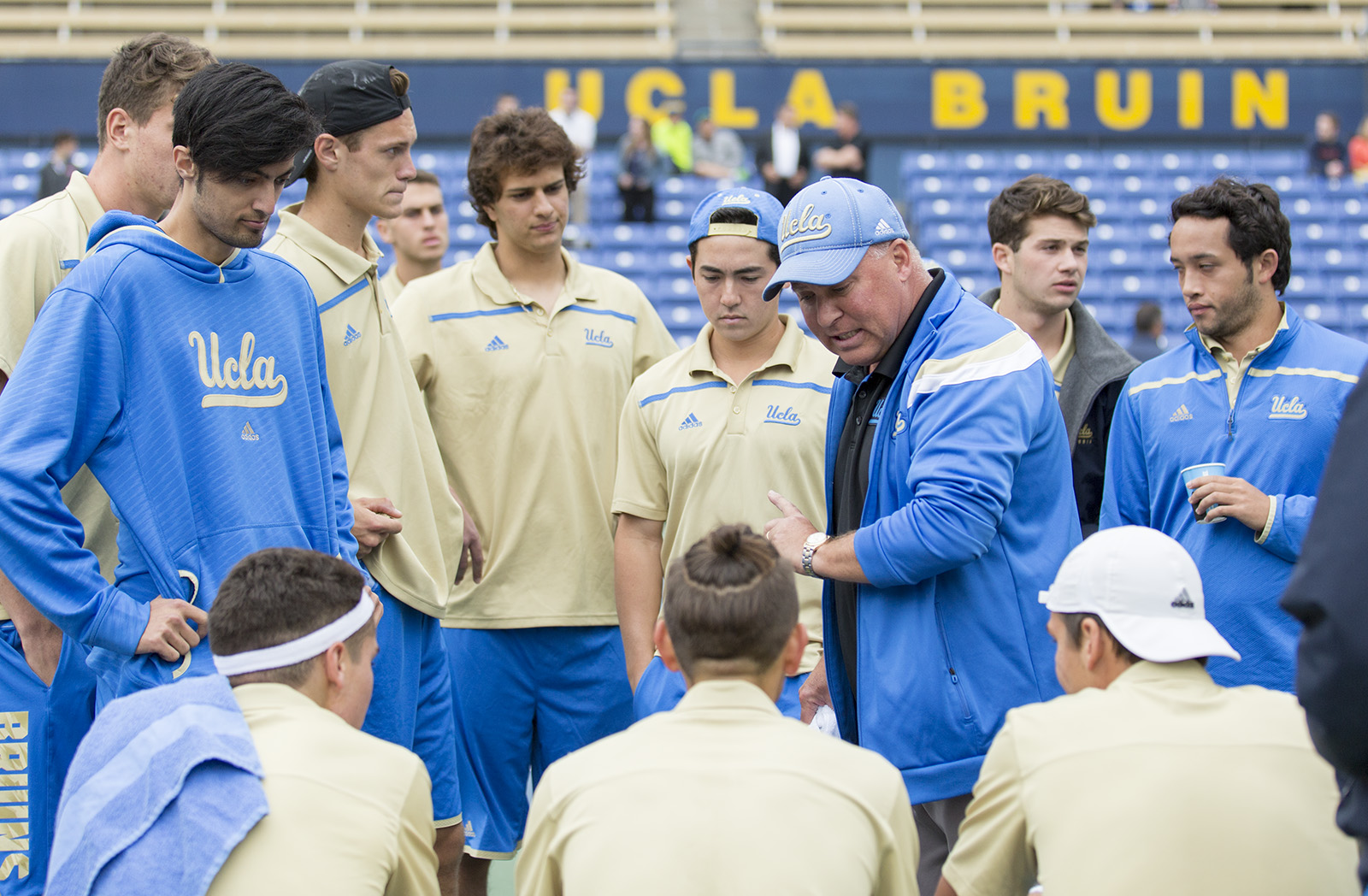 No. 3 UCLA swept Weber State and USD to reach the round of 16. A fourth meeting with Stanford stands between them and a quarterfinal berth. (Kathy Chen/Daily Bruin)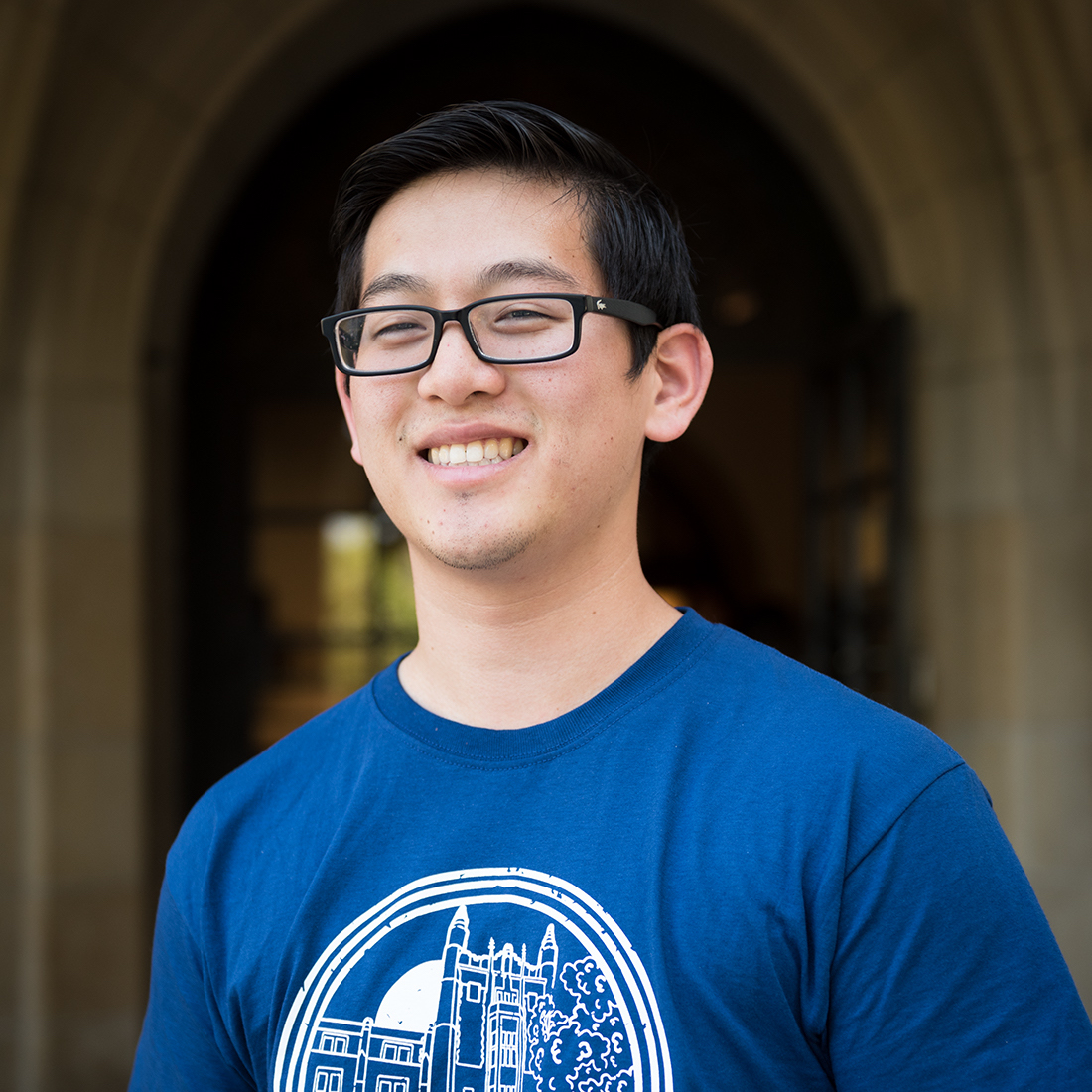 The 2016 NCAA Division I Men's Tennis Tournament is underway, with the round of 16 set to begin Friday in Tulsa, Oklahoma. No. 3-seed UCLA takes on Stanford after defeating Weber State and University of San Diego in the first two rounds, so Daily Bruin Sports held a Q&A with college tennis blogger Bobby Knight to discuss his thoughts on the bracket and predictions for the tournament. You can tweet Knight @College10s2day or follow his blog www.collegetennistoday.blogspot.ca.

Daily Bruin: What are your overall feelings about the seedings for the tournament? Were there any decisions you were surprised about?
Bobby Knight: I thought the selection committee did a pretty good job for the most part. I mean, they made some interesting moves where they swapped certain teams based on head-to-head wins, but didn't swap others. North Carolina got moved ahead of UCLA despite UCLA being ranked ahead of them, and the committee did the same thing for Oklahoma and USC at 10 and 11, but then they didn't do it for Georgia and Texas Tech at seven and eight and Illinois and Northwestern at 14 and 15. So like I said, the only thing that surprised me was that it wasn't uniform. You'd think if they were gonna do a head-to-head swap on one pair, they would do it on all. So it was a little bit interesting that it was kind of selective the way they did that there. But overall, I think the way they matched it up and the way it was seeded was pretty strong.
DB: What factors into the process of seeding teams for the tournament and do you think this process can be improved?
BK: The main thing is that they always base the draw on the (Intercollegiate Tennis Association) rankings. For the most part, I think the rankings are probably the best thing they can use because they give everyone a fair take and it takes into account the nine best wins everybody's had and all your losses. That way, a team from a smaller conference has a chance to have a similar ranking if they played up in level. The ITA rankings and the head-to-head records between adjacent teams (in the rankings) – I think the guidelines are fine as long as the committee use them uniformly throughout the bracket.
DB: There's been a couple teams such as Virginia, North Carolina, TCU and UCLA that have been near the top of the rankings for most of the year. Who do you think are the clear-cut favorites to win the championship, and who might be some dark horses?
BK: Yeah, I think each of the top-five seeds are all (favorites), but there's no clear-cut favorite this year with the way no-ad has leveled the playing field, but I'd be a little surprised if it's not Virginia, UCLA, North Carolina, Ohio State, TCU – if one of those five didn't win, then I'd be a little surprised, but I'd probably say Wake Forest and Georgia are the next tier there. I look at them as dark horses, so if one of those two won, there'd be a little surprise. They both have the talent, but I don't think they quite have the top-end talent that those other five schools have.
DB: Wake Forest is in UCLA's end of the bracket, so other than them, what teams do you think present the biggest challenge to UCLA?
BK: Like I said, Wake Forest – although it's not a given that Wake Forest will beat Oklahoma – will be a tough one. Then I guess (UCLA) would eventually match up with North Carolina in the semifinals, if they make it that far. North Carolina seems to be one of those teams that has kind of played up to the occasion in the big-time tournaments, the big matches. It seems like they show up a lot more, whereas they had a few odd losses to Florida State and Notre Dame, matches they should have won, but it seemed like the motivation may not have been there for those matches. If they play like they did against Virginia this year and in the National Indoors, then they're gonna be a tough out for anybody.
DB: This year is sort of a bounce-back season for UCLA after last season ended disappointingly. How far do you think UCLA goes, and what's your biggest question facing UCLA as it enters the tournament?
BK: Right now, I think anything less than the semifinals will be kinda disappointing with the kind of year that they've had. North Carolina's already gotten them once – it's tough to beat the same team twice, but I have North Carolina getting past (UCLA) in the semifinals. UCLA definitely has the talent where they can go far and they could win it all. There's no better No. 1 in the country, probably, than Mackenzie McDonald, and it seems like, there at the end, they're stronger in doubles. They got Gage Brymer back and healthy, and he's helped shore up the top three a little bit more this year. Karue Sell's been tearing it up at four, and it seems like even the guys at five and six, you know, I wouldn't say they're huge favorites over everybody, but they're winning a lot more than they're losing. So I'd say – I know in the past that Billy's biggest concern was five and six, but (Logan Staggs and Joe Di Giulio) have more than held their own against everybody this year, so as long as they can keep winning two out of three or so up top, they got a chance to beat anybody.
DB: You mentioned that there have been a lot more upsets this year with the top-10 teams. Do you think there is more parity in college tennis this year compared to past years?
BK: Yeah, I think so. It's just the way no-ad scoring has just opened it up to where – in the past, the better player could grind down the lesser-ranked player, but now things go so quickly from 40-0 to 40-40. The ones who are a little bit mentally stronger seem to be coming through, and I can't remember any time in the past where this many higher-ranked teams have been losing to teams that were 30, 40, 50 spots lower. It's given some of the other guys a chance to where they get hot for a couple games, and the next thing you know they got a set, where in the past they might only win a game or two if it was long ad scoring. So yeah I'd say there's definitely more parity this year. You still got a lot of the same top-end teams, but I think on any given day it seems like a lot of the other teams can string together a nice win. They might not be able to take out two, three teams in a row, but in that one individual match there's a chance they can pull the upset.
DB: With the ITA announcing a couple weeks ago that it was moving their headquarters to Arizona State, we kind of got a feeling that Arizona State was going to reinstate their men's tennis program. But now that they've officially reinstated it, what does that mean for the Pac-12, adding another team, and what does it mean logistically to add another team to the schedule?
BK: I think it's obviously huge, especially with it being somebody who's upper level, not to say anything bad about Oregon State or Washington State, but Arizona State, that's a big-time player there. I'd like to think with the amount of money that they're gonna spend that they'd get a nice coach and get some nice recruiting – there's no reason they shouldn't be a top-25, top-30 team. I guess the only challenge is that there's gonna be an odd number of teams (in the Pac-12). There's always gonna be somebody that's playing one match during the week in the conference schedule as opposed to everyone always playing two and two. But I think it's good for the conference, and it's one of the few positives we're seeing in college tennis. You always hear about these programs getting dropped and it's nice to see that someone's coming back. It's probably all tied to the football TV money, so if that keeps getting bigger, then maybe that'll rub off on tennis. Hopefully, that'd be nice.
Wang joined the Bruin as a freshman in 2015 and contributed until he graduated in 2019. He was an assistant Sports editor for the 2016-2017 academic year and spent time on the football, men's basketball, women's soccer, men's tennis and women's tennis beats.
Wang joined the Bruin as a freshman in 2015 and contributed until he graduated in 2019. He was an assistant Sports editor for the 2016-2017 academic year and spent time on the football, men's basketball, women's soccer, men's tennis and women's tennis beats.