MakeUCLAGreatAgain candidate petitions for USAC election re-vote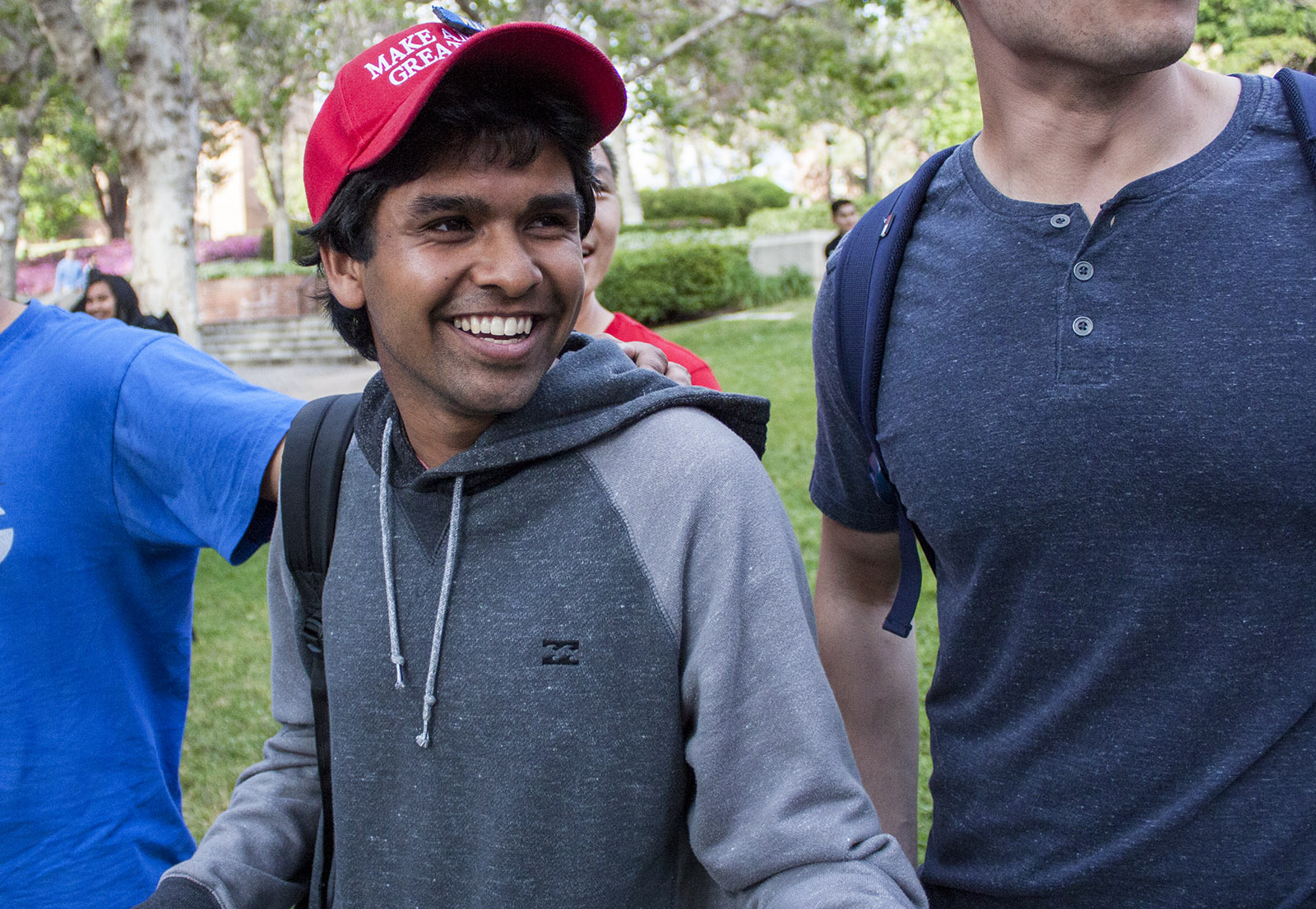 MakeUCLAGreatAgain candidate Shubham Goel submitted a petition asking USAC Election Board to disqualify the Social Justice Referendum and call a re-vote for all contested candidates in last week's USAC election. (Kathy Chen/Daily Bruin)
The original version of this article incorrectly stated that the public Court of Hearing will take place directly after the preliminary hearing.
MakeUCLAGreatAgain candidate Shubham Goel submitted a petition asking the USAC Election Board to disqualify the Social Justice Referendum and call a re-vote for all contested candidates in last week's undergraduate student government election.
Goel, the sole candidate who ran under the slate MakeUCLAGreatAgain, filed the petition to the USAC Judicial Board, which accepted it Friday afternoon. The judicial board will hold a hearing Wednesday night to decide whether it agrees with Goel, who argued the election board should continue to accept complaints or alleged USAC Election Code violations after voting ended 3 p.m. on May 6.
The petition doesn't aim to highlight what Goel called unfair practices of the election board, but instead aims to challenge the entire undergraduate student government for its corruption, Goel said. He added he thinks filing a petition against the election board was one of the only ways to do so.
Goel said the election board did not accept a complaint that alleged the Social Justice Referendum violated a previous sanction that barred supporters of the referendum from campaigning from 3 p.m. on May 5 to 3 p.m. on May 6. The complaint stated supporters of the Social Justice Referendum had a band campaigning on Bruin Walk during those hours.
The election board rejected another complaint, which alleged members of Bruins United posted a flier on a bulletin board in a campus building, because it was filed after voting hours, according to the petition. The election board did not issue a sanction, stating all complaints should have been filed prior to the conclusion of voting hours, according to the investigation report.
Goel said he is calling for a re-election of all contested positions because he believes the election board did not fairly sanction Bruins United.
Jazz Kiang, designated representative of the Social Justice Referendum, said those who performed on Bruin Walk when the Social Justice Referendum was barred from campaigning were not affiliated with the referendum. Kiang added he was unaware of the performance and did not coordinate it.
Munir Griffin, CEO and founder of the Westwood Village Entertainment Group, said a representative of the Social Justice Referendum asked the group to perform.
Kiang said he was concerned some of the students who signed Goel's petition were affiliated with student-run political groups Waves of Change and LET'S ACT!. Waves of Change is a new slate that ran in last week's USAC election. LET'S ACT!, a slate that has run candidates in elections since 2013, did not run candidates this year.
"I thought we had support from candidates from all slates," Kiang said. "It begs a disturbing question whether some (who we thought were) supporters are actually against our referendum."
USAC Election Board Chair Lindsay Allen said her office is looking into the petition.
The judicial board will hold a private preliminary hearing at 7:15 p.m. Wednesday.