UC Regents recap – May 11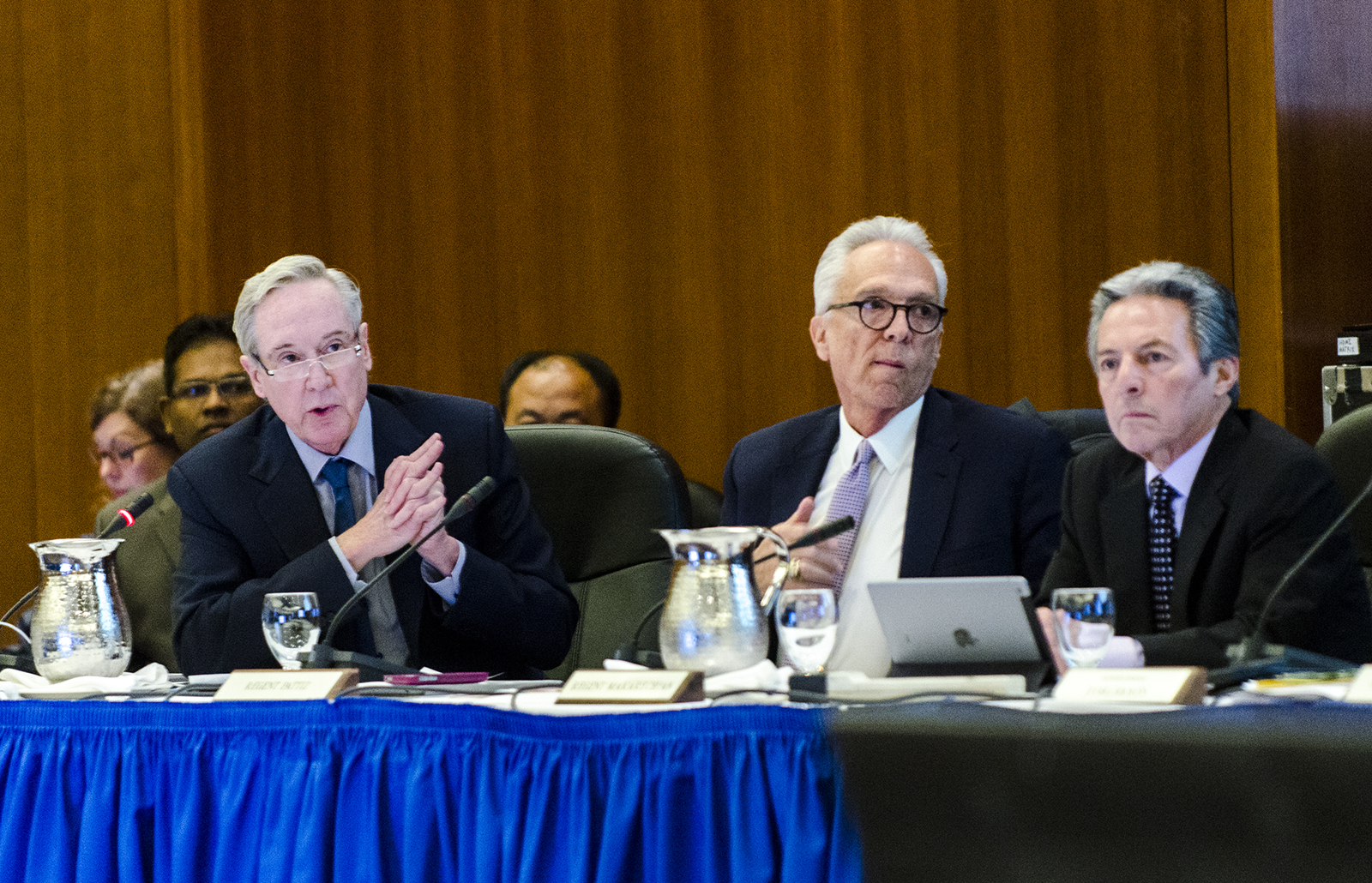 The University of California Board of Regents discussed requirements for student athletes, financial aid and diversity in UC schools, among others topics, Wednesday, the second day of its bimonthly meeting at the Sacramento Convention Center.
Committee on Finance
The committee heard updates on the state budget process, including new sources of funding and proposals from the legislature to increase enrollment.

Associate Vice President Debora Obley said funding for the UC in the governor's January budget proposal included a 4 percent increase in funding from last year's budget, $35 million for deferred maintenance of facilities costs and $170 million to help pay down the UC Retirement Plan's unfunded liability.

Obley also said additional funds from Proposition 2, a rainy day fund established to help pay down state debts, could be used to address problems with the UC pension plan. The state legislature will also allocate more funding because the UC met enrollment growth targets. The state legislature will approve the use of both funds in the next few weeks.

Obley also shared a proposal by assembly member Kevin Mccarty to increase undergraduate enrollment by 5,000 students every year for six years, funded by increasing nonresident supplemental tuition, cost-cutting within the UC and using additional state funds.

The legislature will vote on a budget proposal by June 15, and the governor must approve it by June 30.
Committee on Educational Policy
The committee voted to enact policies that aim to ensure the welfare of student athletes in the UC. The policies would integrate athletic administration into campus leadership to ensure student-athlete welfare is considered in all aspects of campus life. Athletic administrators would report directly to the chancellor to ensure accountability.

Recent reforms within the Pac-12 Conference include guarantees of four-year athletic scholarships for certain athletes and enhanced financial support should they become injured. Scholarships would not be revoked from students who can no longer compete because of injuries, so they can still finish their degrees with expected financial support.

Officials promoted the Blue and Gold Opportunity Plan, which allows families that make under $80,000 and are eligible for financial aid to not pay tuition.

They added the UC will survey students every three years to identify other educational costs besides financial aid.

Officials also promoted the Middle Class Scholarship program, which aims to extend financial aid eligibility beyond the coverage of traditional aid programs, by providing scholarships to families who make up to $150,000 a year.

University officials estimated there is a shortfall of approximately $15,000 between what students need and what the state is providing, which they said could dissuade potential students from enrolling.

Regent John Perez said the board should look into data about which students accept admission to UC and how much financial aid they are offered to see why some students, especially minority students, choose not to enroll at UC.

Vice Provost Yvette Gullatt and Provost Aimée Dorr shared the Accountability Report on diversity, which noted an increase in the number of minority undergraduate students and faculty members over the last 15 years.
Email Leou at [email protected] or tweet @rleou. Contributing reports by Kiera Kosciolek and Evolet Chiu, Daily Bruin contributors.