Student photo protests transgender identity, raises free speech debate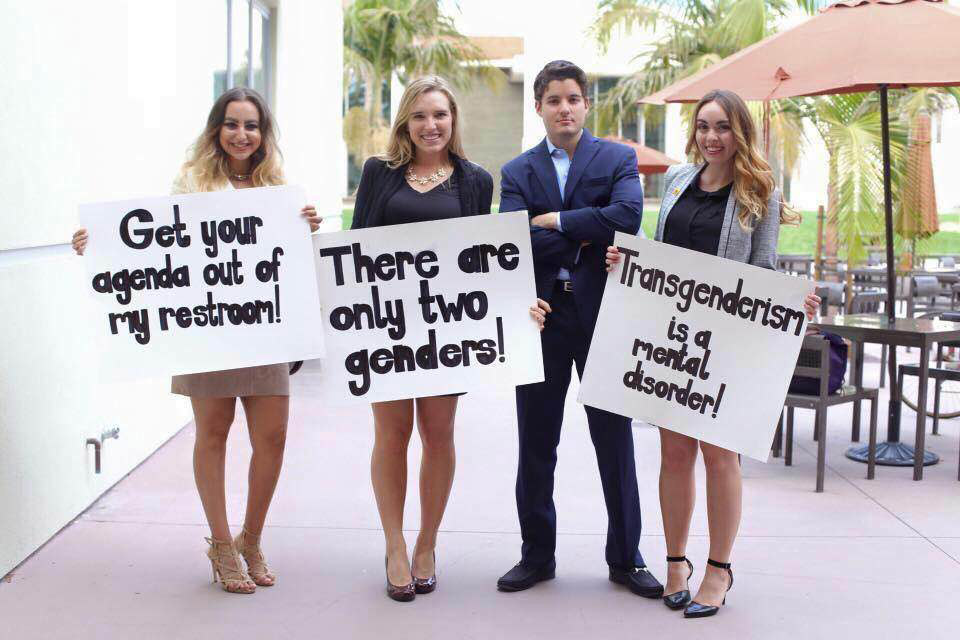 (Courtesy of Julia Nista)
Members of the UCLA community launched into a debate about free speech after a UCLA student posted a photograph in which students denounced the validity of identifying as transgender.
In the photograph circulated on Facebook and Twitter, three UCLA students and one UC San Diego student held signs that read, "Get your agenda out of my restroom!" and, "Transgenderism is a mental disorder!"
Julia Nista, incoming internal vice president of Bruin Republicans who posted the photo on Facebook, held a sign that said "There are only two genders!" in the photo. She said the photo was taken at a UC Santa Barbara lecture called "An Encroachment on Liberty: How the Left Exploits Transgender Laws."
Nista, a third-year political science student, said she doesn't wish any harm to the transgender community and only took the photograph to show her views on the issue.
"I may disagree with what they are doing, but what I was doing was not harmful," Nista said. "I never made any threats against them."
On March 23, North Carolina governor Pat McCrory signed House Bill 2, a bill that requires transgender individuals to use the bathroom in accordance with the sex listed on their birth certificate.
The Department of Justice and civil rights unions filed lawsuits against the bill, condemning it as a violation of human rights. The bill also sparked a series of protests across the country.
On April 1, UCLA implemented a policy that requires UCLA buildings renovated or constructed during or after July 2015 to include a gender-inclusive, single-stall restroom.
Raja Bhattar, director of the UCLA LGBT Campus Resource Center, said they don't think students in the photos understand the experiences of the transgender community.
"Our communities are not a mental illness and wanting to use a bathroom is not an agenda," Bhattar said. "It is a basic right."
Aubrey Sassoon, co-coordinator of Transgender UCLA Pride, or TransUP, who identifies as a lesbian and queer transgender woman, said she doesn't think the photo is an isolated event. She added this is one incident in a series of national attacks against the transgender community.
After she posted the photos, Nista said she received both supportive and threatening messages. She added people told her they would come after her and threatened other members of Bruin Republicans.
"This (shows) the failure of students and the failure of education to promote respectful discourse, acknowledge opposing opinion and respond respectfully to the message itself," Nista said
Jacob Kohlhepp, outgoing president of Bruin Republicans and fourth-year political science student, said he thinks members of Bruin Republicans can have personal opinions on any issue. He added Bruin Republicans did not endorse the views represented in the photo, but the club does not believe in punishing people who have controversial opinions.
"I don't think they should've done it," Kohlhepp said. "I think it was distasteful, but I think it is disgusting that people are responding with death threats."
Kohlhepp added Bruin Republicans has notified the university police and appropriate university administrators to ensure the security of their members.
Keith Fink, a lecturer in communication studies, said in an email he thinks UCLA students have the right to express their opposition to transgender bathroom laws on campus even if other students find their speech offensive.
Fink added he thinks UCLA should focus on students who have made threats to Nista. He said he thinks the University's Office of Equity, Diversity and Inclusion should support all students' right to free speech, and UCPD should investigate physical threats to students.
"Sadly, that doesn't seem to be the case when student speech doesn't meet the diversity of thought set forth on the progressive platter," he said.
UCLA officials did not respond to requests for comment.
Sassoon said she thinks the photo threatened members of the transgender community.
"I think people feel a lot of hate and a lot of fear coming from that photo," Sassoon said.
She added she thinks members of the transgender and non-binary community don't always have the numbers or power to assert themselves.
"We need people to speak up when they hear things like that, especially when they know the people who are saying those things," she said.
Outgoing USAC President Heather Rosen released a statement late Monday night that said she thinks the incident contradicted the purpose of higher education.
"Creating a culture of disrespect does not foster a productive learning environment and is a detriment to the growth and development of our own students," she said.
Staff and students at the LGBT Campus Resource Center have also reached out to students personally affected by the photo and subsequent comments, Bhattar said. They added other resources, such as Counseling and Psychological Services, the Trevor Project, an organization that aims to reduce suicide rates among LGBTQ communities, and Trans Lifeline, a help line for transgender people experiencing crises, are also available.
Email Shiao at [email protected] or tweet @JaniceShiao.