UC Regents recap — May 10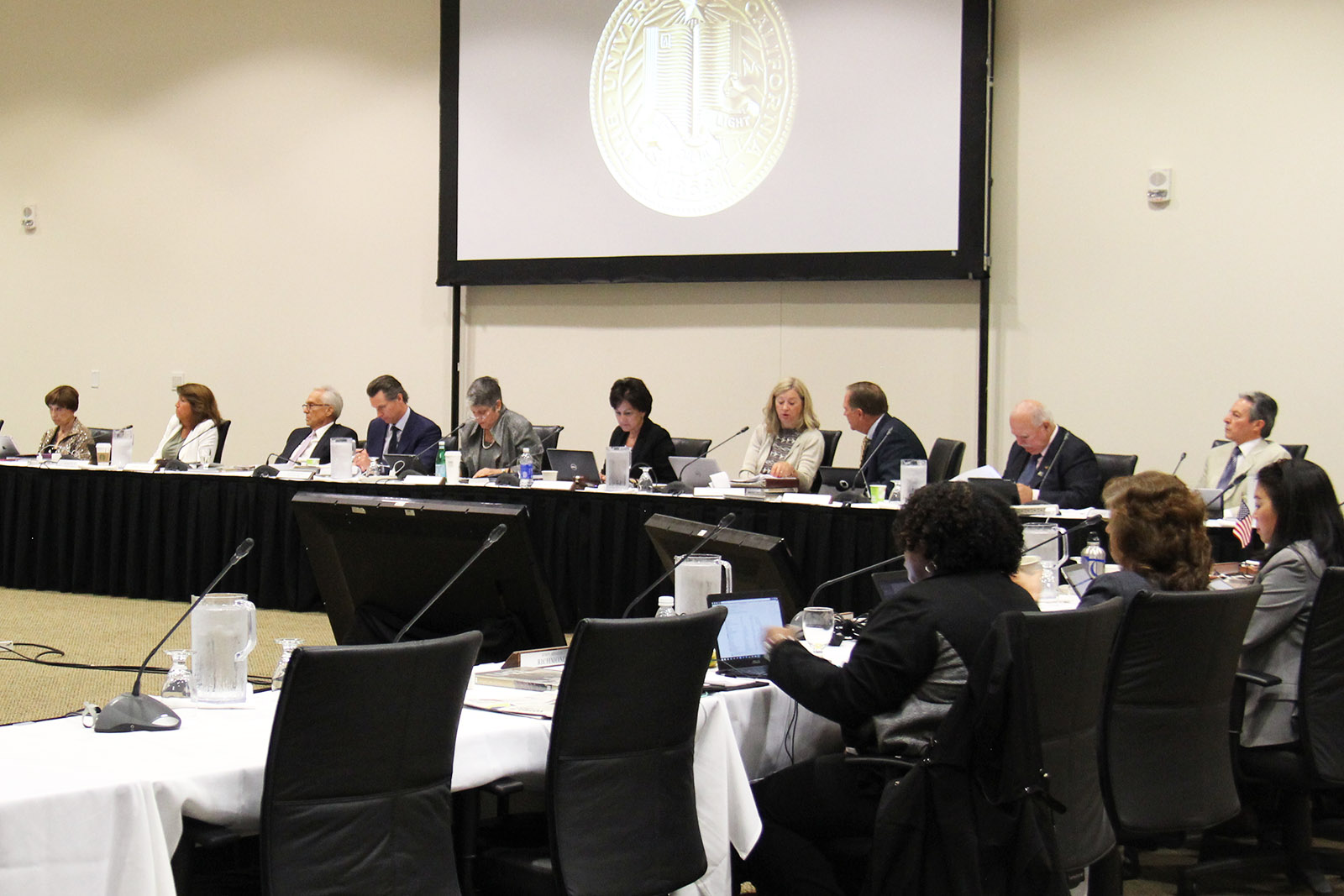 The University of California Board of Regents discussed various construction projects and UC President Janet Napolitano's student housing initiative.
(Daily Bruin file photo)
The University of California Board of Regents discussed various construction projects on UCLA and UC San Diego campuses as well as UC President Janet Napolitano's student housing initiative at its meeting Tuesday. Regents also discussed the state audit released in March, among others things, on the first day of its bimonthly meeting at the Sacramento Convention Center.
Committee on Compliance and Audit
The Committee on Compliance and Audit discussed the state audit released in March, which found it has become more difficult for in-state students to gain admission to the UC because of relaxed standards for nonresident students.

Stephen Handel, UC vice president for undergraduate admissions, said he thinks the audit's recommendations, which include reducing the number of out-of-state students accepted to the UC, will not increase the number of in-state students. He added the revenue generated from out-of-state students helps enroll Californians.

Handel added he thinks the auditor only looked at students' grades and standardized test scores, which provide only partial insight into their qualifications. He said there is no information to support the idea that non-resident students are more easily accepted than residents and that the referral process guarantees California residents' admission to a UC college.

Handel also said the 2016 enrollment increase, which aims to increase resident enrollment by 5,000, will be concentrated at UCLA, UC Berkeley and UC San Diego because those campuses have the largest non-resident populations.
Committee on Grounds and Buildings
Napolitano updated the committee about her student housing initiative, which aims to add at least 14,000 affordable beds across the UC system by 2020.

Chief Financial Officer Nathan Bostrom said all UC campuses will present housing overviews to accelerate the number of students housed. Bostrom added Berkeley signed two leases to accommodate an increased fall enrollment of 750 students. He said he thinks UCLA students are comfortable living in triples because UCLA dorms have common spaces and lounges on every floor.

UCLA Chancellor Gene Block and other officials presented to the committee about the proposal to turn the Kinross Recreation Center building, or KREC, into a facility for the new Geffen Academy. The Geffen Academy, scheduled to open in 2017, will be a school for middle and high school students.

Marion Anderson's $100 million gift to the school will be used to improve the building, including site improvements and interior upgrades.

The committee will vote to approve plans to renovate KREC and construct a new building for the UCLA Anderson School of Management, among other agenda items, Thursday, because not enough regents were present at the meeting.