UC Regents preview – May 10-12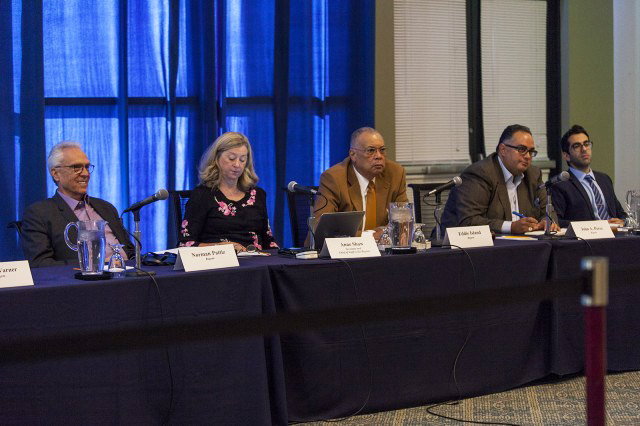 The University of California Board of Regents will discuss the student housing initiative, the establishment of the Geffen Academy and vote on the appointment of several administrators, among other action items. (Hannah Ye/Daily Bruin senior staff)
The University of California Board of Regents will discuss the student housing initiative, the establishment of the Geffen Academy and vote on the appointment of several administrators, among other action items, at its meeting at the Sacramento Convention Center on Tuesday, Wednesday and Thursday.
Tuesday
The Committee on Grounds and Buildings will listen to updates about President Janet Napolitano's student housing initiative. The initiative, which aims to add at least 14,000 affordable beds across the UC system by 2020, was announced in January.
The committee will also discuss the proposal to renovate the Kinross
Building to provide a facility for the new Geffen Academy. The Geffen Academy will be a school for middle and high school students, scheduled to open in 2017.
The committee will vote to approve the construction of a new building to be located in the UCLA Anderson School of Management. The new building is proposed to be located on top of an existing parking structure.
Wednesday
The Committee on Educational Policy will discuss its annual accountability sub-report on diversity, which aims to analyze outcomes and progress of initiatives aiming to increase diversity at the UC.
Thursday
The Committee on Governance will discuss proposals put forth by the Committee on Finance chair Monica Lozano and the UC Board of Regents chair Russell Gould to restructure the operations of the board. The proposed changes include several changes to the Regents bylaws, such as the structure of committees and how meetings are scheduled and conducted.
The Committee on Compensation will vote to approve the appointment of the interim vice chancellor of academic personnel for UCLA.