Aram Ghoogasian: Leaked frat minutes should be a catalyst for serious reflection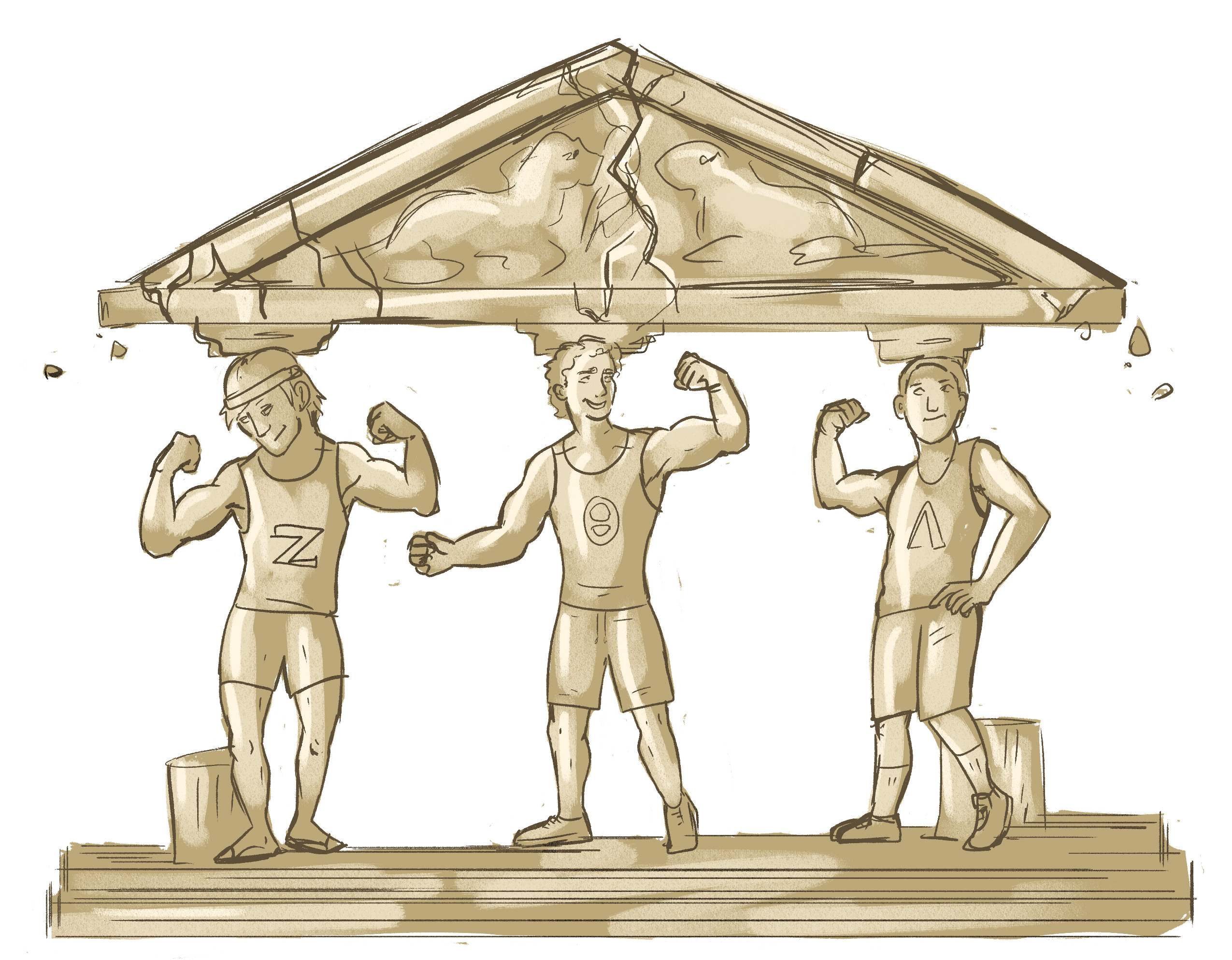 (Kelly Brennan/Daily Bruin senior staff)
The original version of this column misspelled Derek Bergmann's name as Derek Berhmann.
White supremacy has always lived in the American fraternity house, whether or not the members wear hoods.
From the vestiges of Jim Crow, to racist songs about lynching at the University of Oklahoma last year, to a blackface party here at UCLA just this fall, Greek life has been an incubator of racism for so long that nothing should come as a surprise when a story about racist fraternity members breaks.
Meeting minutes from UCLA's Pi Kappa Phi, leaked by outgoing USAC general representative Aaliya Khan on Tuesday, give us an intimate look at how fraternities on our ostensibly tame campus operate behind closed doors. The contents of the documents, which had been shared with her office's email account when Sunny Singh, a member of the fraternity, held the post from 2013-2014, could potentially yield another damaging blow to UCLA's public image similar to what happened with the Kanye Western party in October.
READ MORE: Records reveal Pi Kappa Phi members made racist statements in 2013
According to the documents, Pi Kappa Phi's weekly meetings included an agenda item entitled "Racial Sensitivity," during which they told jokes about the designated "race of the week." The fraternity took aim at a number of different communities.
One line reads: "How long does it take a negress to shit? 9 MONTHS."
They don't get much better from there. "Why do Mexicans refry their beans?" wrote the minutes taker. The reply read, "Have you ever seen them do it right the first time?" Another line stands on its own, saying simply that "black people are good at basketball."
Anti-Muslim tropes also make an appearance in a section that says the fraternity members were "learning about Afghanistan." The only line that follows reads "something something something terrorists."
And these are just what they actually took the time to document.
While this revelation may be treated as just another item on a miles-long laundry list of examples of racist incidents in Greek life, it should become a catalyst for serious reflection. The meeting minutes are a symptom of a larger truth: Racism thrives in fraternities. It always has.
Universities have little reason to continue to supply fraternities with resources and support – other than to use them as a marketing tool for prospective students who value a school's social scene more so than its academic functions. As is the case with many colleges and universities, UCLA has an administrative office specifically designed to cater to and promote these organizations, a sign of the many benefits the school bestows upon the Greek system.
And they have defenders among the student body as well. When Khan attempted to add an agenda item at her final USAC meeting to present the minutes in a PowerPoint – though she said her presentation would be a "year in review" – the council voted 6-6-0 to block her from doing so.
At some point, those in power will have to decide if fraternities are worth the headache and re-evaluate whether they want to continue to prop up these glorified boys clubs.
Unsurprisingly, fraternity representatives condemned the incident. Derek Bergmann, president of the Interfraternity Council at UCLA, said "racism will not be tolerated." Pi Kappa Phi Chief Executive Officer Mark Timmes echoed his sentiments, saying in a statement that the jokes "cannot be tolerated."
Timmes has experience in issuing hollow statements. In 2015, a pledge book belonging to the Pi Kappa Phi chapter at North Carolina State University was found filled with jokes about rape and lynching. Timmes responded by saying that the book's contents were "unacceptable."
In January, Pi Kappa Phi members at the University of Toledo berated a black attendee at one of their parties, telling him repeatedly to "leave, nigger." Timmes once again reaffirmed the fraternity's commitment to inclusion.
Fraternity representatives can issue as many inane responses as they please. But the facts speak for themselves.
One of the system's many apologists, student government president and sorority member, Heather Rosen, was confronted at the last USAC meeting by Cultural Affairs Commissioner Amy Shao, who accused Rosen of attempting to silence Khan's presentation due to prior knowledge of its content. Rosen claimed her Bruins United cronies voted against Khan's proposed agenda because she violated USAC's procedural rules.
Curiously enough, Rosen expressed no such concern when Khan first proposed the agenda item.
Some may be quick to claim that this is an isolated incident and not part of a recognizable pattern. But that is to ignore the recent history of Greek life, which is riddled with racist incident after racist incident.
Nor can one ignore the system's significant influence. One hundred forty one members of the 113th Congress were members of Greek life organizations. FratPAC, a political action committee dedicated to defending the system's interests, also has a decent amount of clout in the legislature. Fraternities and sororities enjoy a Title IX exemption, and fraternal societies have tax-exempt status as well. Somehow, few call these things into question despite the constant flow of evidence exposing fraternities' contributions to on-campus sexism, racism and violence.
Assuming they ever made an honest effort to, fraternities have never been able to shake off the racism that has characterized the system since its establishment. Even with the presence of black, Latino and "multicultural" fraternities on some campuses, many fraternities retain their invisible "whites only" signs.
Though this sort of segregation may seem far away from the University of California, even the fraternities here were allowed to bar students based on race, religion and national origin until student activists pushed the UC to ban such practices in 1959. As these meeting minutes show, today's fraternities have inherited this racist legacy.
It seems outrageous that institutions with well-documented – and ongoing – histories of racism are endowed with the perks that universities and the government provides them. But then again, there are few things more quintessentially American than granting white-dominated organizations the ability to avoid accountability and responsibility for doing harm to people of color.
The Greek system is not and never was worth saving. The University needs to consider cutting it loose, allowing it to wither away and suffer the slow, agonizing death it deserves.
Aram Ghoogasian is an opinion columnist and a member of the Daily Bruin Editorial Board. He often opines about labor issues, the Israeli-Palestinian conflict and the University of California.
Aram Ghoogasian is an opinion columnist and a member of the Daily Bruin Editorial Board. He often opines about labor issues, the Israeli-Palestinian conflict and the University of California.