Director, founders reflect on 20 years of LGBT Campus Resource Center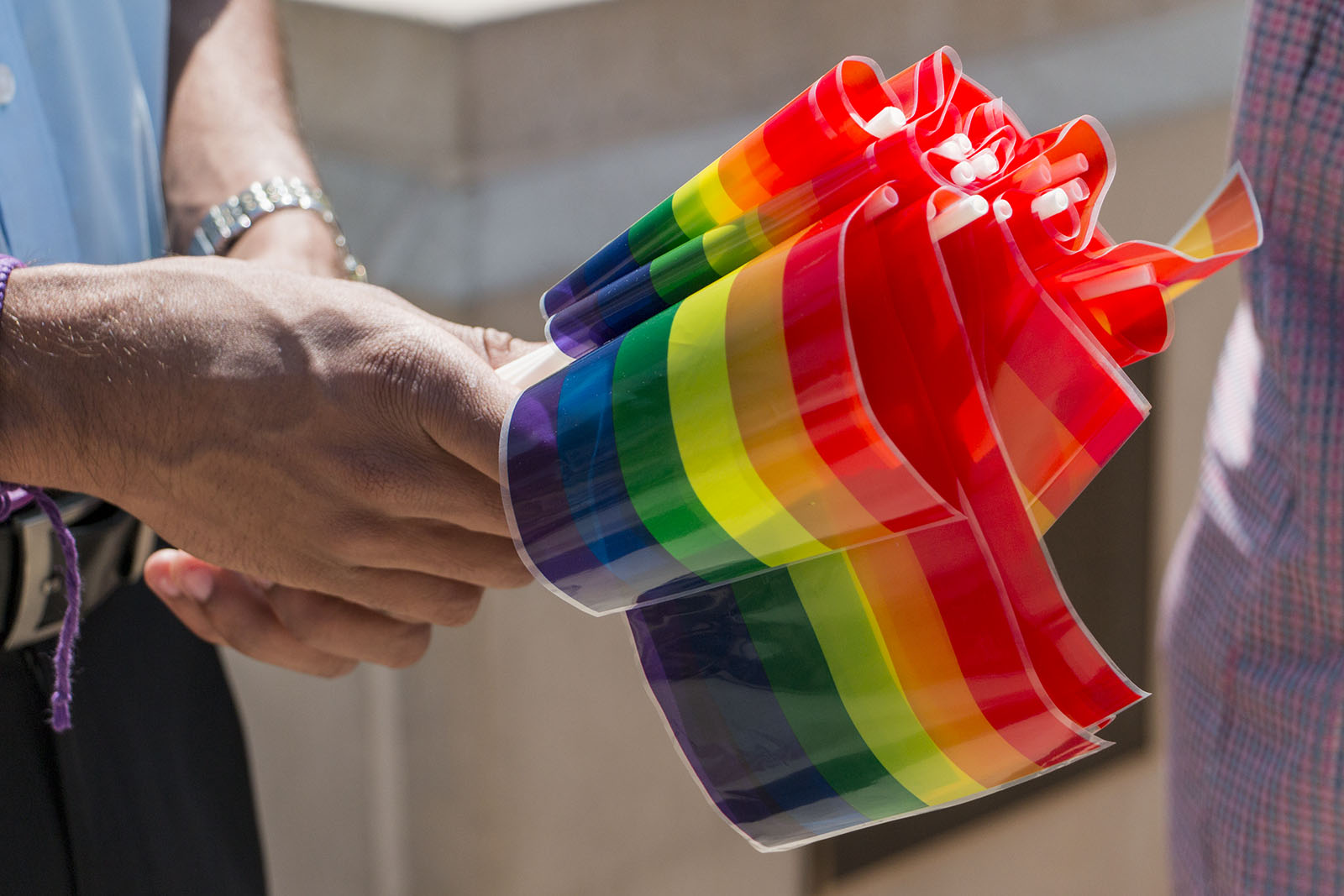 Students, campus leaders and founders of the LGBT Campus Resource Center gathered Friday at a luncheon with Chancellor Gene Block to celebrate the center's 20th anniversary. (Laura Uzes/Daily Bruin)
Twenty years ago, UCLA faculty members held secret, off-campus meetings to discuss their struggles as closeted LGBT individuals on campus.
Their gatherings have since led to the establishment of the Lesbian Gay Bisexual Transgender Campus Resource Center – one of the largest in the country, said Ronni Sanlo, director of the center from 1997 to 2010. In May, UCLA was recognized as the sixth most LGBT-friendly university in the nation by College Choice, a college rankings website.
Students, campus leaders and founders of the LGBT Campus Resource Center gathered Friday at a luncheon with Chancellor Gene Block to celebrate the center's 20th anniversary.
"Many years ago, the UC system didn't even have a nondiscrimination statement," said Albert Aubin, who began to work at the UCLA Career Center in 1966. "There was no protection for LGBT (individuals)."
Aubin said he supported the creation of the LGBT center, a proposal first introduced in 1991 by Curt Shepard, doctoral student in education at UCLA.
Shepard said he began to advocate for an LGBT center on campus after he attended a diversity training session for faculty and staff in the 1990s, when organizers had just begun to include sexual orientation in the training.
He added the director of the program instructed all those who were discriminated against because of racism to go to one corner, all those discriminated against due to gender to another, and so on.
"Finally, the director told those who were discriminated against due to their sexual orientation to cross an imaginary line she had drawn in the center of the room," he said.
At first, Shepard was hesitant – having recently come out of the closet, he was worried about securing employment.
"I hesitated, but I crossed the line," he said. "I was the only one in my session who did."
Shepard said he later befriended the admissions director at the time, Rae Lee Siporin, who had crossed the same line in another training session. After sharing their experiences, they co-founded the Lesbian Gay Bisexual Transgender Faculty and Staff Network.
"At that time, it was issues related to faculty and staff discrimination that we were working on," Shepard said.
Information about the network's meetings, held secretly at Siporin's home, spread by word of mouth around campus.
"LGBT faculty were afraid of coming out, scared they would not be able to secure tenure or would be denied domestic partner benefits," he said. "We would discuss how to address these issues."
At the first meeting, 35 people showed up, Shepard said. At the next, 60 attended.
Eventually, the network was moved on campus as a resource for students as well.
"I worked out of a tiny office in Haines Hall," he said. "But we barely had any student traffic at first."
Shepard said he wrote a proposal for a resource center while serving on the board of the National LGBTQ Task Force, but progress toward funding was slow.
By 1994, a recommendation from the chancellor's advisory committee, along with several senior faculty members and staff who came out publicly, convinced administrators to fund the center and support LGBT activism on campus.
Sanlo said moving the Center from Kinsey Hall to its location in the Student Activities Center made the UCLA LGBT Center one of the largest in any college or university nationwide.
Sanlo, a faculty-in-residence at UCLA from 2001 to 2010, said she also worked to improve resources for LGBT students on the Hill. She worked with the staff in the residence halls to teach them to develop better rapport with LGBT students living on campus.
She added the climate on the Hill was supportive before she initiated formalized training programs for UCLA Residential Life staff, but there still needed to be regular training as an additional resource for LGBT students.
Sanlo said she was inspired to take on the role of center director because she lost custody of her own children in 1979, after coming out as lesbian.
"Even though I couldn't have my own children, I could still support other children (struggling with LGBT issues)," Sanlo said.
She added she also founded Lavender Graduation, a special graduation ceremony for LGBT students, in 1995 at the University of Michigan, and introduced the concept to UCLA when she was recruited in 1997.
"It was really important to me to allow others to understand that LGBT students at UCLA are brilliant scholars as well," Sanlo said.
Raja Bhattar, the center's current director, said they are proud that the center gives students a place where they can explore their sexual, gender, racial and academic identity and discover who they are.
"I never thought in my wildest dreams I would be doing this job," Bhattar said.
Bhattar added UCLA has made progress in implementing gender inclusive bathrooms, opening the Gender, Sexuality and Society Community floor on the Hill and including gender and sexuality questions on the UC application.
"I'm glad we have a rainbow flag prominently displayed outside," Bhattar said. "I've been out for over a decade, and yet I still feel more comfortable and welcomed when I see a rainbow in whatever space I enter."