Bruins United sails past Waves of Change in 2016 USAC election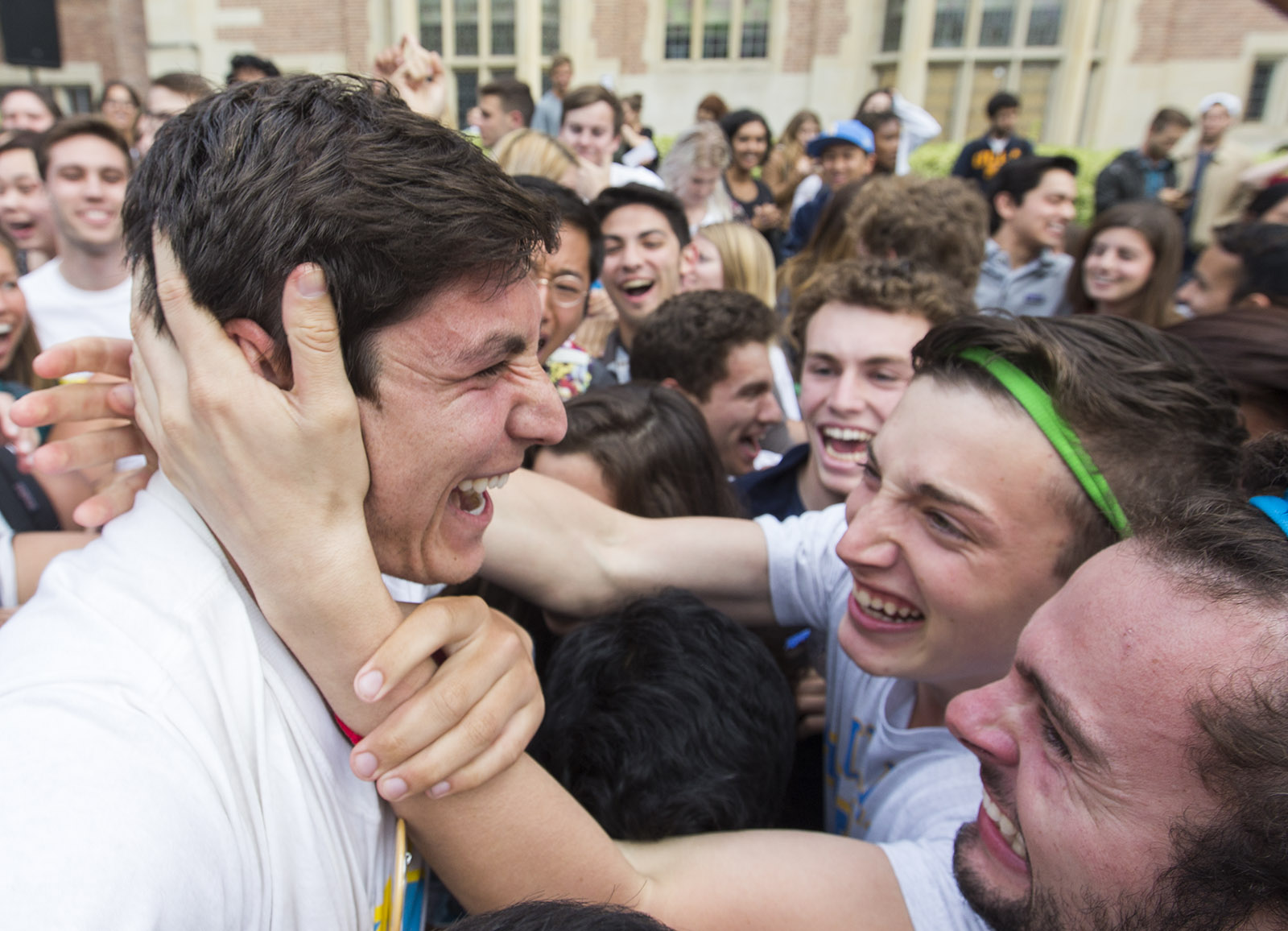 Bruins United secured nine of 14 seats on the next undergraduate student government council. Danny Siegel, Bruins United presidential candidate, was elected as the next USAC president with 52.2 percent of the vote. (Aubrey Yeo/Daily Bruin senior staff)
The original version of this article incorrectly stated that the referenda will increase student fees by $38.74 per quarter. In fact, it will increase the fees by $33.99 per quarter. The story also incorrectly stated there are 13 council seats. There are 14.
This post was updated May 6 at 8 p.m.
Bruins United secured nine of 14 seats on the next undergraduate student government council, and students voted to pass all four referenda on the ballot.
About 40 percent of undergraduate students voted in the 2016 USAC election, the highest voter turnout since 2009. This year, 11,281 of 28,019 eligible students cast ballots for at least one candidate or referendum.
The four referenda passed in the election will increase student fees by $33.99 per student per quarter for the 2016-2017 academic year.
Danny Siegel, presidential candidate for Bruins United, was elected USAC president with 5,161 votes or 52.2 percent. Siegel received 441 more votes than his opponent Denea Joseph, the Waves of Change presidential candidate.
"We're going to promote unity, pursue a progressive agenda and serve the whole community," said Siegel, a third-year political science student. "We're going to earn the trust of those who didn't vote for us."
Joseph, a fourth-year political science student, and other Waves of Changes supporters walked to Wilson Plaza after results were announced to lead a group chant.
"It's our duty to fight for our freedom. It's our duty to win. We must love and protect ourselves. Why? Because we got nothing to lose but our chains," Joseph said in the chant.
She declined to comment about the election results.
Rafi Sands of Bruins United was elected external vice president with 50.5 percent of the vote and received about 100 more votes than his opponent, Ria Jain, a Waves of Change candidate.
"One year ago, I wasn't involved in politics," said Sands, a second-year business economics and political science student. "Every day and every hour of this week I spent on this campaign. We've worked hard."
Jain, a third-year molecular, cell biology and development student, said she plans to continue her advocacy for students at UCLA despite the loss.
"I will still work on the platforms I ran on, but whether I work through student government depends on whether it's conducive and supportive," Jain said. "I have the experience and never back out of my commitments."
Bruins United candidate Sabrina Zeigler, who was uncontested, was elected internal vice president with 100 percent of the vote.
"Changing the world will be the second thing on my agenda," said Zeigler, a third-year political science and psychobiology student. "(The first thing I'll do in office) is build a committed team that understands the average student doesn't love USAC and will work to change those perceptions."
Bruins United, a student-run political group that ran 11 candidates, secured five uncontested positions and four contested positions, including two general representative seats. Waves of Change, which ran three candidates, won one contested position. MakeUCLAGreatAgain, a slate that ran one candidate for general representative, did not secure any positions.
Two Bruins United candidates, Zoe Borden and Ruchit Majmudar, won the first and third general representative seats. Independent candidate Inan Chowdhury was elected as general representative two. Seats were determined by the number of votes received, with Borden receiving the highest amount of votes of all general representative candidates.
Majmudar, a first-year business economics student, said the first thing he will do as a general representative is call his mom. He is the first freshman to win an elected position in UCLA history.
"I feel ecstatic," Majmudar said, "But there were members of my party who lost, so it's with a heavy heart."
Borden, a third-year international development studies student, said her first course of action in office will be to open applications for her staff. She added she has started laying the groundwork for her platforms.
"I didn't expect (to see so many) people turning out to vote, but they did and I am so honored," she said. "Campaigning was a long and tough process, and I am so happy it turned out the way it did."
Chowdhury, a third-year environmental science student, donned a sailor's cap for the occasion. He said his biggest challenges next year will be mobilizing the student body in support of his platforms, which he plans to start working on over the summer.
"I'm shocked," said Chowdhury. "I always try to stay humble, but it's so awesome to see so many people support (me)."
Amy Shao was re-elected as Cultural Affairs commissioner with 1,200 more votes than her opponent. Shao was the only Waves of Change candidate who secured a position. Brian Kohaya, the Bruins United candidate, received 43.4 percent of the vote.
Independent candidates Jordan Dang, Zack Dameron and Christina Lee, who ran for Campus Events commissioner, Community Service commissioner and Student Wellness commissioner, respectively, were each elected with 100 percent of the vote.
Other uncontested candidates – including Divya Sharma for transfer student representative, Ariel Rafalian for Financial Supports commissioner, Sandra Rhee for Facilities commissioner and Ashly Mohankumar for Academic Affairs commissioner – secured their positions with 100 percent of the vote.
Students voted to pass all four referenda on the ballot – The Green Initiative Fund, the Social Justice Referendum, #UCLAwellness Referendum and the Daily Bruin and BruinWalk.com Referendum. Each referendum needed a simple majority – more than 50 percent – and a voter turnout of at least 20 percent to pass.
The Green Initiative Fund, a $4.80 per quarter student fee that promotes environmental sustainability, passed with 69.8 percent. The Social Justice Referendum, a $24.99 per quarter student fee that aims to increase a variety of retention and outreach programs, passed with 54.8 percent.
The Daily Bruin and Bruinwalk.com Referendum, a $3 per quarter student fee that aims to support UCLA Student Media, passed with 65.8 percent. UCLA Student Media is comprised of the Daily Bruin, seven community newsmagazines, BruinLife yearbook and UCLA Radio.
The #UCLAwellness Referendum, a $6 per quarter student fee that aims to fund undergraduate student government and counseling services, passed with 65.8 percent. The #UCLAwellness student fee will increase to $12 per quarter for the 2017-2018 academic year and $18 per quarter for the 2018-2019 academic year.
The elected officers will be sworn in on May 10.