Social Justice Referendum sanctioned after USAC Judicial Board ruling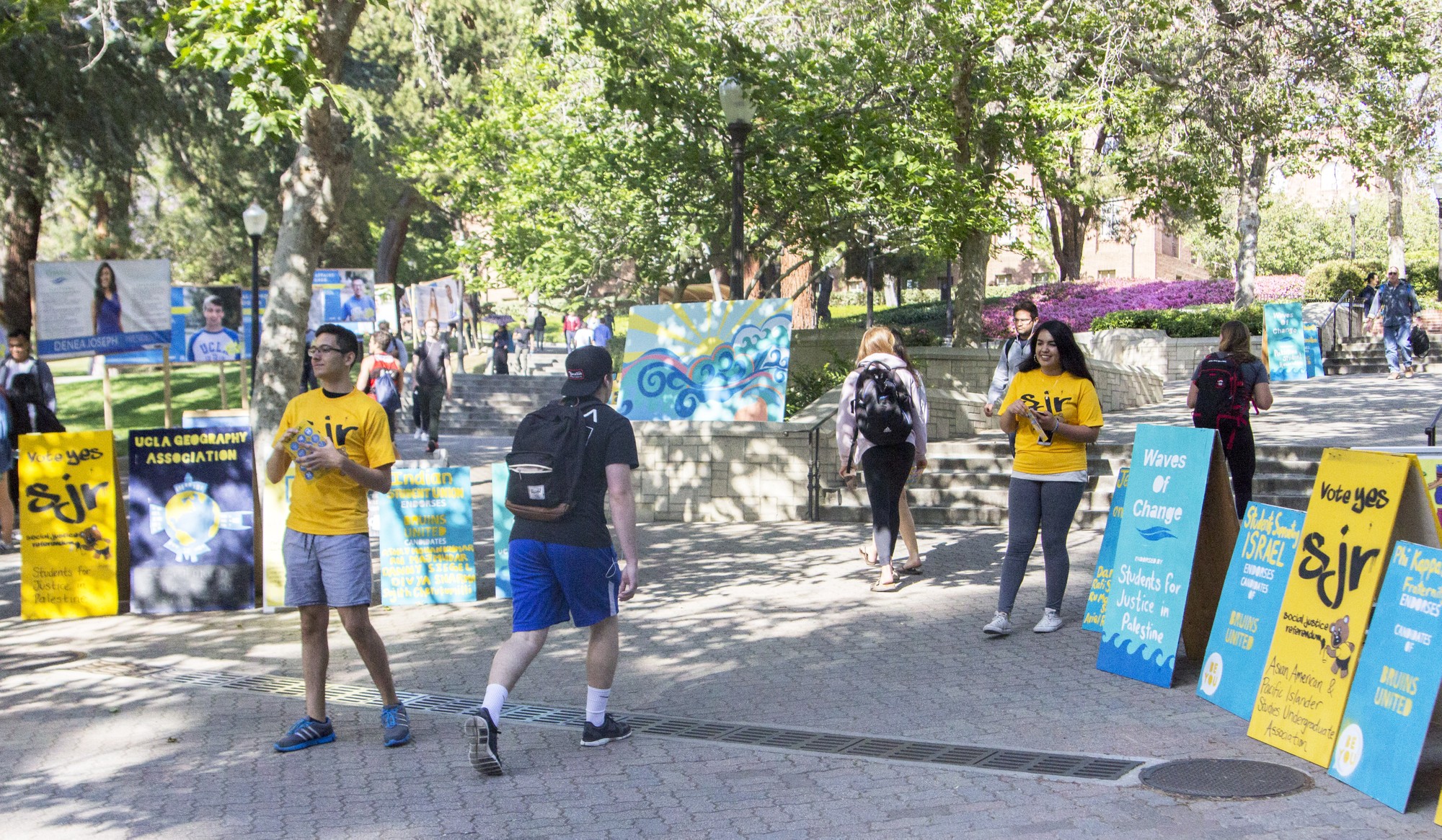 The election board sanctioned Social Justice Referendum after the judicial board's ruling. (Owen Emerson/Daily Bruin senior staff)
Editor's note: The referenda on the USAC ballot do not directly compete with one another, but in the interest of full transparency, we believe it is worth noting one of the referenda on this year's ballot directly benefits the Daily Bruin financially. The Daily Bruin and Bruinwalk.com Referendum would support the UCLA Communications Board, the Daily Bruin's publisher.
The undergraduate student government election board sanctioned the Social Justice Referendum for violating its campaign spending limit after the judicial board ruled in favor of the election board's past sanctions Thursday morning.
As a result, the Social Justice Referendum needed to remove all campaigning material, such as signboards, by 3 p.m. Thursday. All campaigning materials that have not been handed out, such as signboards, tents and undistributed shirts, must be returned to the Undergraduate Students Association Council Election Board office by 5 p.m. Thursday.
In addition, Social Justice Referendum supporters will not be able to campaign from 3 p.m. Thursday to 3 p.m. Friday, and a representative must submit a revised expense report that details the cost of all distributed and undistributed campaign materials by Thursday at 5 p.m.
USAC Election Board Chair Lindsay Allen said it would not be feasible to require Social Justice Referendum representatives return the distributed items, such as shirts or food.
Shreya Chadda, election board vice chair, said food is campaign material if it is distributed for the purpose of getting votes.
Jazz Kiang, designated Social Justice Referendum representative, could not be immediately reached for comment.
The election board sanctioned the Social Justice Referendum Sunday and Monday night for exceeding the $750 spending cap of referendum by about $6,800 and failing to disclose the source of about $3,400 in funding. The election board suspended the second sanction after referendum representatives and USAC council members petitioned the claims of the first sanction.
The petition alleged the election board did not have the jurisdiction to force representatives of the Social Justice Referendum to return campaigning material to the election board office and re-draft a new expense report totaling $750 or less. The USAC Judicial Board struck down four of five claims in the petition Thursday morning.
The judicial board unanimously ruled Wednesday night the election board fairly administered sanctions and equated referenda to nonexecutive candidates, who have spending limits of $750 under the USAC Election Code.
The Social Justice Referendum aims to fund a variety of student-run retention and outreach programs on campus, and would increase student fees by $24.99 per quarter. The referendum is one of four ballot proposals in this year's spring USAC election.
Students can vote in the undergraduate student government election on MyUCLA until 3 p.m. Friday. The election board will announce results at 9 p.m. Friday in Meyerhoff Park.