USAC Judicial Board to review Social Justice Referendum petition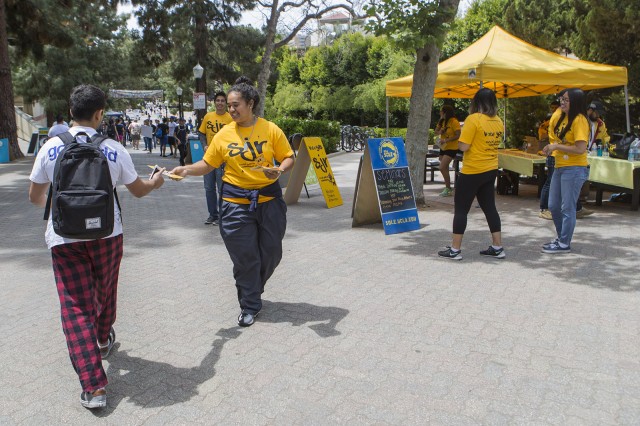 The undergraduate student government judicial board will review a petition filed in response to two sanctions the USAC Election Board issued the Social Justice Referendum. (Jintak Han/Daily Bruin)
Editor's note: The referenda on the Undergraduate Students Association Council ballot do not directly compete with one another, but in the interest of full transparency, we believe it is worth noting one of the referenda on this year's ballot directly benefits the Daily Bruin financially. The Daily Bruin and Bruinwalk.com Referendum would support the UCLA Communications Board, the Daily Bruin's publisher.
The undergraduate student government judicial board will review a petition filed in response to two sanctions the election board issued the Social Justice Referendum, according to a judicial board statement released Tuesday night.
The petition, submitted Tuesday morning by Social Justice Referendum campaign representative Jazz Kiang, USAC President Heather Rosen and Academic Affairs Commissioner Trent Kajikawa, alleged the election board misinterpreted the election code and had no authority to require the referendum to draft a revised expense report and return campaign materials to the Election Board office.
The election board sanctioned the Social Justice Referendum Sunday and Monday nights for exceeding the spending cap by about $6,600 and failing to disclose the source of about $3,400 in funding.
The Social Justice Referendum aims to fund a variety of student-run retention and outreach programs on campus, and would increase student fees by $24.99 per quarter. The referendum is one of four ballot proposals in this year's spring USAC election.
Election Board Chair Lindsay Allen said she does not believe she overstepped her authority.
"We notified Kiang days before online (campaigning) explaining these sanctions could occur," Allen said. "The violation of spending caps and underrepresenting sources of funding is grounds for disqualification. We allowed the referendum to rectify overspending."
Kiang said he filed the petition because he thinks the election code was vague – it compared ballot propositions, or referenda, to candidate and slate spending limits without further specifying. He added referendum supporters assumed each line item was equivalent to a nonexecutive candidate, and could warrant up to $750 in campaign spending per item.
Allen said the election code is not vague and spending caps are explicitly established for ballot propositions. Allen added the election board presented the spending limits for candidates and ballot propositions at a council meeting before campaigning began, and council members had no qualms about spending limits the election board established.
Kiang said referenda are required to meet a 20 percent voter turnout to pass, unlike candidates, even if the majority of students vote to pass them. He added he thinks referenda should be able to spend more money on campaigning because they are held to a higher standard than candidates.
Rosen and Kajikawa could not be immediately reached for comment.
The judicial board will hold a private preliminary hearing at 7:15 p.m. Wednesday and hold a public hearing immediately afterwards.
Students can vote in the election on MyUCLA until 3 p.m. Friday. The election board will announce results at 9 p.m. Friday in Meyerhoff Park.