Aram Ghoogasian: Student activism key in uncovering UC Davis chancellor's corruption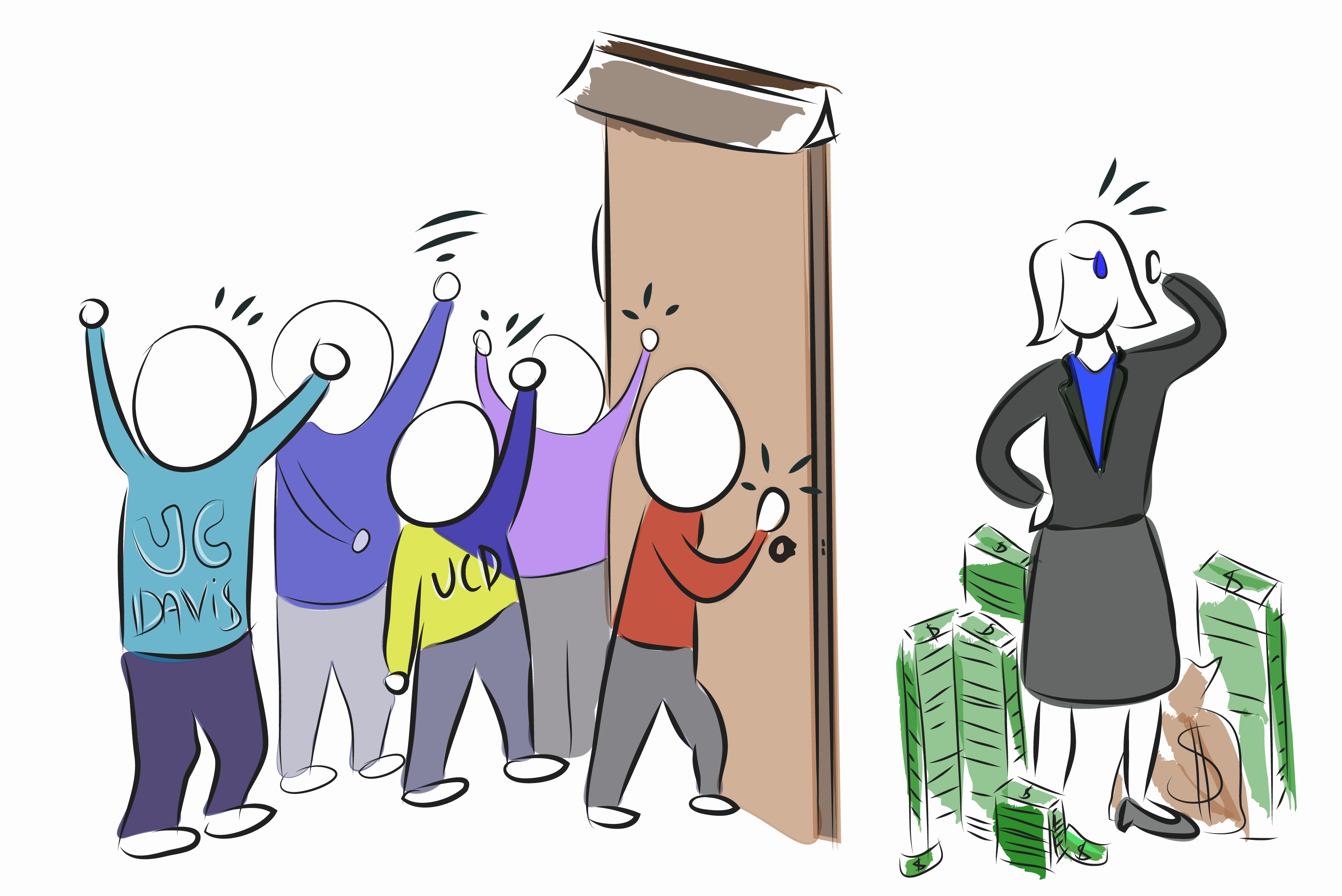 The drama unfolding 15 miles west of Sacramento is worthy of its own television adaptation.
University of California, Davis Chancellor Linda Katehi is currently at the center of so many significant controversies that you can't count them on one hand. The charges against her are many, but they can be summed up relatively well in one word: corruption.
It's not every day that a decision made by UC President Janet Napolitano receives support from a swath of students, faculty and politicians alike, but few complained when she placed Katehi on investigatory administrative leave last week. From moonlighting on corporate boards and nepotism to the possible misuse of student fees and even an internet cover-up, her rap sheet runs the gamut.
The University's action against Katehi wasn't motivated by her actions themselves, but rather the stain they put on the public image of UC Davis and the UC more broadly. If you've been paying any attention at all, students clearly played the largest role in making sure the story wouldn't go away by leading a number of protests and the occupation of an administrative building.
It's student power, not Napolitano, that's creating Katehi's real-life nightmare. A vanguard of students organized and got – or at least made significant progress toward – the result they demanded.
Student activism doesn't always yield the desired results and there's no blueprint to ensure 100 percent success every time. But sometimes, like we're seeing now, students are able to impose their will on the people in power. And it's a beautiful thing to behold.
This latest UC public relations disaster began to unfold in late February, when Katehi joined the board that oversees the DeVry Education Group, a corporation that runs a number of for-profit higher education institutions. As if that weren't enough in itself, the group is under examination by the Department of Education and the Federal Trade Commission, without Napolitano's approval.
The same week that story broke, it came to light that she also received $420,000 for sitting on the board of textbook publishing company John Wiley & Sons from 2012 to 2014.
Two days after Napolitano said she wouldn't seek Katehi's resignation despite concerns, students began what would eventually become a five-week occupation of Mrak Hall, which houses Katehi's office.
Then came a fresh round of allegations.
Near the tail end of the occupation, the public learned that UC Davis spent at least $175,000 to wipe the internet clean of any negative search results for the school and Katehi following the pepper spraying of student protesters in 2011 that quickly became one of the all-time-great internet memes. She also misled the public and Napolitano, saying she had no knowledge of the contracts. Since Katehi became chancellor in 2009, the UC Davis strategic communications budget has increased by more than $2.5 million.
What seemed to be an endless catalog of allegations continued to rage on when nepotism was added to the chancellor's impressive resume.
Over the past two and a half years Katehi's daughter-in-law, who reports directly to one of her mother-in-law's staff members, has received promotions and pay increases eclipsing $50,000. An academic program that employs Katehi's son was also placed under the daughter-in-law's direct supervision. Her husband was recruited as a lecturer the year she became chancellor, a job he earns $164,000 for annually.
The bad-decision machine that just won't quit may have also overseen the misuse of student fee revenue according to Napolitano's letter. No further details have been made available thus far.
Despite the overwhelming case for Katehi's removal, it's doubtful that a silent student body would have produced what the students who occupied Mrak Hall for five weeks have achieved. The occupiers were able to generate a media firestorm that ultimately hurt the UC's image, forcing Napolitano to change her stance on Katehi's status.
While the letter she sent Katehi did not cite the positions at DeVry and Wiley & Sons as reasons for launching the investigation, those issues were the ones that catapulted the much-maligned chancellor into the national spotlight. Certainly this exposure led to a closer inspection of her tenure which in turn led to the revelation of new details regarding her corrupt practices.
The Mrak occupiers made it clear that Katehi must fall, and she seems to be doing so in spectacular fashion. We have the students at UC Davis alone to thank for that.
Aram Ghoogasian is an opinion columnist and a member of the Daily Bruin Editorial Board. He often opines about labor issues, the Israeli-Palestinian conflict and the University of California.
Aram Ghoogasian is an opinion columnist and a member of the Daily Bruin Editorial Board. He often opines about labor issues, the Israeli-Palestinian conflict and the University of California.