UCLA workers call for employment priority at new Luskin Center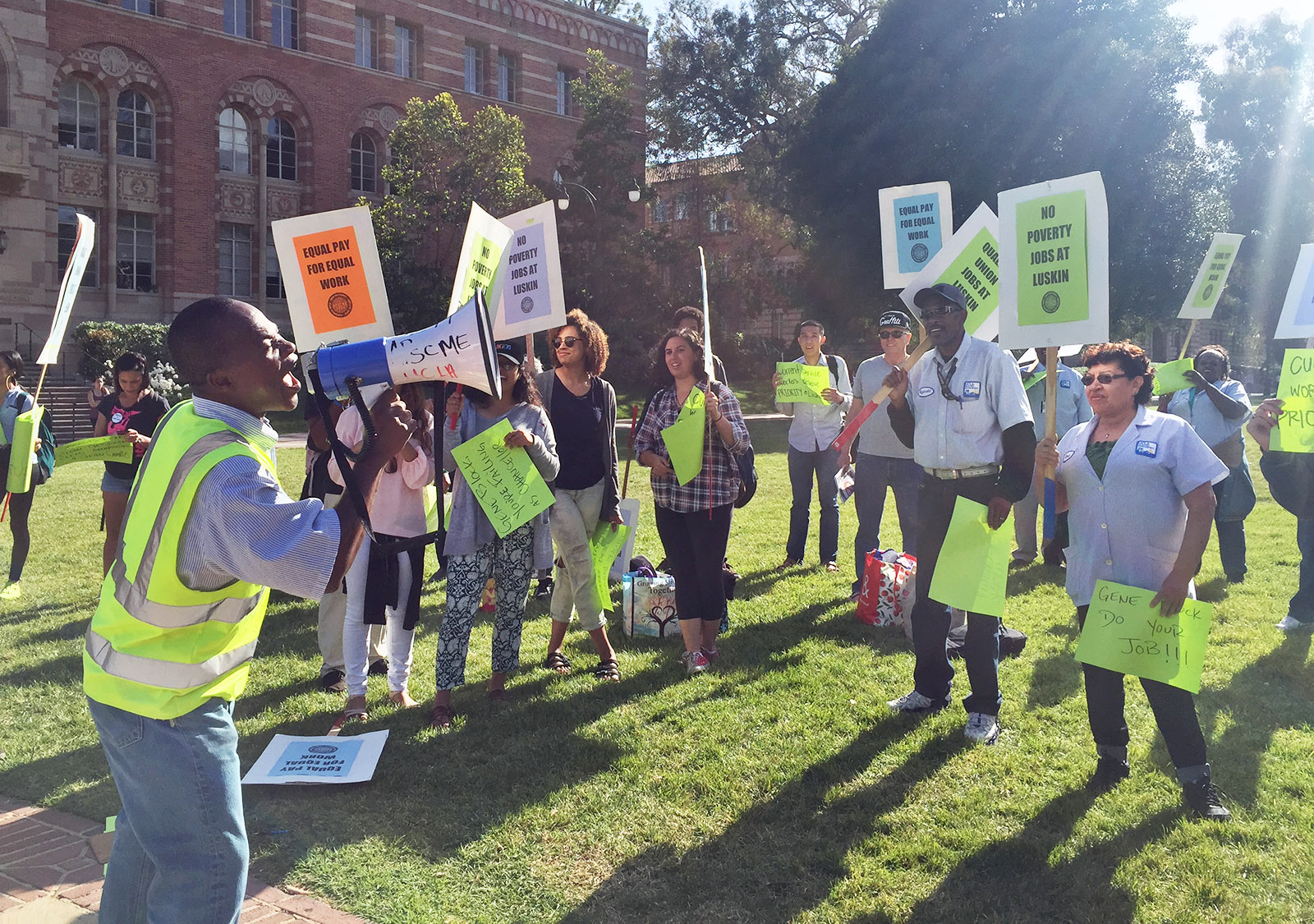 UCLA dining hall workers protested Thursday near the flagpole and outside Covel Commons asking for better wages and more transparency from UCLA when hiring new staff. (Daniel Alcazar/Daily Bruin senior staff)
Union workers protested UCLA's lack of transparency in hiring staff for the new Meyer and Renee Luskin Conference Center Thursday morning outside Covel Commons.
About 15 uniformed employees from Covel dining hall and Bruin Cafe protested with the American Federation of State, County and Municipal Employees Local 3299, chanting, "No poverty wages" and "Equal pay for equal work." Organizers also protested by the flagpole near the Humanities Building Thursday afternoon.
The Thursday protest is the third time union members are speaking out against the potential hiring of nonunion workers at the center, said Frank Lombardi, a cook at Covel Commons.
Lombardi said the center is scheduled to open in August, but workers want to know when officials will begin hiring staff members. He added union members are concerned the lack of a definite date means nonunion workers could be hired in place of those already employed by UCLA.
Oscar Rubio, an AFSCME Local 3299 executive board member and a UCLA food service employee, said he thinks hiring nonunion employees would hurt UCLA employees who are already struggling to support their families.
Rubio, who has worked at UCLA for more than 17 years, said he thinks existing workers should be given priority.
"Workers made this university grow," said Rubio. "I think every student here is part of my family."
Lombardi said the union has protested multiple times this year and will continue to do so until the university recognizes their demands.
When asked for comment, UCLA spokesperson Rebecca Kendall sent documentation of a labor-management meeting from April 19. At the meeting, UCLA and AFSCME officials discussed the university's employment opportunities and selection process at the Luskin Center, according to Kendall's email.
Kendall said in an email the union spoke about poverty wages at the rally, but the starting salary for a custodian and food service worker at UCLA is $15.99 per hour. The current California minimum wage is $10 per hour.