Beach volleyball looks to carry season momentum into Pac-12 playoffs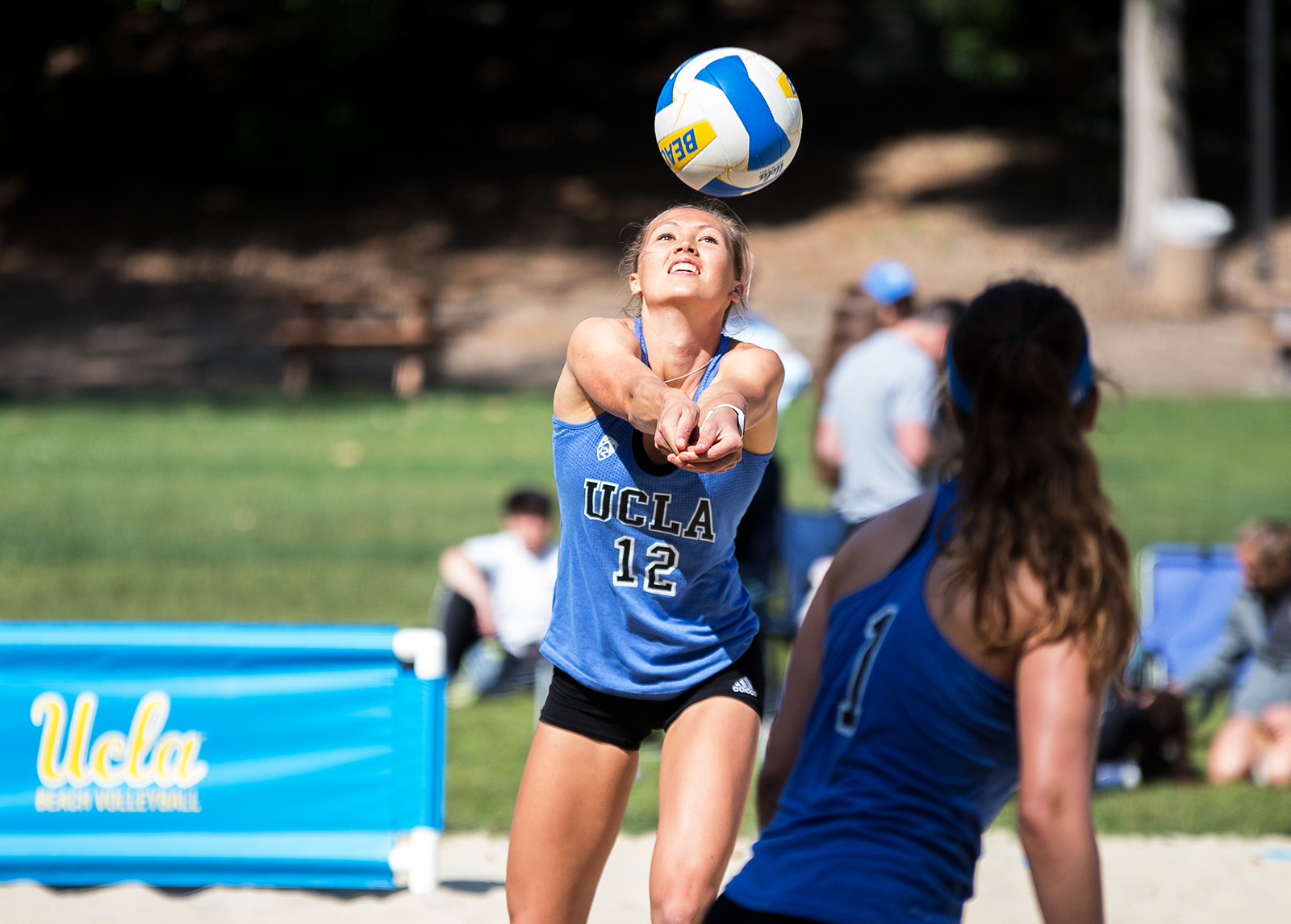 Senior Kamila Tan (left) and sophomore Ivey Schmitt (right) bring their 14-6 record to the inaugural Pac-12 beach volleyball championship playoffs this weekend as the No.6-seeded pair. (Aubrey Yeo/Daily Bruin senior staff)
April 28, 2016 12:36 a.m.
After a successful regular season ending with 10-straight victories, the No. 4 Bruins are set to play in the 2016 Pac-12 Beach Volleyball Championships hosted by top-ranked USC at the Merle Norman Stadium from April 28 to May 1.
The tournament starts Thursday with the pairs tournament, in which an individual pair will be crowned champion. UCLA opens the sixteen-seed tournament with No. 3-seeded freshmen twins Nicole and Megan McNamara (11-7), who are set to face the No. 14-seeded Stanford sophomore duo of Catherine Raquel and Ivana Vanjak.
UCLA's other competing pair, seeded No. 6, consists of senior Kamila Tan and sophomore Ivey Schmitt (14-6), who will start play against Washington's No. 11-seeded pair of junior Cassie Strickland and sophomore Courtney Schwan. The Bruins will look to carry their strong momentum from the regular season into the Pac-12s, and then to the nationals.
"I mean, for me, it hasn't quite hit me that it's my last season," Tan said. "I'm still looking forward to Pac-12s and nationals, and those are the sights I have my eyes set on. For me, all those feelings are going to come when nationals is over. Pac-12 is over, but everyday I just look forward to soaking it all up while I'm here."
Team play starts Friday in a double-elimination bracket and will continue through the weekend with the championship match held Sunday morning. Ranked second in the Pac-12, the Bruins will kick it off against No. 7-seeded Washington on Friday evening.
"We don't have to re-invent the wheel right now" said coach Stein Metzger. "I think we're going to be fine. Fortunately we've put in a lot of great work this whole year, and that carries the day for us. We have a great foundation from the year, players that are confident from some great matches we've had."
UCLA's two individual pairs both start 3 p.m. Thursday, while team competition begins Friday at 7 p.m.
Full bracket available here.