New policy requires campus buildings to have gender inclusive restrooms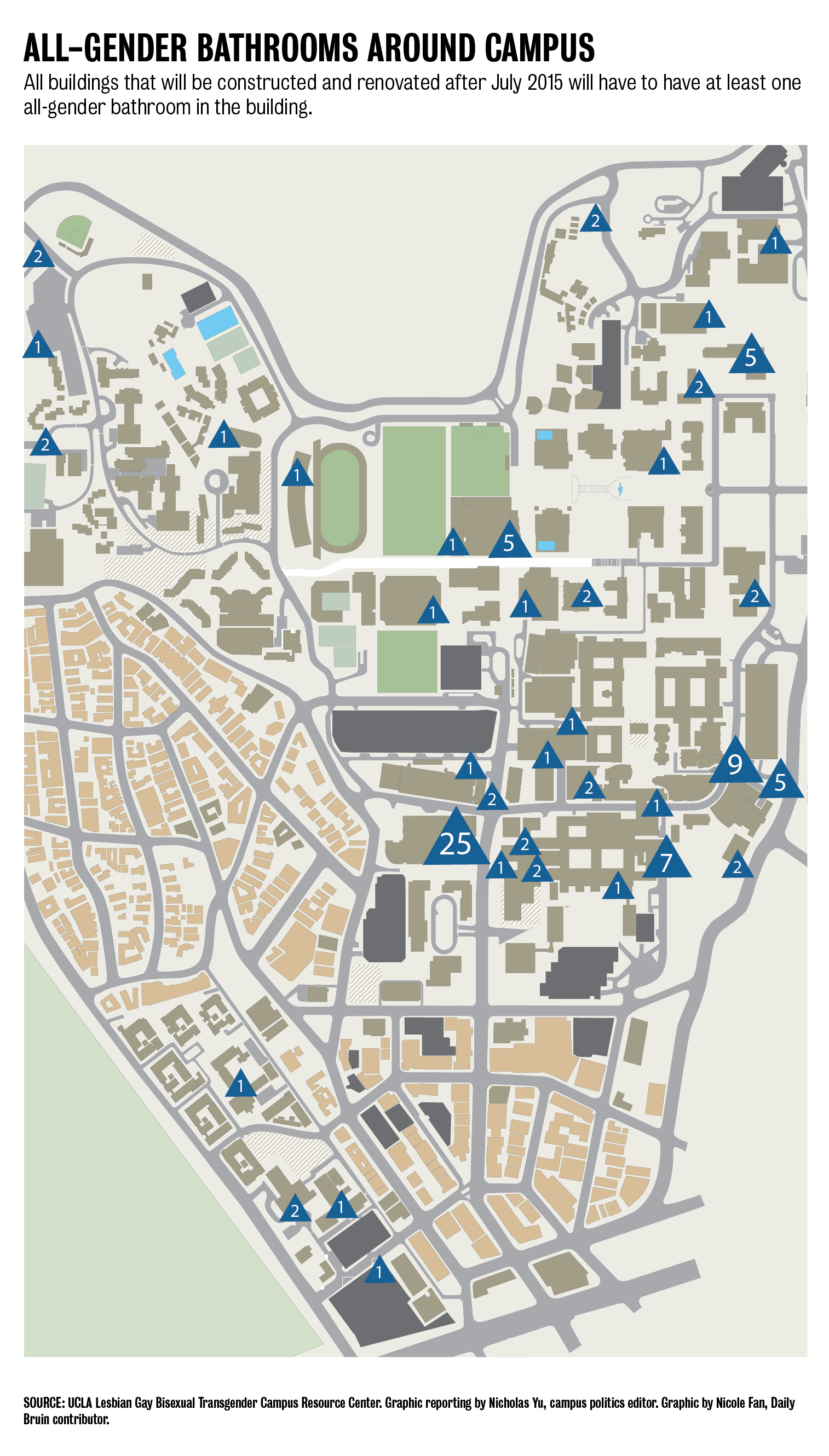 Every UCLA building renovated or constructed after July 2015 must have a gender-inclusive single-stall restroom, according to a university policy effective April 1.
About 100 gender-inclusive restrooms already exist on campus, and about 100 more should be installed by mid-May under the policy, said Raja Bhattar, director of the UCLA Lesbian, Bisexual, Gay and Transgender Campus Resource Center.
The UCLA LGBT center, the Title IX office and UCLA Facilities Management advocated for the policy, Bhattar said.
Bhattar said they think increasing the number of gender inclusive restrooms will allow transgender and gender non-conforming students more access to the resources they need.
"Certain states, such as North Carolina, are passing extremely discriminatory laws on gender-inclusive restrooms," Bhattar said. "UCLA has always been one of the most (lesbian, gay, bisexual, transgender and queer)-friendly universities. We must demonstrate and reaffirm our support for marginalized communities."
Kathleen Salvaty, coordinator of the Title XI office, said students who fought for LGBTQ rights helped instate the policy. She added University of California President Janet Napolitano implemented a policy in 2014 that required all campuses to have gender inclusive restrooms, but the policy did not state how each campus should execute it.
Salvaty said constructing a single-stalled gender-inclusive restroom would cost tens of thousands of dollars, but renovating an existing single-stalled restroom would cost about one-tenth of the price. She added the money would be used to purchase new signage, among other expenses.
UCLA Facilities Management could not provide a list of buildings where gender-inclusive restrooms must be added, or estimate the cost associated with implementing the policy.