ROTC cadets take training to heart, apply skills in real world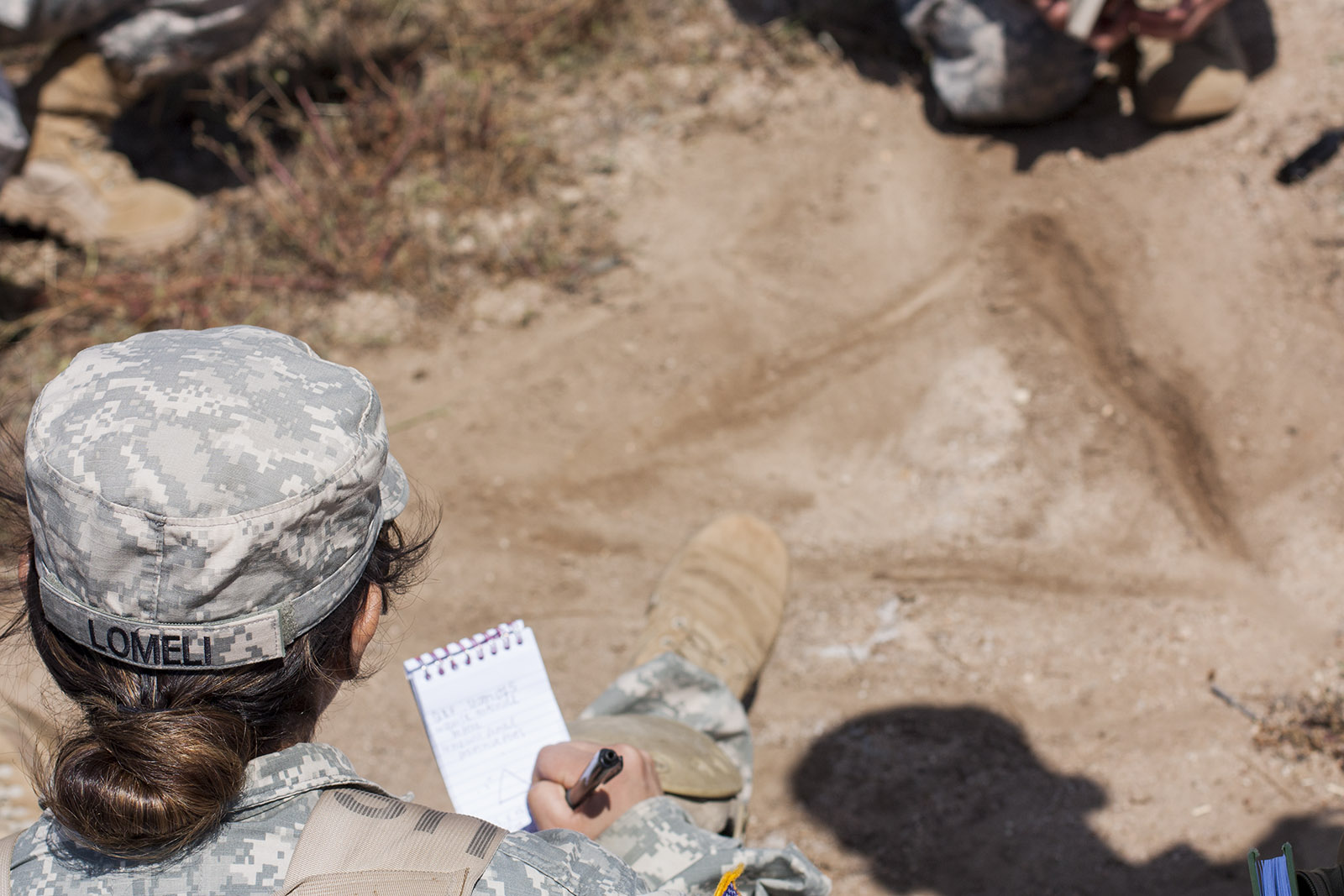 Daisy Lomeli, a fourth-year criminal justice student at California State University, Los Angeles, said it was hard to adjust to the loneliness of boot camp but describes it as a rewarding experience. (Kevin Truong/Daily Bruin senior staff)
April 22, 2016 12:31 a.m.
During his first year at UCLA, Antonio Henry spent one weekend every month stringing IVs into dummy arms and leading physical training at the 349th Combat Support Hospital in Bell, California.
Henry, a fourth-year biology student serves as both a cadet captain in the Reserve Officer Training Corps and an officer trainee in an existing National Guard Reserve unit, as part of the U.S. Army's Simultaneous Membership Program, or SMP.
The two- to three-year program is designed to allow cadets the opportunity to gain military scholarship benefits and additional leadership experience outside of ROTC, Henry said. As part of SMP, cadets are required to do drills or train for one weekend every month and for two weeks during the summer.
They are also exempt from deployment during their time as ROTC cadets. Many enlisted soldiers have used SMP to earn a college education while training with their units in a professional setting.
Georgiy Tykhomyrov, a fourth-year criminal justice student at California State University, Northridge, said the experience he's gained as part of SMP has been invaluable to his future career as a logistics officer.
"The lieutenant I work with is always trying to teach me things, so he assigns me officer tasks that I pretty much do every drill," Tykhomyrov said. "It's fun because I actually get to plan actual missions that people go on, instead of just being trained or going to staffing meetings."
Tykhomyrov, originally enlisted in the military two years ago, taking some time off school to go through the necessary training courses. Originally from Ukraine, Tykhomyrov said becoming an enlisted soldier also sped up his process of becoming a citizen.
"I didn't join the army to get citizenship, but then around basic training, I found out that I could and it was a great bonus," Tykhomyrov said. "When I finally got it, it felt like a relief, because it was like this was finally my permanent home."
Many SMP cadets also go through Basic Combat Training, better known as boot camp, which allows members of the program to get special benefits, including some tuition assistance. Several cadets described the 10 weeks of boot camp as a positive, life-changing experience.
"When I was there, I hated it," said Daisy Lomeli, a fourth-year criminal justice student at California State University, Los Angeles. "I hated them (for) telling me what to do, what to wear and what to eat. But if I had the chance to go back, I would do it in a heartbeat."
Lomeli added not having contact with the outside world, except for writing letters, forced her to make relationships with other people, and value the things she had to do without.
Tykhomyrov echoed her sentiments almost exactly.
"I miss it – it was terrible, but I miss it," he said. "When you have nothing and it's the morning and you're looking at the crack of sunshine, you're like, 'This is the best part of the day right now.'"
Tykhomyrov also remembered the waffles and syrup served for breakfast at the barracks.
"People really underestimate waffles and syrup," he said. "But you had them once in the morning and all day you were waiting until you could have them again."
Henry said the training brought comrades together and allowed soldiers to feel a part of something bigger than themselves.
"They're big on group punishment, which is not something that happens here," Henry said. "They do it because you're never by yourself, and what you do doesn't only affect you."
Cadet duties often get in the way of schoolwork, Henry said.
"Many times I'll have battle assembly the weekend before a midterm on Monday," Henry said. "I can't tell you how many times."
He added he is thankful for the lessons the military and its programs have taught them.
"If anything, being in the military has taught me resilience," Henry said. "I realized that my energy is better spent on focusing on a solution instead of dwelling on the problem."
Henry said he hopes to practice medicine in underserved communities in and around his hometown of Inglewood, California. He added he hopes to start a JROTC program at high schools in those same areas.
"It's easy to say with these programs you want them to join the military, but it's not that at all," Henry said. "There are plenty of kids in JROTC who don't join the military, but it really teaches you organization, discipline, the value of physical fitness, the value of service."
Email Truong at [email protected] or tweet him @kevinbtruong.