Aaron Julian: Dining halls should follow Covel, adopt more self-serve options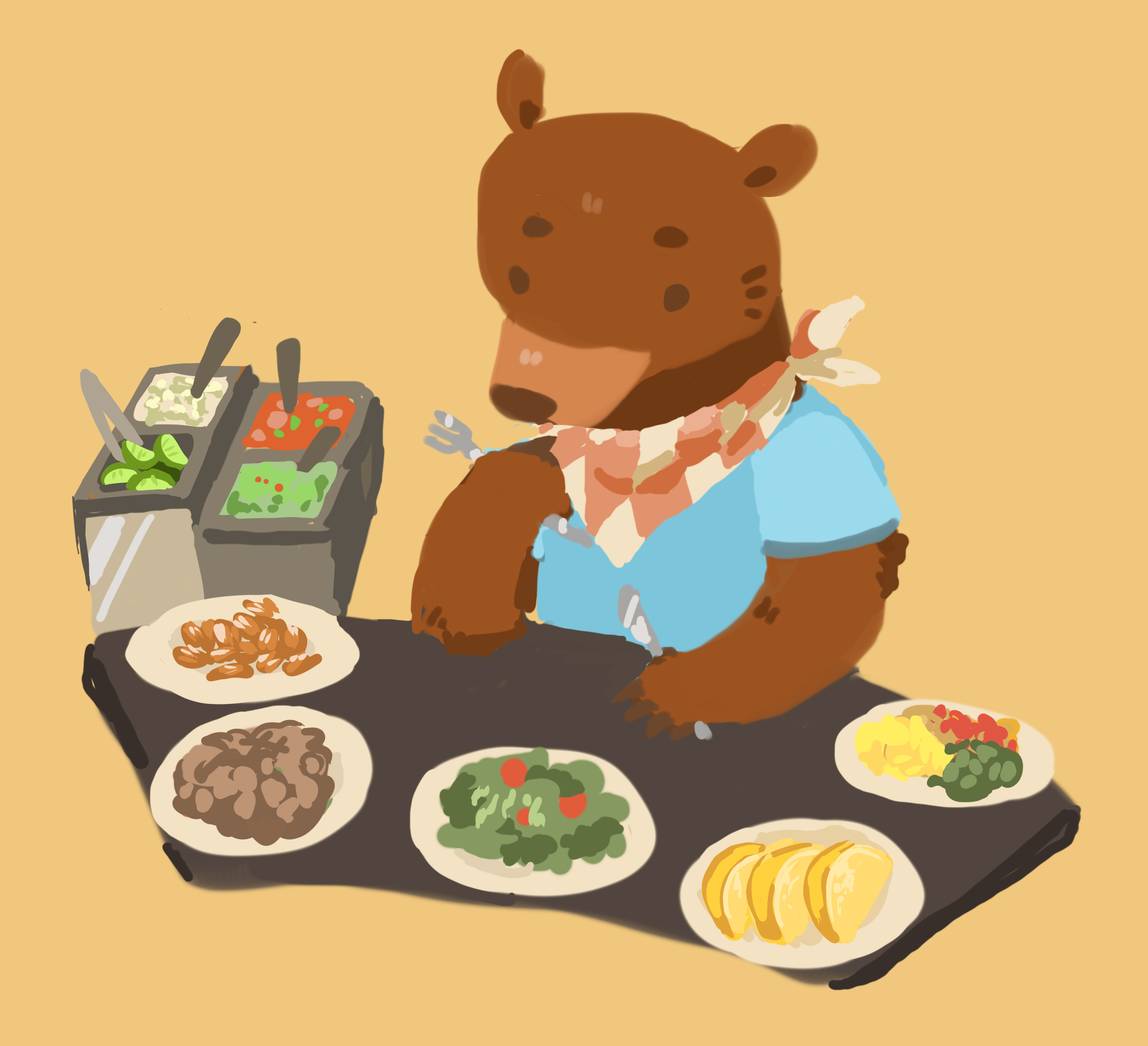 To the surprise of older students no longer living on campus, crowds gather, and even endure longer lines, at Covel Commons dining hall daily to enjoy the revamped menu and exciting food available at the cost of only a swipe.
After all, Covel was the dining hall where they found that cricket in a burger in 2014, and it was the place where you could get a quick dining hall meal without having to deal with large crowds like at Bruin Plate.
But Covel's dining managers and chefs have replied in dramatic fashion to last year's waning crowds by changing everything that was not working.
Last year, Covel's pizza had a thick, bulky crust with poorly proportioned ingredients on top. The fries were the classic salt-style, pre-portioned rather than self-serve. The fruit bar with an assortment of watermelon, grapes, kiwi and cantaloupe was nonexistent, and the freshly cooked vegetables that are available every day were not as diverse as they are this year. Most importantly, Covel did not have the self-serve pita bar.
Throughout my short time here at UCLA, the dining halls have proven themselves as hubs of constant experimentation and innovation. Covel's recent measures, though, have been most impressive, and there is a lot that other dining halls can emulate to not only improve students' experience, but become more sustainable in the process.
The Covel of today is significantly different. There are now properly proportioned thin-crust pizza and self-serve french fries of multiple flavors with an assortment of sauces. It is also possible to enjoy all of the fruits and vegetables that are necessary to round out everyone's meals. Lastly, the pita bar offers authentic Mediterranean flavors with a wide array of flavors, textures, breads and combinations available.
One student, Jared Leitner, a second-year electrical engineering student, even said he never went to Covel last year, but recent changes have brought him back to the dining hall more often.
De Neve dining hall has the most potential for improvement. Therefore, it especially should emulate Covel in many ways in order to boost foot traffic and customer satisfaction. Simple changes such as a more diverse fruit bar and self-serve fries with an assortment of Tex-Mex inspired sauces could improve De Neve's selection. And instead of the pita bar, UCLA Dining should consider creating a build-your-own-taco bar that can be erected on one of De Neve's open counters a couple of days a week. This taco bar can be equally as fresh and diverse as Covel's pita bar, and possibly more popular.
Making these changes wouldn't just be for aesthetic and taste purposes; there are environmental and practical benefits as well. The self-serve method has been shown to be beneficial in reducing food waste and increasing foot traffic within the dining halls. A study done by a UC Berkeley student in 2010 found that 50 percent of students who threw away food in Cal's dining halls did so because they were unsatisfied with the food quality. Another 28 percent did so because they were served too much or took too much food.
While the study also found switching to take-out options could reduce food waste, UCLA has some of the best dining halls in the country that shouldn't be eliminated. Modifying dining halls such as De Neve is the best way UCLA can compromise between fantastic buffets and sustainability.
Other major universities such as UC Davis have already begun attempts to reduce food waste. It only makes sense that the dining halls at UCLA should do the same. Simple transitions such as these can further propel UCLA's renown on the national stage with even better rated dining halls and reduce the carbon footprint of one of the largest fixtures in Los Angeles.
Practically speaking, it's a no-brainer. UCLA's student population is always growing and the vast majority of first-year students live on the Hill. Therefore, UCLA Dining has to always adapt to larger crowds. Self-serve options provide the opportunity for faster, more efficient service. An overall increase in the prestige, experience and efficiency of the dining experience could, in turn, lead to an increase in students desiring larger meal plans, and increase the potential for students living off campus to buy meal plans.
Of course, there's a cost to everything, and the argument against these simple ideas and strategies listed above would be that it may not be cost-effective, and that UCLA already has plenty of initiatives that serve to increase sustainability in the dining halls.
But the fact of the matter is that sustainability pays for itself.
Food removal costs can add up, especially when UCLA is exporting 50 tons of food waste every month. Reducing this amount, even by a little, makes both environmental and financial sense.
Environmental consciousness is the way of the future, and UCLA should solidify itself as a leader within this trend. Not only that, but these changes have the potential to increase students' satisfaction with their meals, which is an overall benefit to people who are at the core of UCLA as a whole. If these changes do not work, then it would be easy to transition away from them. As Franklin Delano Roosevelt famously said, "But above all, try something."
As Bruin Day recently came to a close, there were hundreds of potential Bruins who were able to experience what life is like on this campus. Innovations like those at Covel could have only added to their awe at all that UCLA can offer them. Undertaking simple actions in dining halls can serve not only the current students, but the future of our school as a whole.