Westwood restaurant chef succeeds through, finds value in mentorship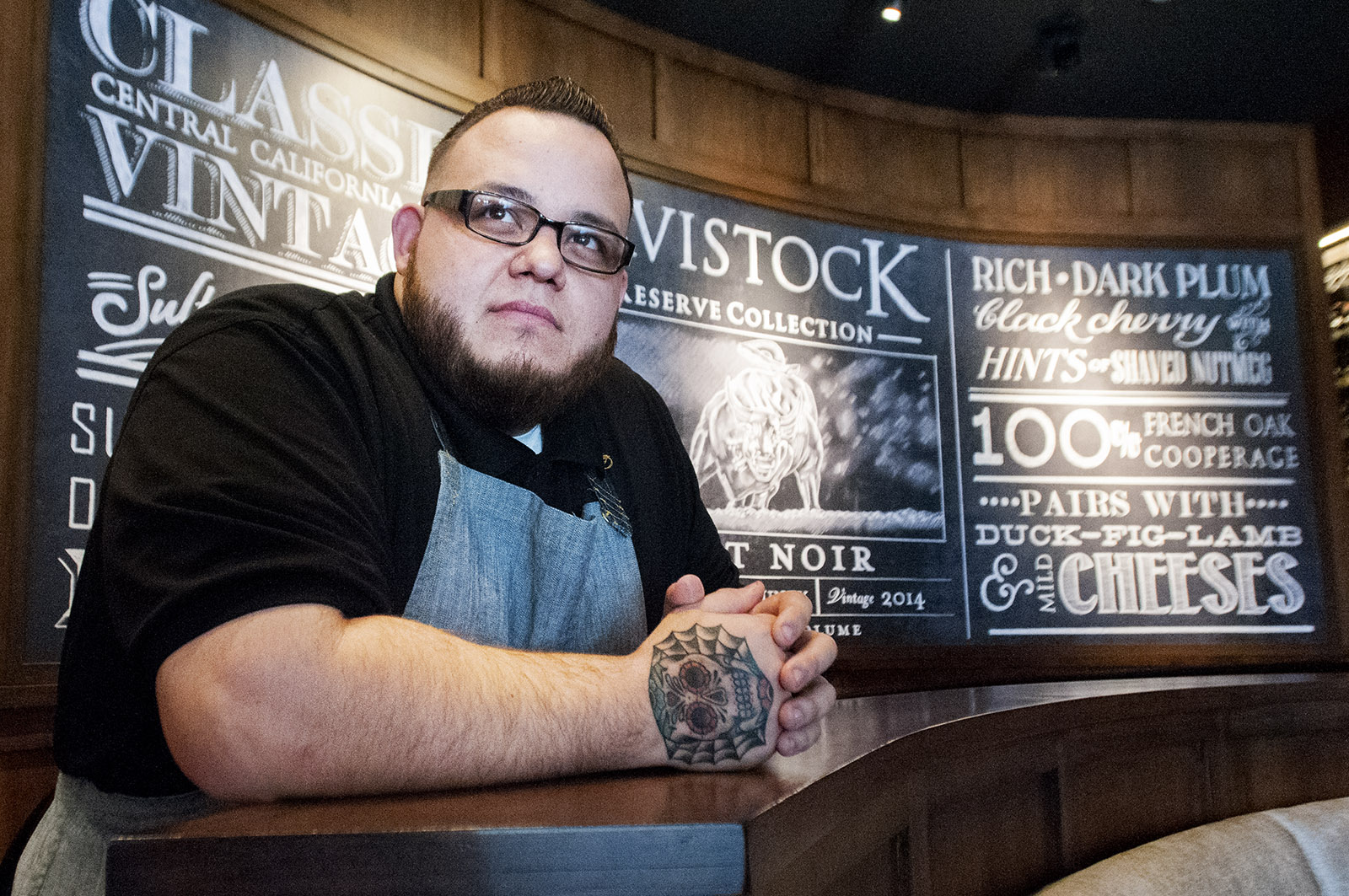 Adrian Vela, who recently arrived at Napa Valley Grille in Westwood Village s executive chef, lost his chance to play for the UCLA football team about a decade ago due to an injury. (Anisha Joshi/Daily Bruin)
Adrian Vela lost his chance to play for the UCLA football team and attend his dream college after an injury. With college no longer an option, Vela took a job washing dishes.
"I fell in love with the pace of things in the kitchen, from the clash of the pans to the noise and chatter on the line," Vela said.
Almost a decade later, Vela was hired earlier this year to be executive chef at Napa Valley Grille in Westwood Village. He said he hopes to improve the menu by focusing on organic and locally farmed produce.
Vela played football in high school, but also had an affinity for art. He said he always had a pencil in his hand growing up and spent time drawing at home to escape the hardships he experienced growing up in the San Fernando Valley.
After the end of his football career, Vela said his niece encouraged him to pursue drawing at the Art Institute of Las Vegas. During his studies, a recruiter at the institute suggested he look into the culinary program.
Outside of his culinary curriculum, Vela maintained his job as a dishwasher.
"I would go to work as a dishwasher and see the cooks in action," he said. "Then I would emulate them and practice my skills at home."
During his first year as a chef, Vela said he spent a year working 40 hours a week for free to gain experience.
Vela added he likes how the cooking industry levels the playing field by attracting people from all kinds of backgrounds – from college graduates to former lawbreakers. He said working with a diverse group of individuals has given him an appreciation for how far everyone has come to get to their current positions.
Vela moved to Los Angeles in 2014 after gaining experience as a cook at various restaurants in Las Vegas. His first job with Tavistock Group, a company that owns 15 restaurants, was at Cafe del Rey in Marina del Rey, where he started as the chef de cuisine and moved up to executive chef.
Chuck Abair, a former executive chef who Vela worked under at Cafe del Rey, said he always appreciated Vela's hard work and leadership during a busy day at the restaurant.
"I remember him fronting the storm, always running out issues and leading the team," Abair said.
Vela said he learned the importance of focusing on fine details and having true passion for your craft from mentors like Bradley Ogden, Joël Robuchon and Rick Moonen. Vela said Moonen's devotion to sustainable products encouraged him to look into locally sourcing Napa Valley Grille's food.
"I want to be an iconic chef who can feel good about carrying a passion with me," Vela said.
Vela said his father, who worked on strawberry and garlic fields in Mexico before immigrating to the United States, inspired Vela to work toward using more locally sourced products at Napa Valley Grille.
He added food has always been important in his family.
"Food was always the epicenter of every gathering," he said. "Food, beer and music were the three things always present."
Vela said he remembers spending hours on his eighth birthday digging a hole his father would cook an entire pig in later that night.
"It was a good way for me to understand that something as simple as stewed pork has a process, and you have to respect that," Vela said.
Vela said he plans to continue to help his chefs and cooks hone their skills the way his mentors did for him.
"I want to teach and educate my guys so one day, one of them can look at me like I look at Bradley Ogden or Joël Robuchon," he said.
Eddie Osorio, a sous chef who worked at Cafe del Rey with Vela, said Vela has greatly influenced him as a chef.
"Adrian's been a big mentor in my life," Osorio said. "He helped me become the chef I am today – he's a chef who really deserves the title."
Vela said he is in the process of designing Napa Valley Grille's menus based on seasonal foods and local vendors. He added he plans to focus on utilizing local farmers and farmer's markets like the one in Westwood Village.
Though he didn't expect to become a chef, Vela said his job is incredibly rewarding.
"Cooking is high stress, and with that stress comes camaraderie," he said. "And that camaraderie comes with a feeling that is indescribable."
Chelsea Nivison is currently a news contributor covering Westwood, transportation and Los Angeles.
Chelsea Nivison is currently a news contributor covering Westwood, transportation and Los Angeles.