UCLA beach volleyball sweeps Long Beach State in last home game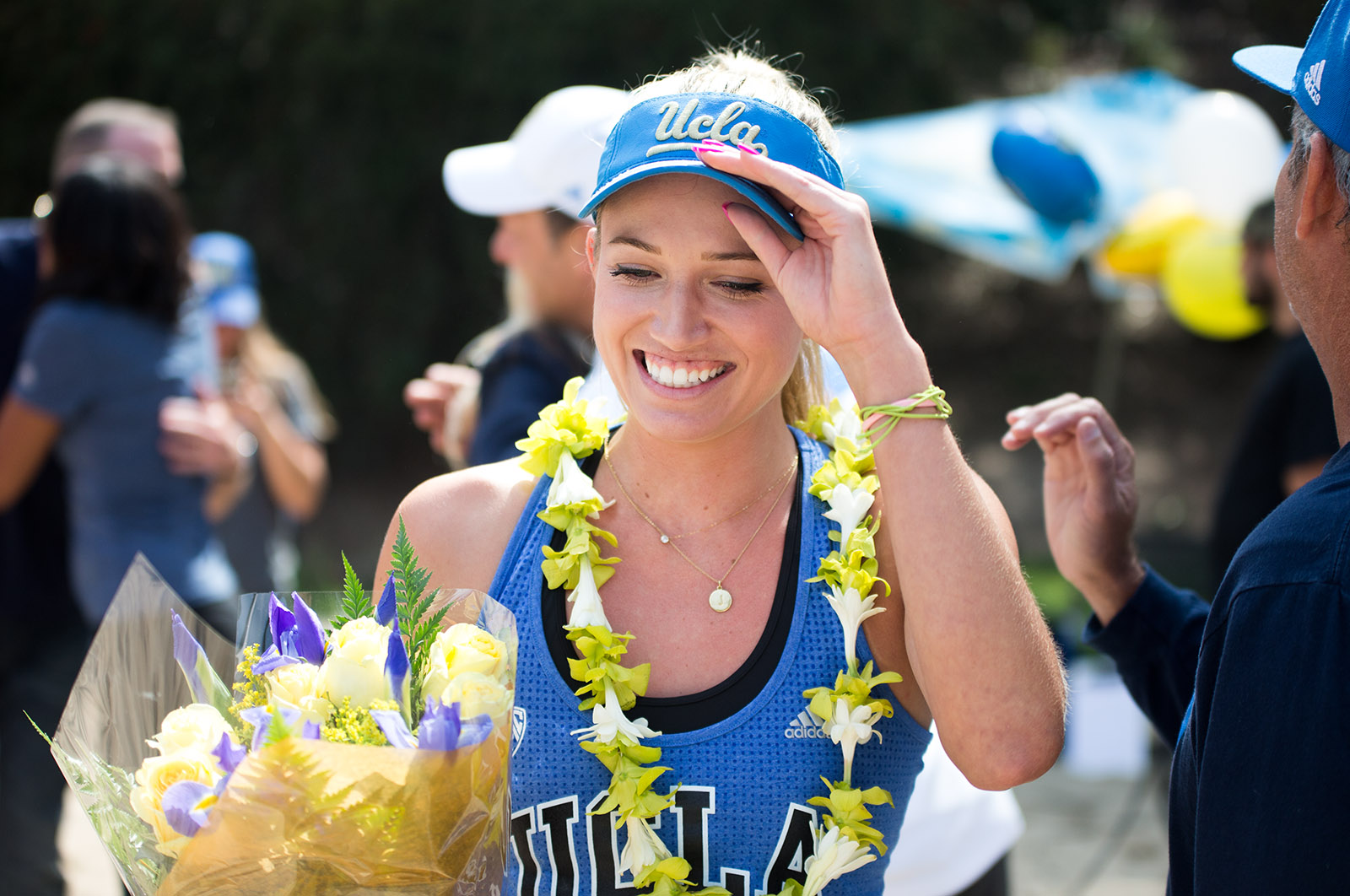 Senior Julie Consani played her final match on the courts at Sunset Canyon Recreation Center Wednesday during UCLA beach volleyball's Senior Day. (Aubrey Yeo/Daily Bruin senior staff)
With a light touch, Julie Consani sent the volleyball over the net and watched it drop out of reach of her Long Beach State opponents.
The point secured a 5-0 sweep over the No. 6 49ers in which the No. 4 Bruins never dropped a set, clinched UCLA's (15-4) third win over Long Beach State (9-9) this season and sealed a 3-0 undefeated run at UCLA's home courts at Sunset Canyon Recreation Center for the year.
But for Consani and fellow senior Kamila Tan, who played all six home matches since the courts' unveiling last year, that point also signified the end of their final contest on UCLA's Hill.
"I tried to keep my emotions contained until the match was all over," Tan said. "I'm really happy that we came out with a 5-0 sweep on Senior Day. That feels really good."
Aside from competing in every matchup in these past two years, Tan and Consani's contribution to UCLA beach volleyball also extends to helping herald a new era for the program. Coach Stein Metzger describes their arrival at UCLA in 2014 as a "sign of the times," marking the point when the foundations were laid for building a dedicated beach volleyball team.
"Both Kamila and Julie transferred specifically over to play beach for us," Metzger said. "Those are the two trailblazers for this squad. Before them, we didn't really have anybody playing beach only."
Consani and Tan both left their former respective schools of Cal State Fullerton and UC San Diego to join UCLA in 2014, drawn to the chance of playing for the fledgling UCLA program. Though the teammates walked parallel paths toward Westwood, they did recall seeing some differences when they first arrived at UCLA together three years ago.
"Kamila was very quiet, and Kamila was so good at volleyball and I was so bad. So we couldn't really connect on that level, but over the years our friendship has grown a lot," Consani said, as she pulled Tan over for a hug. "She's one of my closest friends now."
Teammates and family members celebrated the UCLA careers of Consani, Tan and fellow seniors Karly Drolson and Rachel Inouye as they were presented with personal bouquets and leis amid a backdrop of blue, gold and white balloons prior to 2016's final home game.
But even with the icing on the cake of a 5-0 sweep to end Senior Day, the UCLA seniors know the season is far from over, especially with the team on pace to qualify for the inaugural NCAA beach volleyball tournament in Gulf Shores, Alabama.
It's there that the seniors plan to finally let their emotions get the better of them.
"I know that if we go to Gulf Shores, the last match there, I'll just be an immediate waterfall," Tan said. "But for right now it definitely hasn't hit me, and I'm still looking forward to the rest of season."
Email Yeo at [email protected] or tweet @aubreyyeo.