GSA finds Milan Chatterjee in violation of code, votes not to take action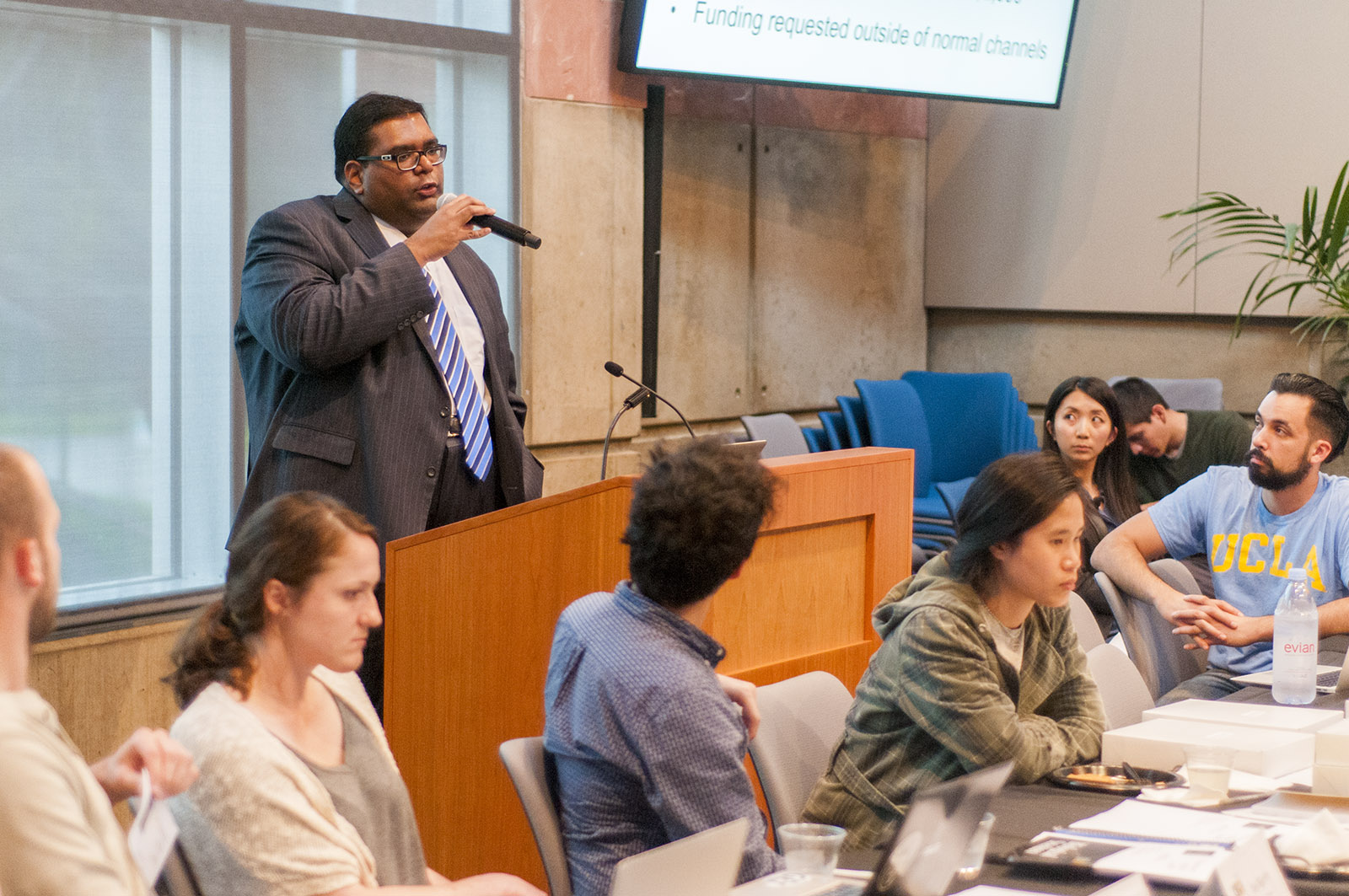 The graduate student government decided Wednesday not to take action against President Milan Chatterjee, who was found guilty of violating GSA code. (Owen Emerson/Assistant Photo editor)
April 14, 2016 12:45 a.m.
The Graduate Students Association found President Milan Chatterjee guilty of violating the GSA code and constitution at a meeting Wednesday night, but voted not to take action against him.
The forum found Chatterjee guilty with a 12-3-5 vote and decided to draft a letter of censure with a 11-2-4 vote. The letter will state the forum disapproves of Chatterjee's actions, but does not find cause to remove him from office.
Chatterjee was accused of sending inappropriate and retaliatory emails to members of the GSA forum over a funding controversy, according to a list of charges compiled by several GSA members. The charges allege Chatterjee violated professional conduct, misused GSA resources and acted outside the authority of the presidency and cabinet to create policy and make funding decisions, among other allegations.
In October, Chatterjee announced he would rescind funding from a Diversity Caucus event if the caucus took a position on the Boycott, Divestment and Sanctions movement. Students for Justice in Palestine at UCLA and pro-Palestine legal groups alleged Chatterjee violated students' First Amendment rights.
The GSA passed a resolution in February that mandates all future funding decisions will not take viewpoints into account. The GSA cabinet created a subcommittee to investigate Chatterjee and his cabinet, but it was dissolved after members could not to agree on how to deliberate.
Chatterjee said he ran for GSA president on a platform that emphasized the importance of inclusive events, and he thought he made it clear the stipulation regarding viewpoint neutrality applied to both sides of the issue. He added the GSA cabinet knew about the stipulation and there were no objections at the time.
Some GSA members complained that Chatterjee held an online vote concerning the University of California Board of Regents' Statement of Principles Against Intolerance without having the forum discuss it first. He said some decisions were made through online polls instead of through meetings because they had to be made quickly.
Chatterjee added claims that he had engaged in Islamophobia were personally hurtful, and he has never taken a public position on the Boycott, Divestment, and Sanctions issue. He said the campaign against him was perpetrated by SJP.
He responded to charge of lacking professional conduct, saying he had been the victim of a smear campaign and had the right to defend himself.
The forum approved a resolution condemning anti-Arabism and Islamophobia at the same meeting. The resolution, written by members of SJP, states the GSA will not condone anti-Arab or Islamophobic speech and actions.
Omar Zahzah, a member of SJP, said they did not draft the resolution in response to the viewpoint neutrality issue and charges brought against the GSA president. He said he wanted the GSA to take a public stance on the issue, after recent Islamophobic events at UCLA, UC Riverside and in San Bernardino, California.
Several posters distributed on campus last year portrayed Palestinians and Muslims as terrorists.
Zahzah said the resolution should not be interpreted as an attempt to infringe upon GSA members' or other students' First Amendment rights.