Protestors condemn Napolitano's treatment of undocumented students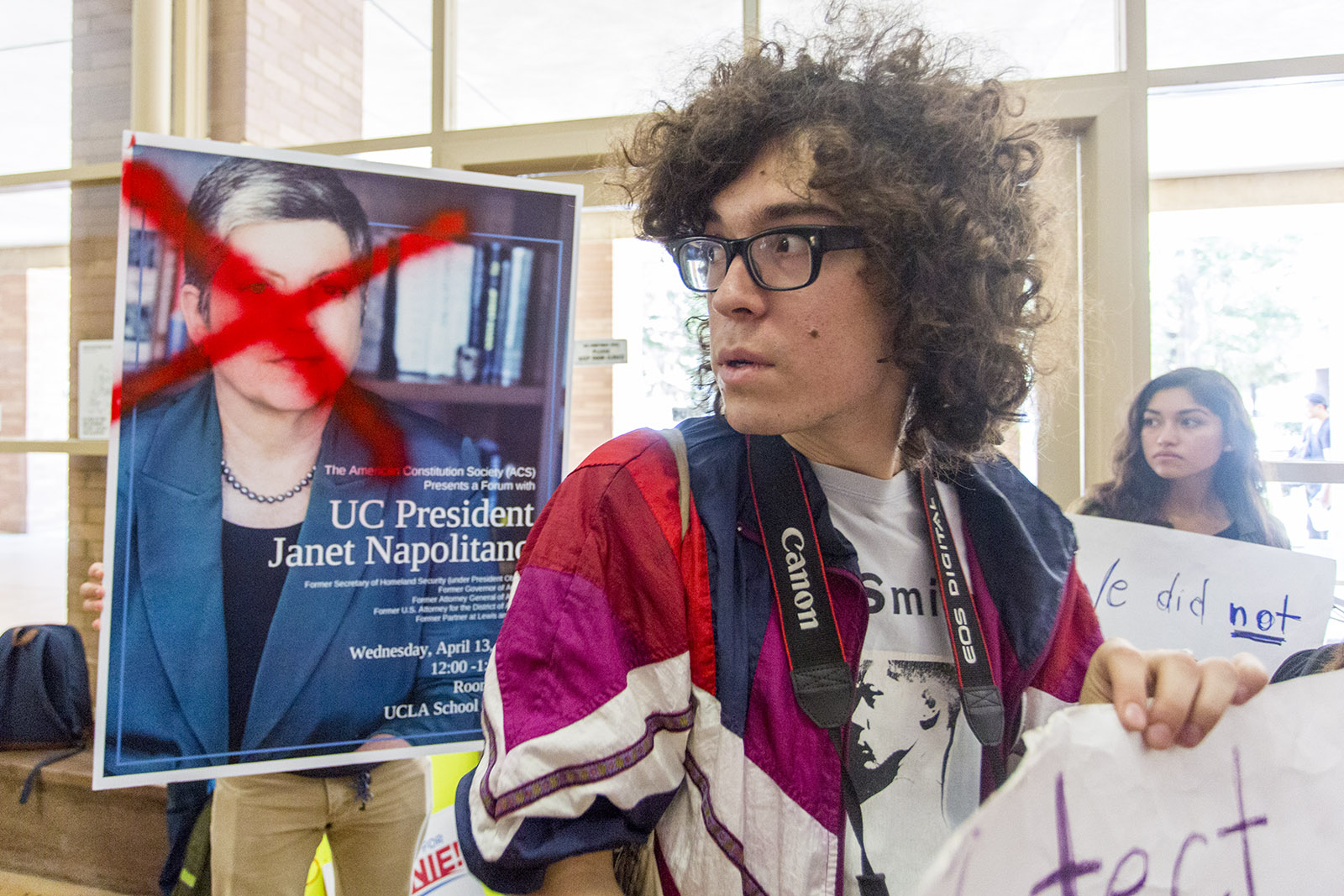 Joe Ackerman, fourth-year English student, called for University of California President Janet Napolitano's resignation Wednesday. (Jintak Han/Daily Bruin)
UCLA students protested against cuts in funding for undocumented student resources and demanded University of California President Janet Napolitano's resignation as she left a forum at the UCLA School of Law Wednesday.
About a dozen students waved posters and chanted to disrupt a forum hosted by the American Constitution Society. The protest was organized by Improving Dreams, Equality, Access and Success, a student, faculty and administration group that aims to represent undocumented UCLA students.
Students chanted "Napolitano has got to go" and repeatedly asked for her stances on immigration legislation and student funding. Napolitano did not respond to the crowd, and staff members escorted her out of the building.
Protesters demanded the UC Office of the President file an amicus brief in support of Deferred Action for Parents of Americans and Lawful Permanent Residents, an initiative that would delay deportation for families of U.S. citizens and permanent residents, said Cristian De Nova, an IDEAS advocacy representative and third-year microbiology, immunology and molecular genetics student.
De Nova said the group also organized the protest to demand Napolitano extend funding for undocumented UC students.
He added the $5 million UCOP funding allocated to financial aid, meal vouchers and textbook lending to undocumented UC students will expire in June if Napolitano does not sign off on a renewal. Without the renewal, UCLA will not be able to afford undocumented student coordinators, crisis grants or opportunities for research and internships, De Nova said.
As the former Secretary of Homeland Security, Napolitano's involvement in programs that resulted in deportations compromise her ability to represent undocumented students, De Nova added.
Lupe Sanchez, a first-year psychology student who participated in the protest, said the Undocumented Student Program at the Bruin Resource Center supported her through financial difficulties while transitioning to UCLA.
"If Napolitano continues cutting funds, how are we supposed to get by when we don't get federal funding?" Sanchez said.
Sanchez added she thinks the California DREAM Loan Program, which provides undocumented students with student loans, insufficiently covers financial needs of undocumented students because many of them do not receive work permits, and it is difficult for them to repay student loans.
About 20 protesters from the Million Student March joined the action in the law school building. Students from the march, organized to protest against sexual harassment, lack of mental health funding and tuition hikes, attended to show solidarity with protesters.
RJ Ronquillo, an IDEAS representative and fourth-year Asian-American studies student, said he thinks Napolitano heard students' demands but doubts she will act to secure the funding.
Ronquillo said IDEAS will participate in a UC-wide summit next week to discuss how to allocate resources for undocumented students and continue efforts to ensure the funding is renewed.
Pauker was the managing editor from 2017-2018. She was previously an assistant news editor for the City beat and a reporter for the City beat.
Pauker was the managing editor from 2017-2018. She was previously an assistant news editor for the City beat and a reporter for the City beat.