Top-ranked women's golf takes home win at PING/ASU Invitational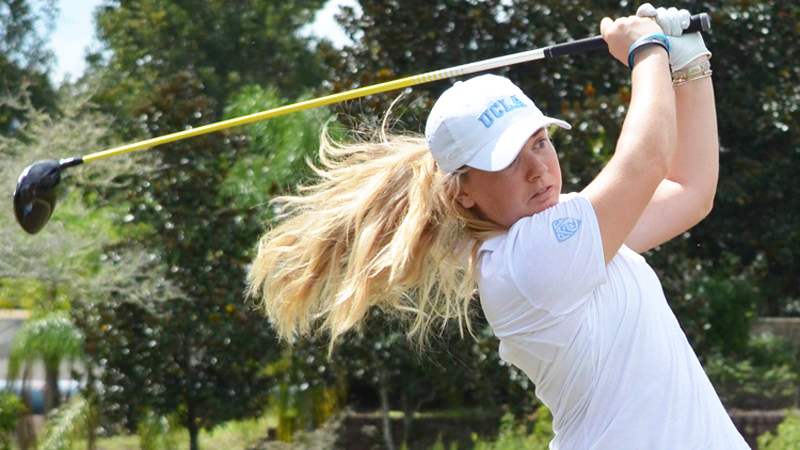 Junior Bronte Law was able to grab her second individual tournament win of the season, helping solidify her No. 1 ranking nationally. The Bruins are also currently ranked as the nation's top team.
No. 1 UCLA women's golf finished first in the PING/ASU Invitational on Sunday, battling against an extremely competitive pool featuring 14 of the top teams in the nation, including No. 3 Alabama and No. 5 Northwestern.
The Bruins took care of business in Tempe, Arizona behind the continued strong play of junior Bronte Law (12-under 204) and freshman Lilia Vu (9-under 207), who finished first and second overall respectively in the tournament.
"I just told myself, just keep up my game the way it is," Vu said after her best ever collegiate finish. "Stay strong, even if one shot doesn't go your way. One shot doesn't define who you are."
UCLA finished day two of the tournament only one shot ahead of tournament hosts ASU, but rallied to shoot a four-under par collectively on the final day to hold off Arizona State and collect their fourth event win.
Law's victory marks the second tournament this season in which she's taken first place. As the top-ranked player in women's college golf right now, Law is leading the Bruins in her third year at UCLA, and will be pivotal in helping the Bruins maintain the number one ranking until the end of the season.
"We're just coming into our own at the right time in the season." Law said. "Obviously our next (tournament) is our conference, so the focus has to be on that, and not letting outside factors affect us."
Senior Louise Ridderström was a three-over par, and finished tied for 14th overall, while junior Hadas Libman finished eleven-over par. Sophomores Erin Choi and Lydia Choi, playing as an individual, tied for 41st overall with a score of ten-over par.
"Everybody stayed patient," said coach Carrie Forsyth. "At the end of the round, we just caught on fire and had a bunch of birdies at the end, and that was the difference. I feel like there's a lot of great golf happening on our team right now."
The Bruins will next play in the Pac-12 championship starting April 18.
Email Qasim at [email protected] or tweet him @Qasim311.