Westwood rent prices highest in Los Angeles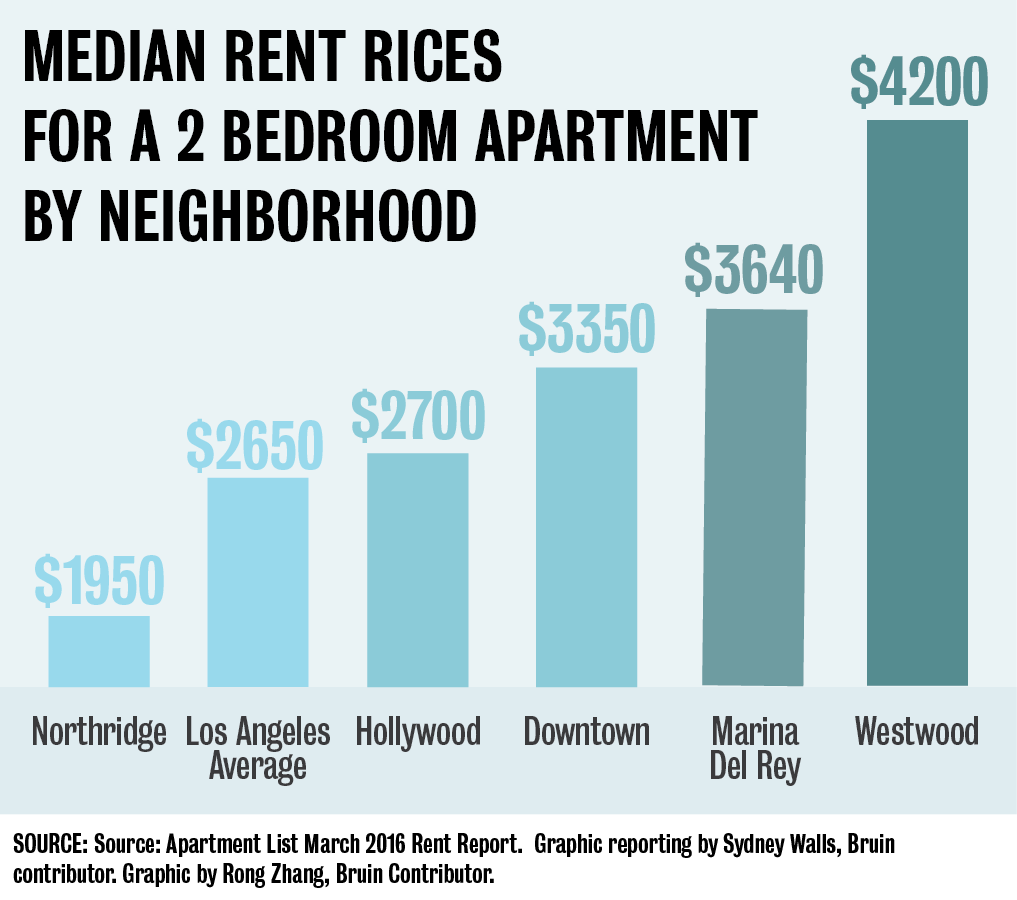 High prices in Westwood make it hard for students to find a place to live off campus. They've been a problem in Westwood for decades. What is causing prices to be so high and how are they affecting students?
WALLS: The term, "poor college student" is thrown around a lot on college campuses and between friends. But when you are trying to find an apartment close to campus in Westwood, the term takes on a whole new meaning.
Living off campus is a luxury that many students want. But with the high prices of Westwood Village, how reasonable is that dream? Turns out, not very.
According to LA Weekly the average price for a two-bedroom apartment in Westwood is around $4,200.
Students are stuck trying to find as many roommates as possible to get the rent down to a reasonable price.
Apartment hunting isn't easy, especially with the added stress of school. Holly Fletcher, a second-year applied linguistics student, had to deal with the stress of finding a place this year.
FLETCHER: "Me, my roommate, and the other two girls we are living with really wanted to live off campus next year, we're going to be third-years and we want some independence. But every apartment we looked at off campus was just way too expensive or way too far."
WALLS:So what is causing high prices in Westwood? Steven Sann, chairman of the Westwood Community Council and UCLA double graduate in 1983 and 1991, says the high prices in Westwood are a result of simple supply and demand.
SANN: "The demand for housing in this community so greatly outstrips the available supply that it creates a sellers market where the landlords can literally name their own price. This has been a problem in Westwood for a very long time, for decades."
WALLS: UCLA is in a prime location for real estate. It's adjacent to Beverly Hills, Brentwood and Bel Air, all very expensive places to live. But students are a major demographic in Westwood, and most students, or their families, don't have the money to live in such an expensive neighborhood. Sometimes that is the only option.
UCLA can't do much about the cost of apartments in Westwood, but they are trying to improve the situation as best they can on their part. According to the Los Angeles Times, UCLA has a plan to add 14,000 more beds in time for the 2024 Olympics, and that will also help with adding students.
UCLA has the biggest population out of all the UC's, but has the smallest amount of land. That makes it hard to provide more housing for students. Sann says that the landlords in Westwood see the demand for housing and take advantage of that. Lois Takahashi, professor of urbanplanning, says if the demand for housing won't decrease, the prices won't either.
TAKAHASHI: "Housing supply is low, you're in the midst of a lot of desirable locations, and you have a lot of high income households around the area. You know I don't see why the housing prices would go down, because of that."
WALLS: Most students and their families cannot afford the prices in Westwood, and while living with multiple roommates, while at times fun, adds more stress overall.
SANN: "It's hard enough to find one roommate you are simpatico with but to find 5 or 6 people you jell with and you all get along with, that's tough. These students are being crammed in and I don't think it's the most conducive environment for a good education."
WALLS: If multiple roommates isn't ideal and the prices in Westwood are too high what's the next option? Well, expensive housing prices have driven some students out of Westwood. Without reliable transportation, commuting can be hard. Kevin Casasola, a third year statistics student, knows what it's like to live a little farther away from school. Casasola lives South of Wilshire, and has to commute to school daily.
CASASOLA: "I think the pricing in Westwood is absolutely ridiculous, you know the fact that I have to live 30 minutes walking distance from campus is kinda hard."
WALLS: Prices in Westwood may never be cheap, after all UCLA is one of the top-ranked universities in one of the wealthiest neighborhoods in Southern California. With UCLA letting in more and more undergrads, the demand for housing will just continue to rise. As long as the need for apartments is there, the prices won't be going down.
SANN: "It's really a perfect storm where landlords can exploit this massive demand and inadequate supply of apartments."
WALLS: As long as there is a demand for housing, the prices in Westwood will not drop. It's a supply-and-demand world. Things may be rough with pricing, and being a broke college student is no fun, but at the end of the day there are just some things students have to sacrifice if they want to bleed blue and gold.
For Daily Bruin Radio, I'm Sydney Walls.