Beach volleyball returns from Hawaii fatigued but tactically improved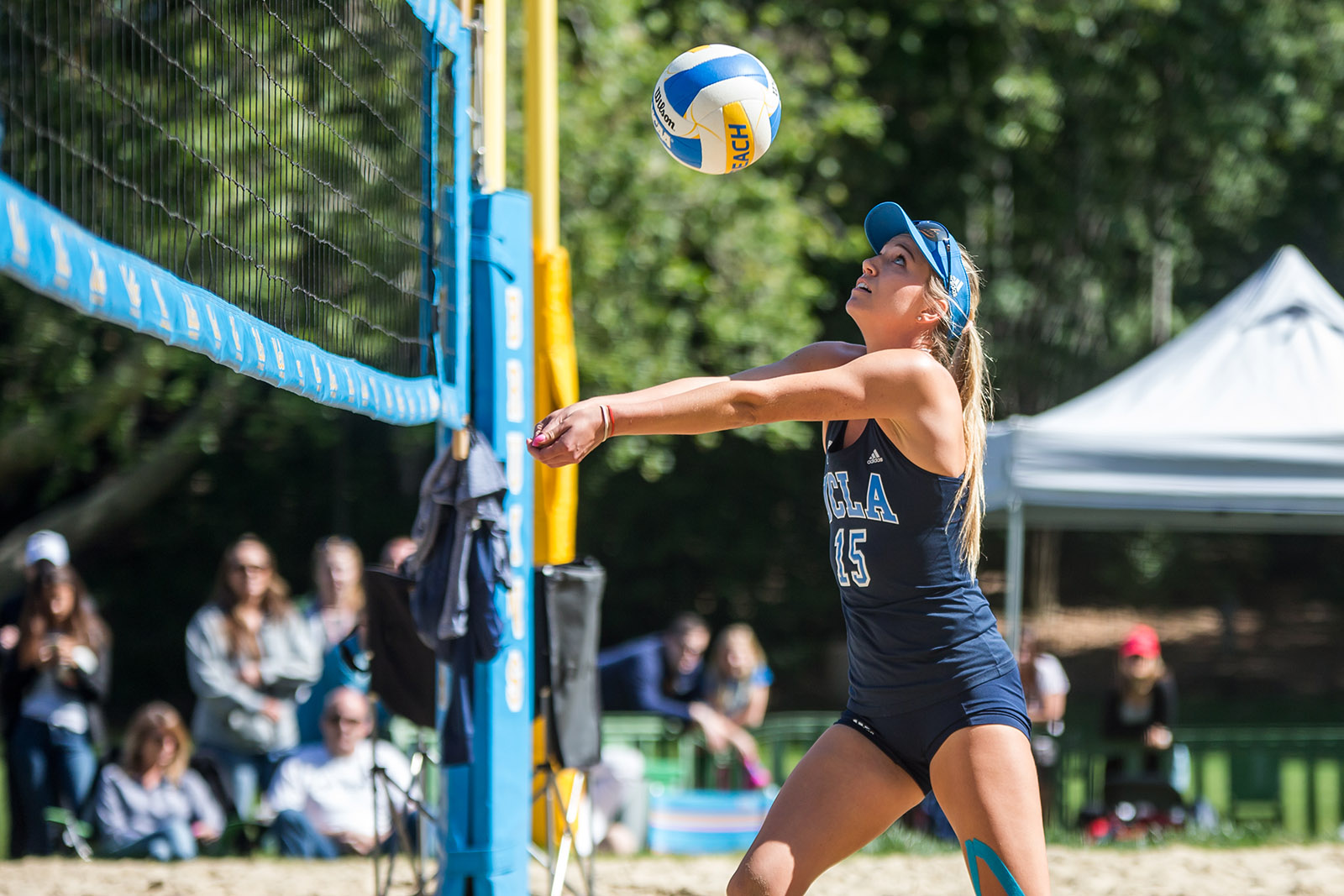 Senior Julie Consani and the UCLA beach volleyball team travel south to Hermosa Beach to compete against two top-15 foes in Long Beach State and University of San Francisco. ( Aubrey Yeo/Daily Bruin senior staff)
Beach volleyball
---
USF
Saturday, 10:30 a.m.
Hermosa Beach
---
USF
Saturday, 12:45 p.m.
Hermosa Beach
UCLA beach volleyball's trip to the Hawaii tropics didn't feel quite like a vacation.
Whether it was traveling, playing multiple games under the warm Hawaiian sun or catching up with two day's worth of missed classes, it did a number on the Bruins.
"Honestly, we've had a rough couple of practices just because we're tired," said senior Kamila Tan. "But I have confidence that our team is going to mentally push through that and come competition we're going all out."
Fortunately for No. 4 UCLA (12-4), this weekend's travel plan only consists of driving down the Interstate 405 South to take on University of San Francisco (13-2) and No. 6 Long Beach State (8-6) at the USAV Beach Collegiate Challenge in Hermosa Beach, California.
While UCLA's journey has taken a physical toll on the team, its mental rewards haven't gone unnoticed by the team's coaching staff.
"We've accomplished a lot tactically – playing better and knowing the game better, and being cleaner on our skills and having great effort," said coach Stein Metzger. "We can trust it now because we've been able to execute it in big games and with different flights too."
That success, however, means that the team has developed a proverbial target on its back. And the Long Beach State 49ers will be gunning for the target, knowing a win over the Bruins would not only avenge a loss in the season opener, but also give them a boost in the national rankings and an increased likelihood of qualifying for the inaugural NCAA Tournament.
In order to deal with Saturday's challenge from USF and Long Beach State, UCLA said it would build on the foundation that has sought big wins and improvements throughout the season.
"We're just trying to play consistent," said senior Julie Consani. "Not doing anything crazy or different than anything we've been doing since we've had success."
In addition to the dual meets, the tournament at Hermosa Beach will consist of a single-elimination individual pairs tournament separate from team competition. With that in mind, Metzger said he plans to use this opportunity to experiment with different partnerships that he might have to call on in the event of illness or injury.
As for the players, it's another opportunity to play against competition from some of the sport's top teams like No. 2 USC, Long Beach State and possibly another UCLA duo.
"You get to really buckle down on your own skills and push yourself to see if you can go win that pairs championship," Tan said. "You're going to be playing more matches, so it pushes you when you're tired. It's really great for mental competition too because you see a whole bunch of types of players at different levels."