Israeli and U.S. veterans share experiences in 'Night of Unity' panel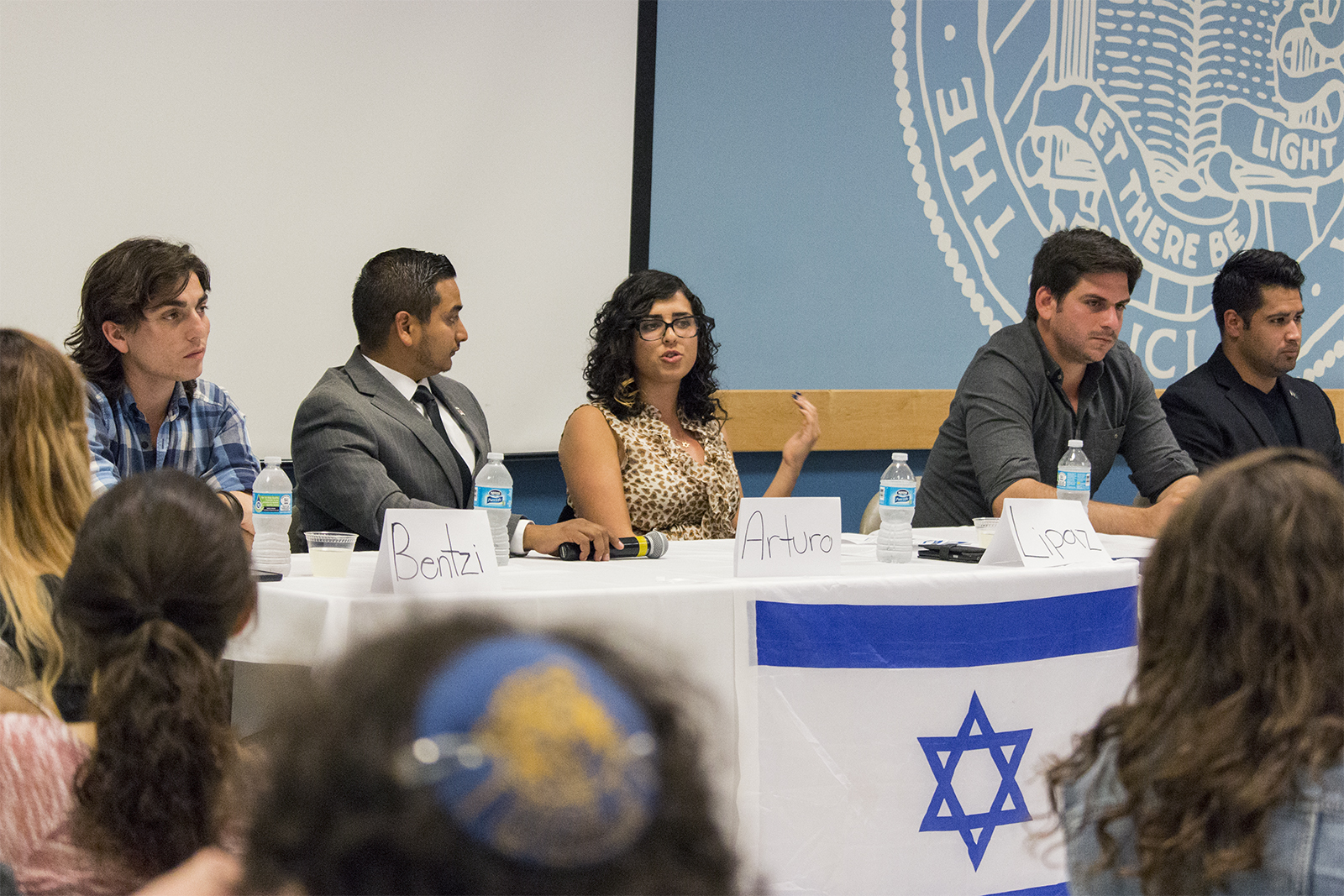 About 75 people attended the panel, which was a part of a larger event called "Night of Unity" in Ackerman Union organized by Students Supporting Israel, the Student Veterans Association and other organizations. (Efren Piñon/Daily Bruin)
The original version of this article originally stated that Lipaz Ela came to Los Angeles four days before the event. In fact, she came to L.A. four days after end of her service in the fall with IDF.
Student veterans of the U.S. Marine Corps and U.S. Navy spoke alongside veterans of the Israel Defense Forces on Tuesday in a panel that discussed their transitions between military and civilian life and the stigmas they experienced in their respective countries.
About 75 people attended the panel, which was a part of a larger event called "Night of Unity" in Ackerman Union. Several campus organizations, including Students Supporting Israel and the Student Veterans Association, organized the event to bring together different communities and hear veterans' personal experiences, according to the event's Facebook page.
Johnney Maldonado, a U.S. Navy veteran and vice president of the Student Veterans Association, said he wanted to serve on the panel to share the narratives of U.S. veterans. He added he wanted to humanize the military experience.
"We are often portrayed by many groups, such as the media, incorrectly," said Maldonado, a third-year political science student.
Liat Menna, president of Students Supporting Israel, said Tuesday's event was the first in recent memory during which Israel-associated groups at UCLA held an event that included stories from both the U.S. Armed Forces and the IDF.
"There is so much more to the veterans than just their duties in their armies," said Menna, a second-year economics student. "It is inspiring to see these different groups of veterans come to one setting to share their experiences."
StandWithUs, a Los Angeles-based pro-Israel awareness foundation, the UCLA Veterans Resource Center, Bruins for Israel, Chabad House at UCLA, Hillel at UCLA and the Jewish Learning Initiative also sponsored the event, which included dinner and the opportunity to write letters for Operation Gratitude, a nonprofit organization that delivers letters to U.S. service members.
Jacob Finn, a fourth-year psychology student and American Israel Public Affairs Committee campus activist, said he decided to attend the event because it resonated with his future goal of bridging U.S.-Israeli relations and policies.
Arturo Flores, a panelist and U.S. Marine Corps veteran, said he thinks the event allowed him and other veterans to talk about the common stigmas they face.
Flores, president of the Student Veterans Association and fourth-year political science student, added he thinks one common stigma between the U.S. Armed Forces and the IDF is the notion both entities are part of an evil or oppressive agenda.
Students Supporting Israel at UCLA partnered with StandWithUs to bring the IDF soldiers to campus.
Bentzi, an IDF veteran and panelist, said the StandWithUs Israeli Soldiers Tour brought him to the panel and will subsequently take him across North America to speak in dozens of cities and college campuses.
Alon R., a panelist and captain in the IDF, said he attended the panel through the StandWithUs Israel Fellowship, which trains Israeli university students who have completed their army service to become capable advocates for Israel.
Lipaz Ela, an IDF veteran and Jewish Agency Israel Fellow for Hillel at UCLA, said UCLA Hillel students asked for her to be a part of the panel. Jewish Agency Israel Fellows are IDF veterans who share their experiences of Israel and support students learning about Israeli culture.
Ela said she came to Los Angeles four days after end of her service in the fall with IDF, after seven years of service with the IDF. She added she began working with Hillel upon her arrival.
Ela said one lesson she learned from her time with the IDF was that everything is possible.
"It is possible to handle and help people," Ela said. "In the end, camaraderie becomes a unifying principle."
Email Basrawi at [email protected] or tweet him @joductape