Tanner Walters appointed as 2016-2017 editor in chief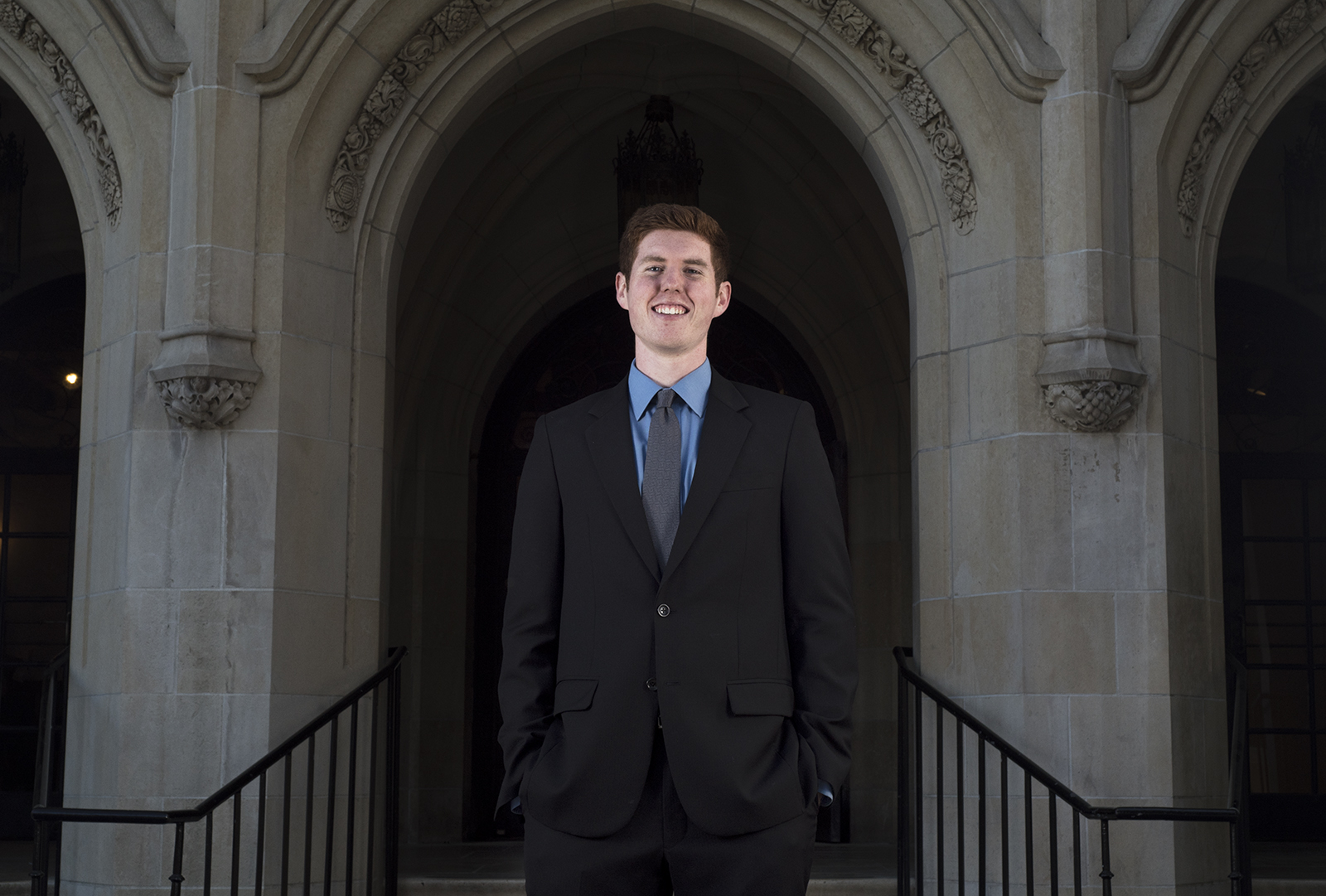 The UCLA Communications Board appointed Tanner Walters as the Daily Bruin's next editor in chief for the 2016-2017 academic year. (Miriam Bribiesca/Daily Bruin senior staff)
The UCLA Communications Board appointed an assistant Sports editor to be the Daily Bruin's next editor in chief in a meeting Monday night.
Tanner Walters, a second-year communication studies student, was officially appointed after receiving the staff's endorsement at a hearing Friday night.
Walters said he hopes to supplement The Bruin's rapidly growing staff with better training programs and improve the paper's digital presence and alumni networking.
"I want to do more to connect with readers," he said. "We still print five days a week, but the reality is we have more readers online. I want to make sure our multimedia coverage is comprehensive."
The Communications Board oversees UCLA Student Media and has the final say in The Bruin's editor in chief selection process.
Walters was the only editor in chief applicant. Since 2010, the Communications Board has consistently appointed the candidate endorsed by the staff.
Walters will succeed Editor-in-Chief Sam Hoff, who will graduate from UCLA after spring quarter with a degree in environmental studies. Hoff said Walters will face the responsibility of overseeing The Bruin's long-term sustainability as well as managing the quality of day-to-day content.
"Tanner's job next year involves ensuring our financial situation is as sound as possible," Hoff said. "As the Daily Bruin goes into our centennial year, we want to make sure we will be able to publish for another hundred years."
He added Walters has shown commitment in his role as an assistant editor by helping grow the Daily Bruin Sports Twitter account and prioritizing The Bruin even while he was home in Missouri during summer.
"As editor in chief, you wake up in the morning and the Daily Bruin is the first thing you think about," Hoff said. "With Tanner's level of dedication, I feel strongly that he'll do really well sitting in this seat next year."
Claire Fahy, current Daily Bruin Sports editor, who has worked with Walters for two years, said Walters leads by example, often works overtime and has never missed a day of work. Fahy added Walters thinks beyond himself, about how he can make other people's jobs easier.
"He really knows how to keep up the energy," she said. "For Tanner, leadership is less of a question and more of an answer."
Walters' mother, Laurel Walters, said both she and her husband are former journalists, so Walters grew up with lots of newspapers around the house. She added her son was an editor for his high school paper in St. Louis and helped adapt the paper to a more digital age.
"His leadership style is based on humility and respect for other people," Laurel Walters said. "I'm enthusiastic for him to take the next step forward with the Daily Bruin. He's ready to jump in with both feet."
Alene Tchekmedyian, a member of the Communications Board and former editor in chief of the Daily Bruin, said the board was impressed with Walters' qualifications as well as his plans for the newspaper's website and content.
"I don't remember the last time an editor in chief was appointed as a sophomore," Tchekmedyian said. "I'm so excited to see where he takes the Daily Bruin next year."
Walters said he thinks his biggest challenge will be managing all aspects of the newspaper, but he's excited to learn more about how each section is run after speaking with the current editing team.
"I basically live in the office," Walters said. "When I came to college, this was the community I wanted to surround myself with. That's what keeps me coming back every day."