15th Dance Marathon raises nearly $450,000 to fight pediatric AIDS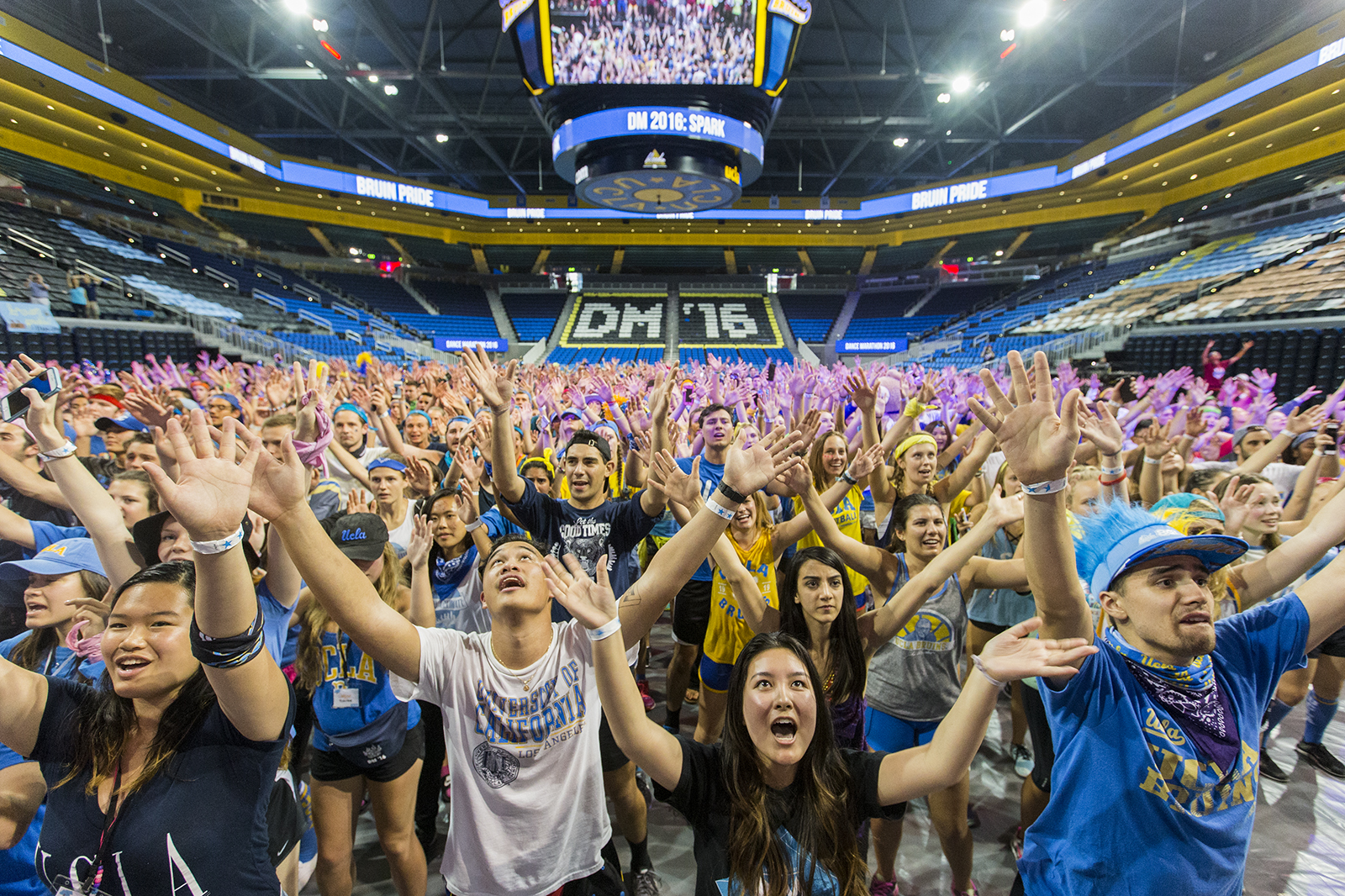 (Aubrey Yeo/Daily Bruin senior staff)
UCLA community members dressed in costumes, ranging from Harry Potter robes to unicorn onesies, and stayed on their feet in Pauley Pavilion for 26 hours to raise money for pediatric AIDS research.
The UCLA Pediatric AIDS Coalition hosted the 15th annual Dance Marathon to fundraise for pediatric AIDS research and support those who are impacted by AIDS. PAC has raised over $4 million since its inception in 2002.
Each participant was required to raise $260 to participate in the event, held in Pauley Pavilion for the third year in a row.
UCLA's Dance Marathon began 11 a.m. Saturday, bringing almost 900 people out onto the dance floor for what many participants called the longest, yet most rewarding, 26 hours of their college career. This year, the event raised $446,254, up $97 from last year's $446,157.
Of the funds raised, 70 percent of the money will go to the Elizabeth Glaser Pediatric AIDS Foundation, and the remainder will be distributed between Project Kindle, UCLA research on AIDS and PAC Life Skills/Mentorship Program.
Many students said they decided to participate in Dance Marathon to raise money for a cause that affects millions throughout the world. Others said someone they knew personally was affected by the disease.
Some students said it was difficult to raise the $260.
Eduardo Lara, a third-year international development studies and psychology student, said he participated as a "moraler," or supporter, to sidestep the registration fee.
Lara said he thinks having to raise the fee attracts a certain crowd, and feels the event was not inclusive.
"If you look around, you won't see many people of color," he said.
Other students who had difficulty raising the money said they considered paying a large part of it themselves.
Isabella Olivas, a third-year biology student, said she was initially uncomfortable asking for donations because she knows her friends are college students trying to fundraise, and she couldn't offer anything in return.
"I honestly was just going to pay it all myself," Olivas said.
However, she was inspired when she learned the money she raised would save 32 children.
In addition to participants, every hour saw an influx of moralers who showed up to rally and support their friends.
Joan Kweon, a UCLA alumna who took part in Dance Marathon for four years as an undergraduate, came back from the South Bay Area to cheer on students. Kweon said she enjoyed seeing many new faces and larger numbers of students participating.
A variety of DJs, student groups and solo artists performed at the event. Community members also recounted their personal experiences with AIDS and reminded the dancers of the importance of the event.
Event coordinators tried to inform participants about AIDS through activities, including a spinning wheel with landing points that revealed a different fact about AIDS.
Brianna Sayer, a second-year political science and sociology student, said she thinks the vigil held to commemorate children who lost their lives to AIDS was especially touching and personal.
Sayer said her perspective on the AIDS epidemic changed during the vigil because she felt she was able to connect with those who are affected.
"I was able to put a face to the people who are suffering," Sayer said. "Seeing them made me realize why we were doing this. It's more than dancing 26 hours – we're really trying to make a difference."