Beach volleyball claims back-to-back wins at Outrigger Tournament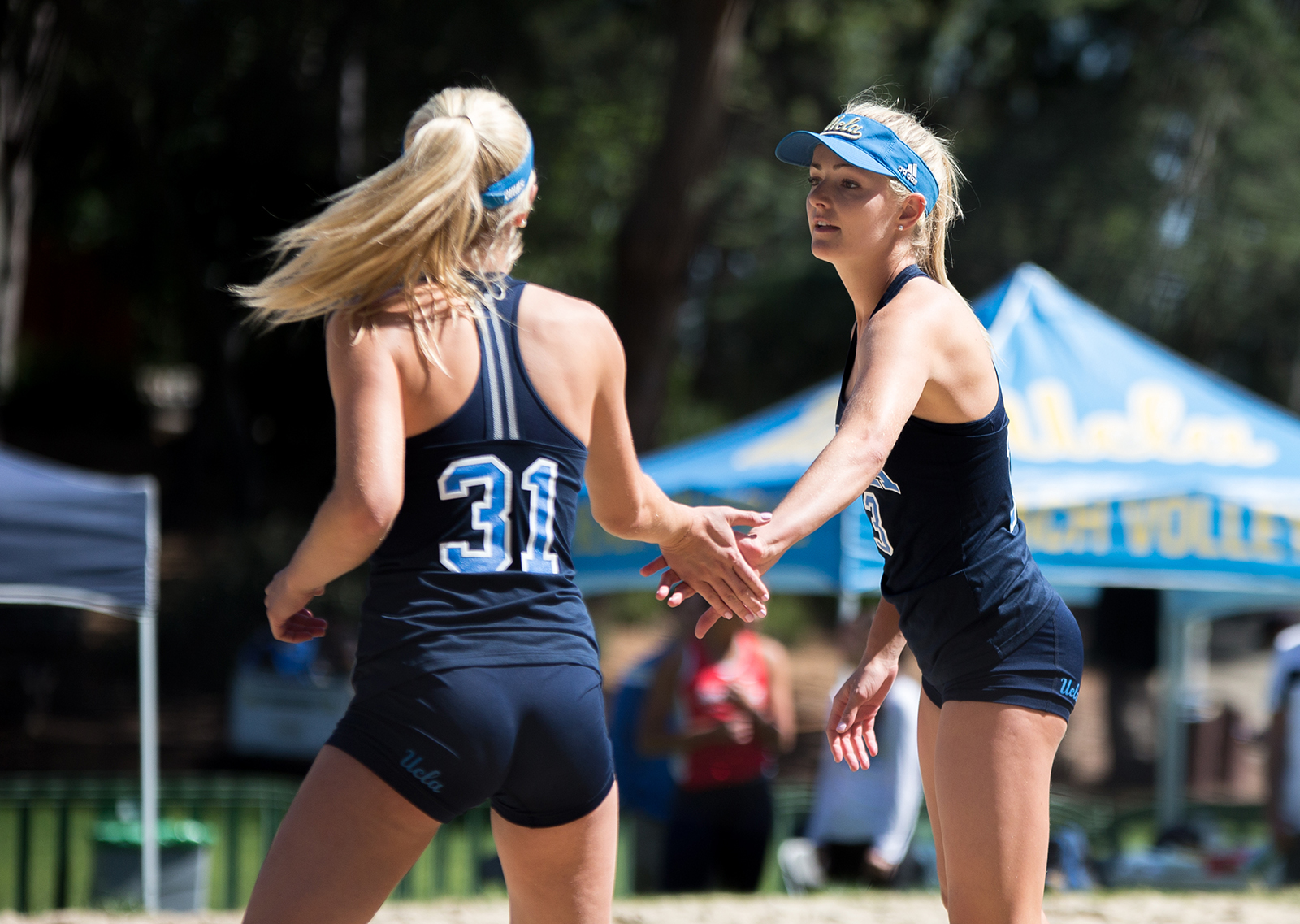 Freshmen Nicole McNamara (right) and her sister, Megan McNamara (left), clinched the winning points against Pepperdine and Hawai'i over the past week. (Aubrey Yeo/Daily Bruin)
For a team on the rise, the first week of spring quarter has closely followed the theme of getting better and better.
After starting the week with a successful takedown of the No. 1 team in the nation, No. 5 UCLA beach volleyball (12-4) was able to build on that success by stringing back-to-back wins at the Outrigger Beach Volleyball Challenge Pairs Tournament in Honolulu.
The Bruins began Saturday's competition with a convincing victory over the Arizona State Sun Devils (7-7) that morning, taking points from all five doubles matchups.
A 1 p.m. local start time for UCLA's second matchup against No. 4 Hawai'i (20-4) guaranteed that the Bruins would be playing during peak sun hours. The visitors finally got a chance to understand first hand how the rival Rainbow Wahine maintain such a dominant home record at Queen's Beach.
"I don't think we thought too much about it going into the match, but we certainly recognized that after winning," said coach Stein Metzger. "It was extremely hot today, it was in their conditions on Waikiki beach, in a very different atmosphere and environment than we've played in this year."
UCLA managed to overcome Hawai'i's home advantage and, in the process, snapped the Rainbow Wahine's six-match win streak in a tightly contested 3-2 win.
"At the beginning we lost to Florida State, USC and Pepperdine, so these mid-season wins are really good for our confidence going into the rest of the season knowing we can beat the best teams in the country," said freshman Nicole McNamara, who clinched the winning points against Pepperdine and Hawai'i with her partner and twin sister Megan McNamara.
At this halfway point of the season, UCLA has managed to piece together a compelling case as to why it should be a qualifier for the inaugural NCAA Tournament. The team currently has winning records against Hawai'i and No. 6 Arizona, and a 1-1 split with Pepperdine, placing UCLA in a favorable position among other teams gunning for three qualifying spots available to teams in the West region.
Although these recent victories have given the Bruins a boost in their confidence, Metzger said he and the Bruins aren't taking things for granted with more than a month's worth of competition left before NCAAs.
With a busy week of competition over, UCLA knew it had a Sunday morning flight waiting to take them away from the blissful Hawaiian tropics, and back to the reality of practices in Sunset Canyon Recreation Center.
But at least for Saturday, the Bruins will get to rest and celebrate a job well done together for the first week of spring on the shores of Waikiki beach.