Aram Ghoogasian: Dance Marathon should educate dancers on political aspects of AIDS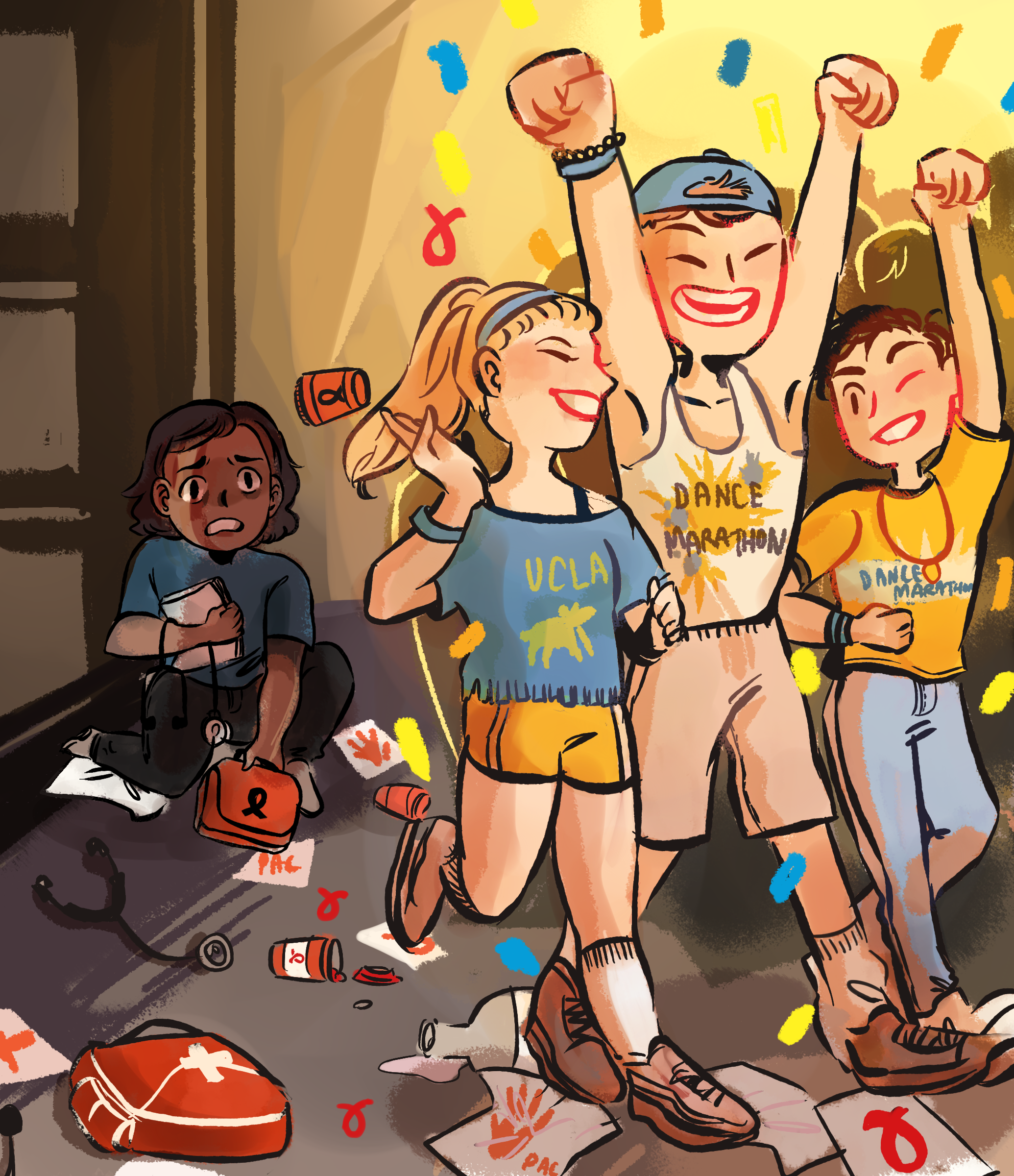 (QingQing Su/Daily Bruin)
Dancing with your friends for 26 hours while wearing a ridiculous getup won't tell you much about pediatric AIDS.
Once a year, UCLA students attending Dance Marathon spend an inordinate amount of time dancing in Pauley Pavilion. The reason they participate in this annual ritual is to end pediatric AIDS worldwide. Last year, the event raised roughly $450,000, which went to the Elizabeth Glaser Pediatric AIDS Foundation, Project Kindle and the UCLA AIDS Institute.
This marquee student event also has the expressed goal of educating the community, but it tends to fall short of providing the proper context necessary for a solid comprehension of HIV or AIDS.
Event organizers need to make a concerted effort to educate the dancers who claim to care so much about AIDS patients by highlighting the political aspects of the disease, such as the racial and wealth inequality that allow it to persist in certain populations. These issues require emphasis for a halfway decent understanding of HIV and AIDS, but they only receive indirect attention at Dance Marathon, according to Pediatric AIDS Coalition at UCLA President Minali Mohindra. Instead, she said the focus is more on the basic facts about what HIV and AIDS are, how they're transmitted, and what Dance Marathon and its beneficiaries do to prevent them.
Attendees need to understand that the AIDS issue cannot be divorced from global poverty, an issue Mohindra said the event does not directly expose participants to because the "conversation is very nuanced and requires more time to correctly teach."
The event hosts a number of speakers and activists every year, some of whom, according to Mohindra, occasionally bring up these more complex topics. But the politics behind the unequal treatment of HIV and AIDS patients needs to become a core tenet of the event, not a footnote to it.
Mohindra said some people join her organization, which has a membership of about 140 students, after participating in Dance Marathon. Starting participants off with a solid understanding of the issue and its complexities could broaden the appeal of the student group to those interested in racial and economic justice as well as health care equity and thus make the organization more effective.
But broadening Dance Marathon's educational scope is necessary to broaden its appeal. If UCLA students obey the prevailing trend, they likely do not do much research on their charitable contributions. A 2010 study found that two-thirds of donors to charitable causes do no research at all while only 5 percent do two or more hours of research. While some attendees may be well informed before the event, it's unlikely a majority of them are trying to educate themselves in any substantial way before participating in this spectacular mode of conspicuous altruism.
More so than many other diseases, AIDS needs attention that goes beyond philanthropy alone. AIDS charity may seem purely humanitarian and apolitical on its surface, but the reason certain people get treatment and others don't is extremely political; pretending it isn't or avoiding the issue's many nuances helps no one.
Malaria, for example, killed 438,000 people in 2015 despite the fact that it can be cured with prescription drugs. About 90 percent of malaria deaths occurred in sub-Saharan Africa, one of the poorest regions in the world. The lack of a cure isn't killing these people – inequality is.
HIV and AIDS aren't much different. Only 32 percent of children with HIV received treatment in 2014, and that's following an upward trend. Unsurprisingly, sub-Saharan Africa accounts for nearly 70 percent of all new HIV infections. Cure or no cure, a vast majority of children afflicted with the disease are denied proper care because of political and economic conditions they cannot control.
In the United States, where only 23 children under 13 were diagnosed with AIDS in 2010, there are massive disparities in who does and who does not receive treatment. That same year, 219 children under the age of 13 were diagnosed with an HIV infection. Of those 219, 143 were black. This isn't an accident or a statistical anomaly; it's a recognizable pattern that demonstrates disproportionate numbers of black and poor people being denied equitable health care and access to contraceptives and sex education. While members of the Pediatric AIDS Coalition might know a thing or two about these conditions, they certainly aren't relaying this information to Dance Marathon participants in a considerable way because of what Mohindra called the "nuances of the issue."
Instead, the main focus is having fun – the event is touted as "the best 26 hours of your life" by the Pediatric AIDS Coalition website – for a good cause in order to draw in more participants. This may be fine for those whose sole concern is fundraising, but organizers themselves say that isn't the event's only purpose. At best, the dancers view the sad reality of pediatric AIDS from a safe distance when children afflicted with the disease attend the annual event. In fact, part of the event's advertising tells students they will be able to leave with the belief that they "took part in saving a child from the agony of living with HIV." This all comes without understanding the broader forces that produced the children's destitute condition.
Dance Marathon certainly doesn't hurt anyone. But disregarding the political realities of deadly diseases like AIDS only works to make such a charitable event less effective if one of its goals is indeed to raise awareness about pediatric HIV and AIDS to recruit potential advocates. Until these realities are properly addressed, Dance Marathon will be far better at making a bunch of sweaty, fatigued undergraduates feel good about themselves as they drag themselves home than actually teaching them anything.
Aram Ghoogasian is an opinion columnist and a member of the Daily Bruin Editorial Board. He often opines about labor issues, the Israeli-Palestinian conflict and the University of California.
Aram Ghoogasian is an opinion columnist and a member of the Daily Bruin Editorial Board. He often opines about labor issues, the Israeli-Palestinian conflict and the University of California.