Students hold vigil to honor victims of Lahore terrorist attack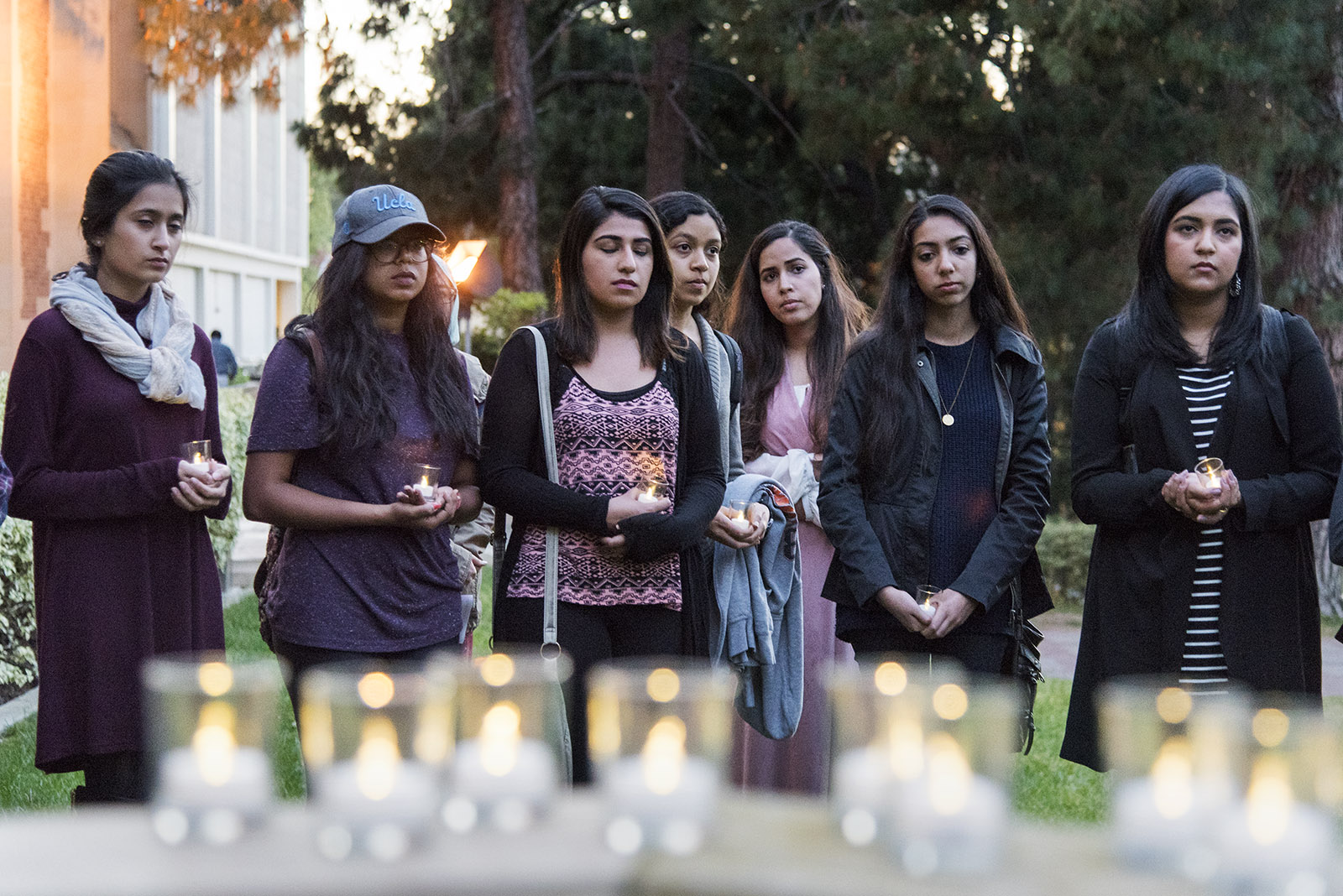 As the sun set in Meyerhoff Park Wednesday night, about 35 students gathered for a vigil to honor the victims of the Easter Sunday terrorist attack that killed 72 people in Lahore, Pakistan. Members of the Pakistani Student Association at UCLA and the South Indian Project organized the event. (Mackenzie Possee/Daily Bruin)
March 31, 2016 12:26 a.m.
Students honored victims of the Easter Sunday terrorist attack that killed 72 people in Lahore, Pakistan, during a vigil in Meyerhoff Park Wednesday night.
About 35 students who attended the vigil, organized by the Pakistani Student Association at UCLA and the South Indian Project, held candles and listened to student speakers react to the attack and discuss their hopes for a more unified Pakistan.
The South Indian Project aims to be a space for healing and appreciation through sharing art from South Indian students, according to UCLA's student organizations website.
A splinter group of the Pakistani Taliban that the United States considers a terrorist organization claimed responsibility for the Sunday attack at Gulshan-e-Iqbal Park. The attack targeted an Easter commemoration that mostly comprised of Christian attendees.
The Pakistani Taliban also claimed responsibility for the 2014 Peshawar school attack and for the 2012 shooting of Malala Yousafzai. The U.S. military has been fighting the Pakistani Taliban for almost a decade.
Amber Latif, a Pakistani Student Association board member who organized the vigil, began the event with descriptions of the attack and its repercussions.
"The media has been portraying an us-versus-them mentality," Latif said. "But Pakistan has surpassed this divide and we won't let the media spread this misrepresentation."
Other students also shared their feelings about the attack and recited prayers for the victims.
Simran Bohgunh, a fourth-year political science and global studies Sikh student who spoke at the vigil, said he thinks interfaith love and community support must continue to grow to alleviate the attacks' damages.
"A core value of Sikhism is to view all as equal," Bohgunh said.
Nader Abbasi, internal vice president of the Pakistani Student Association and a third-year political science student, said none of his family members in Lahore were harmed by the attacks, but he views all of the victims as either brothers or sisters.
"On Easter Sunday, 72 of my brothers and sisters died," Abbasi said.