Planned Metro stop in Westwood could drive up rent prices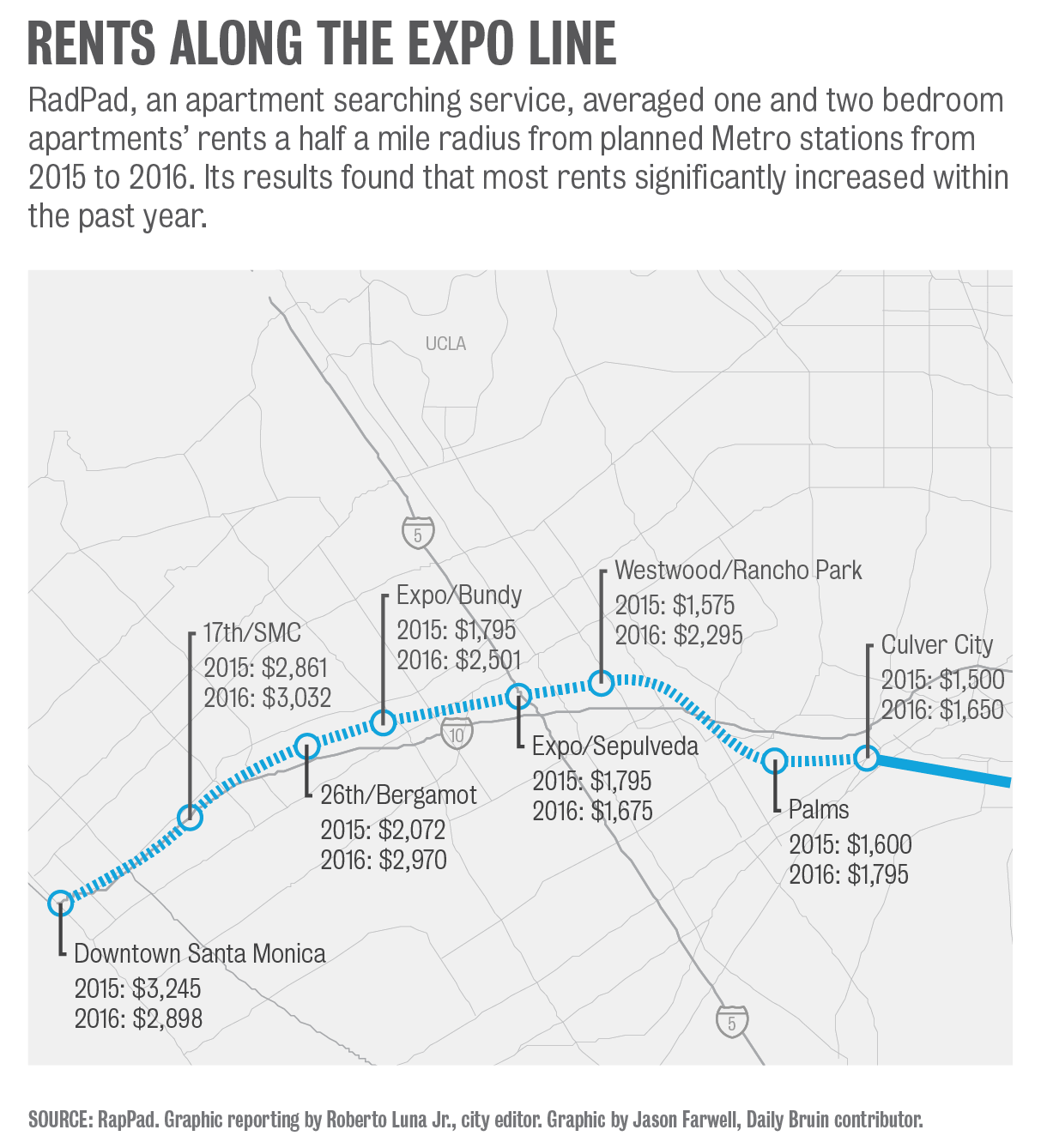 March 31, 2016 12:23 a.m.
Apartments near planned Metro stations have seen an increase in rent of up to 45 percent, according to a study released in March by an apartment search service.
RadPad, a site that allows users to search and pay rent for apartments, analyzed median rental prices for one-bedroom apartments within half-mile radii of Los Angeles Metro lines, including Westwood's new Expo Line and planned Purple Line extension.
Median rental prices along Los Angeles' metro stations jumped from about $1,600 a month in 2015 to $2,300 a month in 2016, according to the report. Rents near the planned Westwood/UCLA Purple Line station increased from about $2,500 to $2,900 from 2015 to 2016.
The second phase of the Expo Line, which runs from downtown Los Angeles, will open on May 20. The Purple Line extension will add seven new stations and connect Westwood to downtown Los Angeles by 2035.
Los Angeles County Metro officials will propose a 0.5 percent sales tax increase for 40 years that would help complete the Purple Line by 2024. The Metro Board of Directors will vote in June whether to add the proposal to the November ballot.
Matt Reilly, RadPad's director of marketing and growth, said he thinks the rent increase is caused by millennials' willingness to pay more for convenience and less time spent in traffic.
He added the United States Census Bureau released data in January that showed rental vacancy rates in Los Angeles decreased from 3.8 percent to 2.7 percent from the last quarter of 2015 to the first quarter of 2016. The U.S. Census Bureau also calculated Los Angeles' average rental price from 2010-2014 to be about $1,200, compared to $2,900 per month in Westwood.
UCLA Housing's current financial plan projects that off-campus rents will not increase more than 3 percent per year for the next several years, said UCLA spokesperson Rebecca Kendall in an email statement. She added it is unclear whether UCLA will expand its own share of off-campus university housing, most of which is adjacent to the Expo Line stop on Westwood Boulevard.
Brian Taylor, director of UCLA Lewis Center for Regional Policy Studies, said he thinks the new Expo Line may explain rent increases near the Palms and National stop, a stop south of the I-10, but market fluctuation and new businesses, rather than incoming train stations, are responsible for the increase in Westwood rents.
Evelyn Blumenberg, chair of the UCLA Department of Urban Planning, said she is concerned high rental prices contribute to gentrification and displacement among renters.
"We have compelling evidence that as rental units get more expensive on the Westside, neighborhoods get increasingly white," said Blumenberg, who researches the effects of urban structures. "Many students are on limited budgets, and will have to move farther away from campus and spend more time in traffic."
Blumenberg added she thinks there is a desperate need for affordable housing all across Los Angeles.
Adrian Alvarez, a leasing agent at Greystar Management, which owns the Glendon apartment complex in Westwood Village, said he thinks many people prefer renting to buying houses, due to a recent mortgage crisis and subsequent foreclosures and home devaluations. He thinks larger demand for rental buildings has raised rental prices.
Alvarez also said he thinks some homeowners do not support the building of new houses in order to increase property values by keeping housing options limited.
Some students said they think housing options are lacking, and students will have to adapt to higher rent prices or look for other options.
Noam Habot, a fourth-year applied mathematics and statistics student who lives in an off-campus apartment, said he thinks students will have no choice but to pay more for housing. He added he thinks university apartments offer the best deal, but are not available to all students.
Allen Rojhani, a fourth-year biology student, said he thinks high rent prices will force some students to live at home or share a room with more people.
"A lot of people will probably try to room together to reduce living costs," Rojhani said. "They won't get the space they need, but we have to choose between privacy and financial burden."
Janae Yip is currently a news contributor covering Westwood, transportation and Los Angeles.
Janae Yip is currently a news contributor covering Westwood, transportation and Los Angeles.