UCLA swimming and diving team to compete at NCAA championships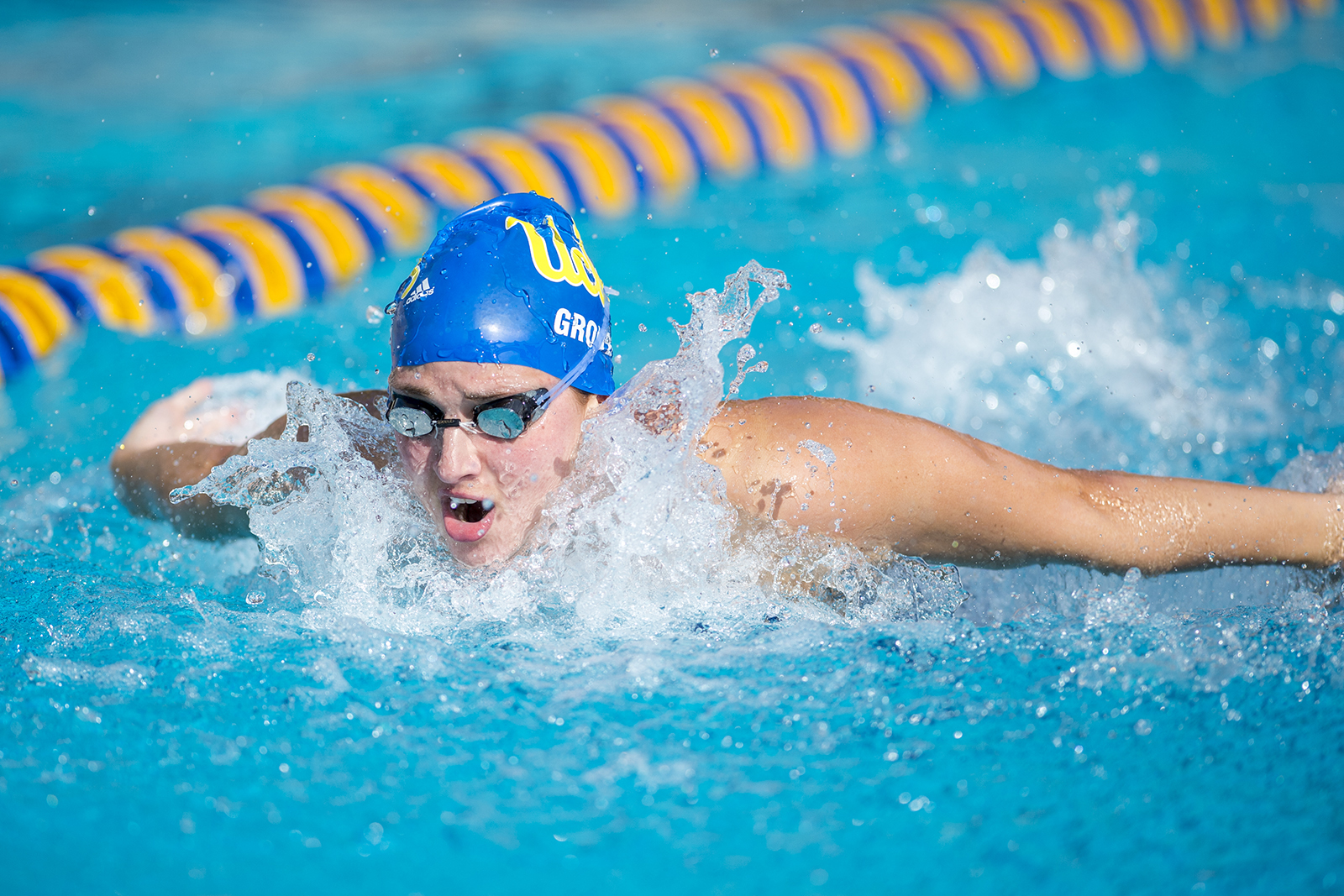 Sophomore Katie Grover said she has been able to prepare better for this year's meet thanks to her experience swimming at last year's national championships. (Daily Bruin file photo)
Swimming and diving
---
NCAA Swimming and Diving Championships
March 16-19
Atlanta
The stakes will be higher this week for UCLA swimming and diving, but swimming coach Cyndi Gallagher had a small piece of advice for her team.
"We're still swimming the same amount of laps," Gallagher said. "That doesn't change. That's how they have to look at it and that's what we talk about."
Nine Bruins – six swimmers and three divers – will compete at the NCAA Division I Women's Swimming and Diving Championships from March 16-19 at the McAuley Aquatic Center in Atlanta.
An invaluable part of sophomore Katie Grover's preparation for this year's meet stems from her experience swimming at last year's national championships.
"I remember walking out on to the pool deck and just being so nervous," Grover said. "I'll be a little less this year (but) the nerves will still be around. I definitely know how everything is going to go and what I need to do this time around."
At last year's NCAA championships, Grover – along with junior Linnea Mack, junior Madison White and senior Monica Dornick – etched their names into the UCLA record books after breaking the school record in the 200 and 400 freestyle relays.
The greatest challenge facing the team this week will be something the team has worked on all season long: focusing on "staying in your own lane" and ignoring who is next to you and how good they may be.
"When you're at NCAAs and you're getting up on the block and there's an Olympian next to you, its definitely a challenge mentally to stay in your own lane," Grover said.
Among the favorites to take home the title of national champions are Pac-12 opponents California, Stanford and USC. Over the past five years, Cal and Stanford have won or finished runner-up every year at the NCAA championships.
By competing against powerhouse teams throughout the season, Gallagher said she believes the Bruins are prepared for the increased competition they'll see at the final meet of the season.
"One of the advantages is we face the best of the best. We swim Stanford, California, USC and then we go to conference and swim them again," Gallagher said. "This is what they signed up for and it's what they're used to. They've already swam against fast people and they're fast, that's why they're here."
Despite being a summer Olympics year, the field of divers will be as strong as it was at last year's national championships.
"For every kid that graduates, there's another one waiting to take their place," said diving coach Tom Stebbins. "This year is a little bit off because we have a couple of kids who were elite last year (but) are redshirting and training for the Olympic games."
Without reigning platform champion – Indiana redshirt sophomore Jessica Parratto – the opportunity for a first-place finish is within reach for UCLA junior Annika Lenz.
Lenz concluded her breakout season last year by placing eleventh on the platform dive at the NCAA championships.
Similar to Grover, Lenz expects the meet to be more challenging because of the nerves associated with competing against the best divers in the country.
"(This meet) is a little bit harder because you hear the high scores be announced and you feel more pressure to do well," Lenz said. "I try to get away from the competition and listen to music to get my mind off of it."
For both coaches, the national championships represent the culmination of the hard work the swimming and diving teams have devoted all season long.
Although there will undoubtedly be added pressure this week, Stebbins also had some words of wisdom for his divers.
"Our sport doesn't require perfection, it requires you to be at your best."
Troop joined the Bruin as a sophomore in 2015 and contributed until 2016. He spent time on the men's water polo, softball and swim and dive beats.
Troop joined the Bruin as a sophomore in 2015 and contributed until 2016. He spent time on the men's water polo, softball and swim and dive beats.