UCLA program works to control stray cat population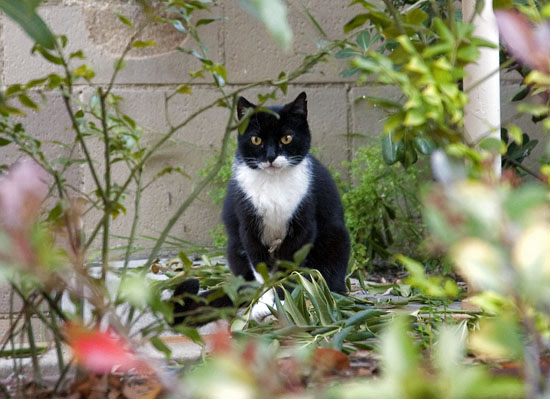 A black cat has stalked the grounds of Powell Library since last summer but continues to ignore the UCLA cat management program's tuna bait.
The program, established in 1989 to control the feral cat population on campus, has since reduced the stray cat population on campus from 350 cats in the 1980s to about 10 today.
"(The Powell Cat) has a big fan club," said Dennis Lyday, student affairs officer. "That's the only cat we know we're feeding that a student would even be likely to see."
Taimie Bryant, a professor in the UCLA School of Law, was one of the founding members of the cat management program in 1989. She said there were about 350 cats living on campus at the program's inception, based on veterinarian records from that year.
Lyday said he manages water and dry food distribution three to four times a week to each of the three on-campus feeding sites and occasionally recruits new volunteer members.
The management program is based on the trap-neuter-return method, or TNR, Bryant said. The organizers locate new cats on campus, bait them with tuna into cages and take them to a veterinarian to be spayed or neutered. The cats are either adopted or returned to where they were found.
Bryant said the cats were safety hazards because they would walk on surrounding roads and sometimes cause car accidents. She added they were often subjects of cruelty, and has encountered cats that have been spray painted.
Bryant said she felt motivated to start the program after the UCLA School of Law fumigated the building, poisoning and killing about 30 cats.
"There were scores of (cat) bodies under the building," Bryant said.
Bryant said UCLA Facilities Management cooperated with the program by providing details of facility infrastructure, and student and faculty volunteers managed daily feedings. She added the program eventually became effective in preventing hazardous situations, like the fumigation, for animals living on campus.
"It brought people together to humanely deal with an issue plaguing the university," Bryant said.
Lyday began to run the program in 2008 and operates it with about 12 other UCLA staff and faculty volunteers.
Bryant said the TNR method, was new in the 1980s. She added she thinks it provided an alternative to previously unsuccessful extermination attempts and allowed volunteers to be directly involved in animal safety.
"People would sabotage the traps before because they didn't want the cats to be killed," Bryant said. "TNR was the only course we could have taken and gotten that kind of support."
Each feeding site has a "critter cam," an overnight video camera that shows about two to three cats using each facility daily, Lyday said. The cameras also reveal intruders, such as raccoons, squirrels and birds.
Lyday said he could not disclose the three feeding locations, hidden in areas on the main campus, because volunteers have had problems with vandalism in the past. He added he thinks people vandalize the area because they do not agree with the TNR management method.
Phillip Linson, a first-year applied mathematics student, has encountered the Powell Cat several times since last quarter.
Linson, who comes from a town that also has a large stray cat population, said he thinks the TNR method is effective because it prevents the cat population from growing without harming the animals.
Lyday said he thinks the method is successful, despite some controversy regarding TNR, because it limits the number of new cats born and allows volunteers to focus their efforts on finding homes for those that remain.
"With the help of a resident director, we were able to trap six kittens as well as their mom on the Hill," Lyday said. "We had the mother spayed … and were able to get all six kittens adopted."
The cat management program works with Kitten Rescue, an established cat adoption program in Los Angeles, and a veterinarian, Lyday said. UCLA volunteers, the veterinarian and the adoption agency determine whether a cat has gone feral or human-avoidant, and whether it is potentially harmful.
Bryant said pet abandonment has decreased but is still present at UCLA. She added those who abandon pets are liable for criminal charges of cruelty, which she said could deter people from entering professional fields later, such as graduate school.
"The death an animal faces after being abandoned is sometimes worse than death in an animal shelter," Bryant said.
Lyday said the Powell Cat began to show up on the east side of Powell Library last summer. The cat was likely the result of pet abandonment because he is friendly and approaches students and faculty members.
Despite the Powell Cat's frequent visits to students outside the library, Lyday and his cat management team have been unable to trap the cat because it has not responded to tuna baiting. Lyday said they will seek alternate methods.
Lyday said there is a home ready to foster the Powell Cat if the program successfully traps it.
"Even though he's a popular boy, we would love to … find him a real home," Lyday said.
Email Henthorn at [email protected] or tweet her @andrea_henthorn.
Henthorn was the Enterprise Content editor from 2017-2018. She was previously a News reporter.
Henthorn was the Enterprise Content editor from 2017-2018. She was previously a News reporter.