Tony Parker looks toward future after frustrating senior season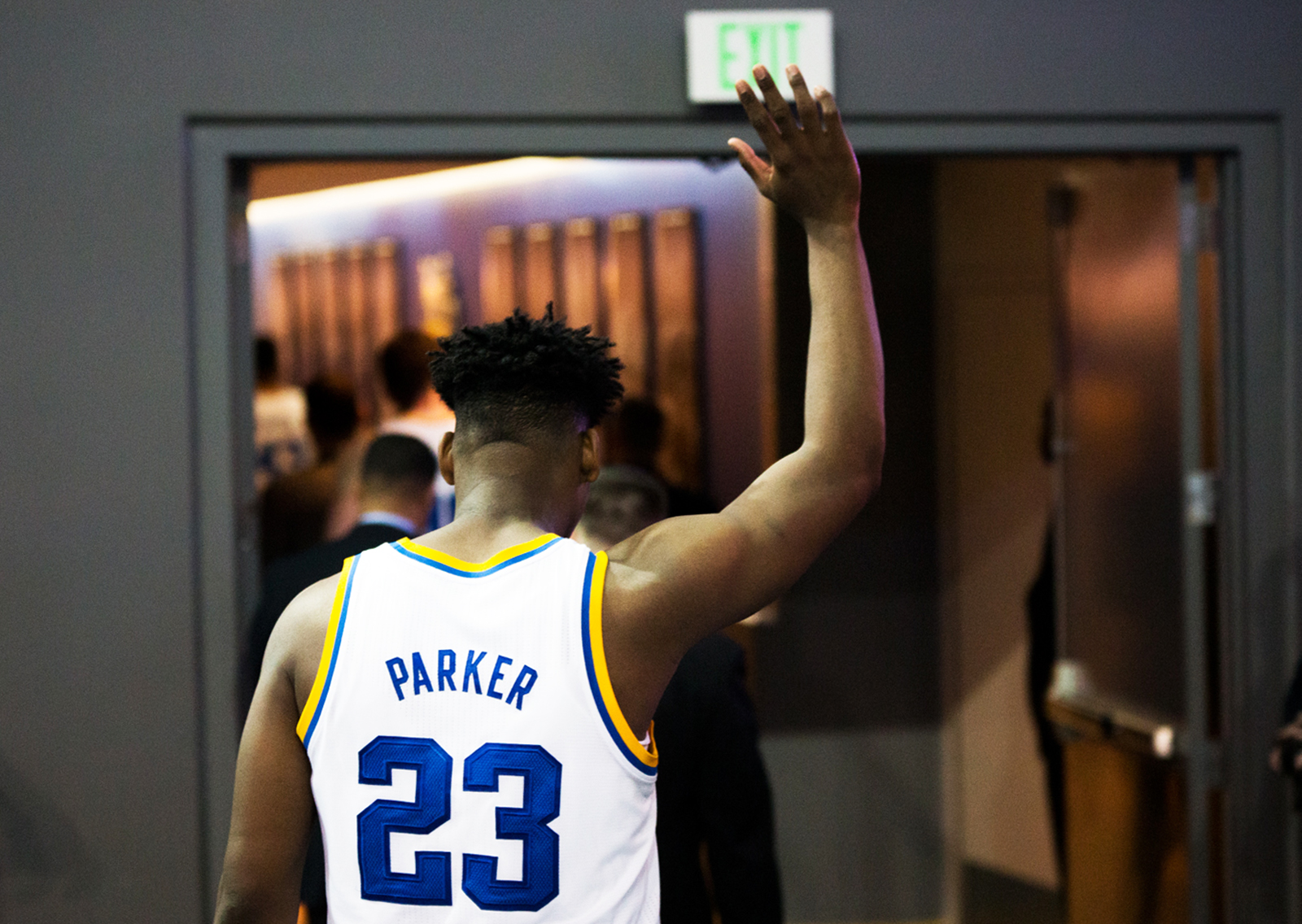 Senior forward/center Tony Parker was moved to the bench 22 games into the season in favor of coach Steve Alford's up-tempo style of play, but said he was not bothered by the decision. (Aubrey Yeo/Daily Bruin senior staff)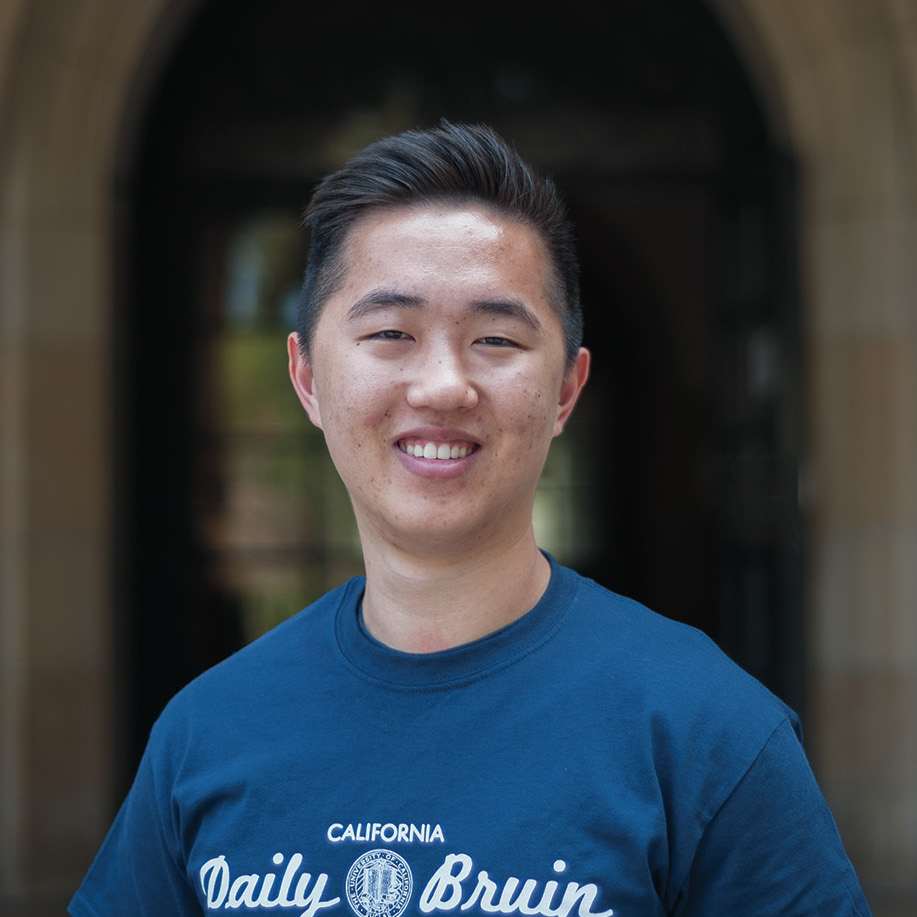 Tony Parker slumped back into his seat on the bench with his long arms hanging over his knees. The lone senior on UCLA men's basketball stared blankly up at the MGM Grand Garden Arena scoreboard hanging high above him. "USC 81, UCLA 59," read the display.
Six minutes and 19 seconds slowly ticked off the game clock while the 6-foot-9-inch forward/center continued to sit there – immobilized – waiting for the final buzzer to end his college basketball career.
It was a scene few could have imagined when Parker first stepped foot on the Westwood campus almost four years ago as part of a group of players ESPN considered to be the No. 1 recruiting class in the country.
The nation's No. 2 and No. 5 recruits, Shabazz Muhammad and Kyle Anderson, made headlines, but the addition of No. 26 Parker and No. 41 Jordan Adams pushed the class over the top and spurred talk of a revival in UCLA's legendary basketball tradition.
Muhammad quickly left for the NBA after just one season at UCLA. A year later, Anderson and Adams joined him, leaving Parker as the last remaining piece of the recruiting class on the roster.
"I came in with a great group of guys who are all fortunately in the NBA," Parker said. "It's just waiting my time. Keep working and your time will come."
He kept working – transforming from an overweight freshman playing 6.3 minutes a game to a yoga-going senior who put up nine double-doubles this season.
And he kept waiting – watching the next generation of Bruins in Zach LaVine and Kevon Looney make the leap to the NBA each after just one season. Through it all, what mattered to Parker was that the team kept winning.
Winning had been the norm for Parker's entire basketball career. In high school, the Atlanta native led his team to four straight state championships, losing only one regional championship along the way.
Yet here he was, waiting for that final buzzer to mercifully end a disappointing season.
"To be honest, it probably has been the hardest season I've gone through as a basketball player because I've never lost," Parker said.
The season started off well enough as UCLA won nine of its first 13 games, with Parker helping lead the way. He put up seven double-doubles in those 13 games, including a 19-point, 19-rebound effort on opening night.
Then UCLA stumbled through the rest of conference play, losing 13 of its next 19 games and finishing with a 15-17 overall record. Parker couldn't sustain what he did earlier in the season, adding only two more double-doubles in the 19-game stretch. The Bruins ended the season on a five-game losing streak.
"When you lose, you just feel terrible, mess up your whole night," he said after a loss to Oregon a week before the Pac-12 Tournament loss to USC. "You don't eat. You don't sleep. It's just a bad feeling, a sour taste, and I've had this taste in my mouth far too much this year."
Parker knows that the way this year ended will be a blemish on his career. But he wants his legacy at UCLA to be that of a winner.
And for the record, he did win. Parker was a Pac-12 regular season champion and a Pac-12 Tournament champion, making back-to-back Sweet Sixteen appearances.
To his coach, what transpired in Parker's final season doesn't tarnish what the big man did in his time at UCLA.
"I just appreciate Tony because he's a great person to begin with, and that's why you want to coach," said Steve Alford. "You want to coach great young men, and he's such a great young man. If you look at it numbers-wise – points, rebounds, minutes – everything has gone up his sophomore, junior, senior year. So he's worked hard to improve and get better, and we really appreciate that."
This year, as the lone senior, Parker naturally fell into a leadership role alongside junior guard Bryce Alford. Right before UCLA upset then-No. 7 Arizona, Alford made sure Parker had the last word in the pregame huddle before the Bruins took the court.
"I think our guys responded a little better to that – that's who Tony is," Alford said after the game. "He's the personality of the team, he's big time like that."
When Steve Alford decided to switch to an up-tempo style 22 games into the season by inserting sophomore forward Jonah Bolden into the starting lineup, it relegated Parker to the bench for five games.
Alford wasn't punishing Parker, who scored 16 points and hauled in nine rebounds the game prior, for poor play. Although some might have seen the change as disrespectful to the senior, Parker didn't complain.
"It didn't really affect me at all because I knew I was going to play," the senior said. "I'm blessed enough to be on the court. I just really wanted to play the game of basketball and coach Alford was giving me the opportunity to do that so anything other than that didn't really matter."
Parker's numbers dipped as a result. After averaging 13.5 points and 9.6 rebounds as a starter up to that point, Parker only managed 8.6 points and 4.8 rebounds in the five-game stretch he came off the bench.
For a player who said that he plans on getting ready for the NBA draft once his collegiate season ends, Parker didn't show any concerns about his new role's impact on his draft prospects.
Regardless, it'll be a long shot for Parker to follow the path of the six Bruins drafted to the NBA in his time at UCLA. DraftExpress currently ranks Parker as the No. 70 senior in college basketball. It doesn't help that he won't be able to showcase his talents on the biggest stage during March Madness.
That doesn't mean there's no hope – Parker will probably have to follow the path of another pair of ex-Bruins. In 2014, Travis Wear and David Wear went undrafted after their redshirt senior year. They each worked their way onto a summer league squad and earned a spot on a NBA roster.
Travis Wear signed with the New York Knicks, played 51 games and even guarded LeBron James in just his second game as a professional basketball player.
David Wear signed with the Sacramento Kings before playing out the season in the Development League.
Both got a taste of the game at the NBA level, but neither was able to stick there for long – they're now playing internationally in Spain.
Parker will try to do better, and already has a strong support system of players who have already made the journey.
Parker, Anderson and Adams are all in a group text together, always reminiscing about the memories they shared both on and off the court, and he talks often with Muhammad and Looney.
Then there's the litany of Los Angeles Lakers he can look to for advice – Lou Williams, Jordan Clarkson and Julius Randle, all players Parker met throughout his basketball career. He even celebrated with Clarkson the night the struggling Lakers took down the reigning NBA champions and red-hot Golden State Warriors.
"All those guys are my guys," Parker said. "Just being around those guys and picking their brain, I'm just trying to be the best I can be."
The best Parker certainly didn't show up when he was most needed at the end. With Bryce Alford still shaken up from a blow to the jaw the previous game, UCLA desperately needed someone to provide stability in the first round of the Pac-12 tournament against crosstown rival USC.
Here was the perfect scenario for Parker to step up with so many deep postseason runs under his belt. This was his last chance to make a statement, to end his Bruin career with one last roar.
Instead, the game quickly slipped away, and the large deficit kept Parker glued to the bench as the Bruins tried to press and trap their way out of the hole. He played just 16 minutes, putting up five points on two-for-seven shooting and grabbing three rebounds.
But that game, this frustrating season and his Bruin career are all in the past now. No longer will he enjoy the simple comforts of sleeping over on Alford's apartment floor, talking into the night about their UCLA team.
He's waited long enough, watching player after player make the jump to the NBA. It's time for Parker to get back to work.
He has an entire crew of former teammates waiting for him to take the leap.
With contributing reports from Claire Fahy and Matthew Joye, Daily Bruin senior staff. Email Li at [email protected] and tweet him @DerrekLi.
Li joined the Bruin as a freshman in 2013 and contributed until he graduated in 2017. He was an assistant Sports editor for the 2014-2015 academic year and spent time on the football, men's basketball, women's basketball, men's soccer, track and field, cross country and swim and dive beats.
Li joined the Bruin as a freshman in 2013 and contributed until he graduated in 2017. He was an assistant Sports editor for the 2014-2015 academic year and spent time on the football, men's basketball, women's basketball, men's soccer, track and field, cross country and swim and dive beats.