Sophomore Monique Billings provides spark for Bruins' turnaround season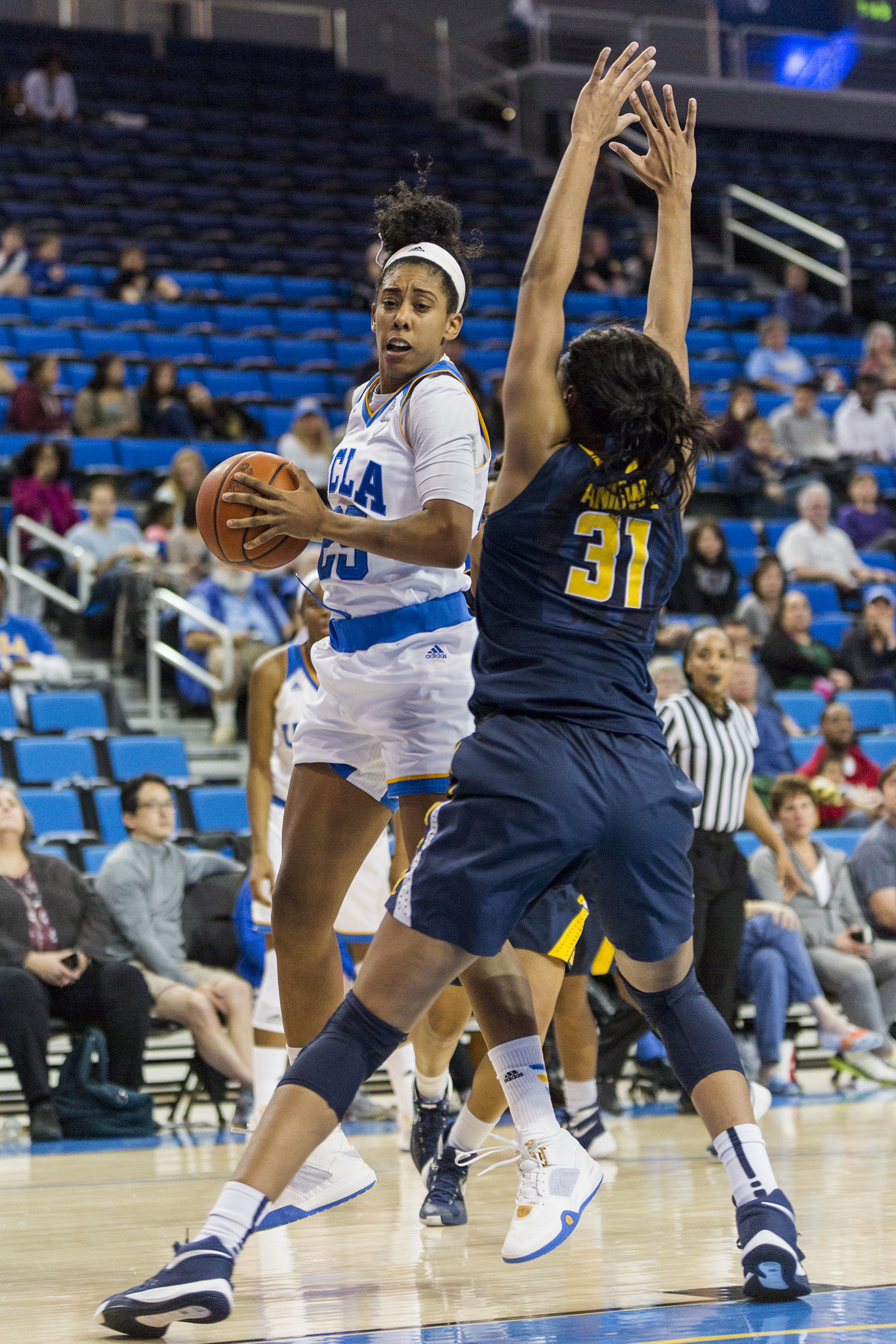 Sophomore forward Monique Billings has almost doubled her scoring average from last season, putting up 12.7 points per game and garnering high praise for her post skills from coach Cori Close. (Keila Mayberry/Daily Bruin staff)
Monique Billings had never won a game against Arizona State. But on a Sunday afternoon in late February, the sophomore forward really wanted to.
The Bruins would be done with the 2015-2016 regular season after their game against the then-No. 9 Sun Devils. Up to that point, Arizona State was the only team that UCLA hadn't beaten in conference play and, with a win, the Sun Devils would win the Pac-12 title outright.
The Bruins had been winning handily the entire game but the visitors were charging. The Sun Devils cut a large deficit to five and were looking to complete the comeback.
With its conference foe breathing down its neck, UCLA needed a score late. The team set up in the half court and threw the ball to Billings in the post. She quickly pivoted into the paint and knocked down a jumper, putting UCLA up seven with under two minutes left. It was the Bruins' coup de grace and was Billings' sixth basket of the game.
"Find me a post player in the country that improved more over the last year," said coach Cori Close after the game.
It would be a difficult task.
On a team that went from 8-10 in conference play and failed to make the NCAA tournament to one that finished 14-4 and secured a No. 3 seed, it is hard to think of a more improved team in the country than UCLA. The fact that it also had one of the nation's most improved post players did not seem like a coincidence.
***
Billings came into her college career as a fairly raw prospect.
Highly recruited from Santiago High School in Corona, California, her scouting reports had centered around one thing: athleticism. She was known as the forward who could sprint down the floor on fast breaks, guard quick opponents and leap for rebounds. She was a runner and a jumper, two things that had done her a lot of good but hadn't caused her to become a complete basketball player.
"I think in high school, I was cool, I was very athletic," Billings said. "Skill-wise I wasn't all the way there."
Her physical attributes ran in the family. Her father, a tall and muscular man, worked as a personal trainer and wanted his daughter to share a passion for fitness. He believed basketball was a good way of passing it on.
"He was like, 'Do you want to play (basketball)?'" Billings said. "I was a girly-girly. I used to wear dresses and stuff and I was like, 'No, I don't really want to play,' but I did it just to make him happy and I ended up falling in love with it."
Billings won a California Interscholastic Federation championship her junior year and committed to UCLA as a senior. Coming in with a loaded freshmen class that was ranked first in the country, Billings and the team had high expectations for the season, but things changed quickly.
"(Coming into college) was a good feeling," Billings said. "I felt like we were going to do good stuff, and then we got a reality check when we started losing and weren't doing as well … I think getting kicked like that really kicked us forward into this year and gave us a positive momentum."
Billings was coming off the bench but – while making an impact – she and the team were not where they wanted to be. The forward would have to keep improving and become more than just an athletic player. She wanted to be better. She wanted to be like her high school friend, Jillian Alleyne.
***
A year later, Billings was in her fourth and final game against the senior forward Alleyne and the Oregon Ducks. While Oregon took both games against UCLA the season before, the Bruins were looking to take the second game for a sweep of the season series.
Alleyne owns a large portion of the Oregon record book, and had already solidified herself as a conference legend by then.
But at that moment, it wasn't an issue for Billings. Though she did not have her best game, the sophomore battled Alleyne in the post constantly, finishing with nine points and eight rebounds. The team needed all of them, in what eventually was a 77-72 victory.
Billings didn't have to dominate on both ends. Her main job was to make Alleyne's life difficult throughout the game. It was a task Billings was happy to have.
"Me and (Alleyne) were cool in high school," Billings said. "We've been playing each other since I was a freshman and she was a junior in high school. So just seeing friends like that, and I'm like 'I want to get there' so that really motivates me."
Billings worked tirelessly to improve her game and saw results. She had moved into a starting spot and averaged almost 13 points per game as opposed to the previous year where she averaged under six. It was the biggest scoring leap of anyone on the team, and she is now the Bruins' third leading scorer. While maintaining her athleticism, she mastered the drop-steps and turnaround jumpers that had once eluded her.
"I think I've just seen her really work this year at her weaknesses," said junior guard Kari Korver. "Whether it's on defense or on offense she's just improved a ton. Working on all of her moves after practice with coach Shannon, with someone feeding her in the post, I think it's showing up in the game for sure."
Billings' game isn't quite like Alleyne's. The Oregon star is much more of a bull in the post and goes straight through defenders while Billings uses quicker maneuvers to get shots off before the defenders have time to react. At the same time, there are similarities: the scorer's mentality, the relentless fights for offensive rebounds, the tenacity to go at whatever defender is guarding them.
"I call (Alleyne) my big sister just because I really look up to her and she's always looking out for me," Billings said. "She's always encouraging me. Like after the Cal game the other day she texted me like 'phenomenal game, I'm so proud of you.'"
***
Billings looked up at California's Kristine Anigwe and screamed.
She was in the semifinal of the Pac-12 tournament and was going back and forth with the Cal star who was just named Pac-12 Freshman of the Year. Throughout the year, the Golden Bears were not very productive outside of Anigwe, so with their postseason hopes dying they had resorted to a simple strategy: pound it inside on every play.
Billings took the challenge, absorbing every blow in what she would later describe as the best game of the year.
"I was so hyped," Billings said. "That game was rough. I have bruises, nasty marks everywhere."
Billings was named an honorable mention for the All-Conference team. The fact that she was taking it to Anigwe on the offensive end was no longer a surprise.
"I thought (Billings) was dominant," Close said in an interview after the tournament. "She was incredibly instrumental on both ends of the floor."
Billings would finish with 22 points and the Bruins survived the Golden Bears 73-67 in overtime. It would be their last win in Pac-12 play as they fell to the Oregon State Beavers in the final the next day.
By that point, the statement was made. The Bruins looked like championship contenders and Billings had become a force. Four starters returned from the previous year, but the team's success had come largely due to Billings, the starter who came from the bench.
"It started with her willingness to sacrifice and work over the off-season," Close said. "She's working herself into an elite forward and it's really fun for me to watch."
There was a feeling of emptiness in the room Monday afternoon as UCLA was drawn as a No. 3 seed in the Bridgeport, Connecticut, region of the NCAA tournament. A potential Elite Eight matchup with UConn hung in the air, with the year-old memory of a 36-point loss at the hands of the Huskies.
But Billings still had reason to be optimistic. A lot has changed since last year.
MacDonald joined the Bruin as a sophomore in 2015 and contributed until he graduated in 2018. He spent time on the women's basketball, women's soccer and rowing beats.
MacDonald joined the Bruin as a sophomore in 2015 and contributed until he graduated in 2018. He spent time on the women's basketball, women's soccer and rowing beats.