Preliminary hearing concludes for men accused of killing UCLA student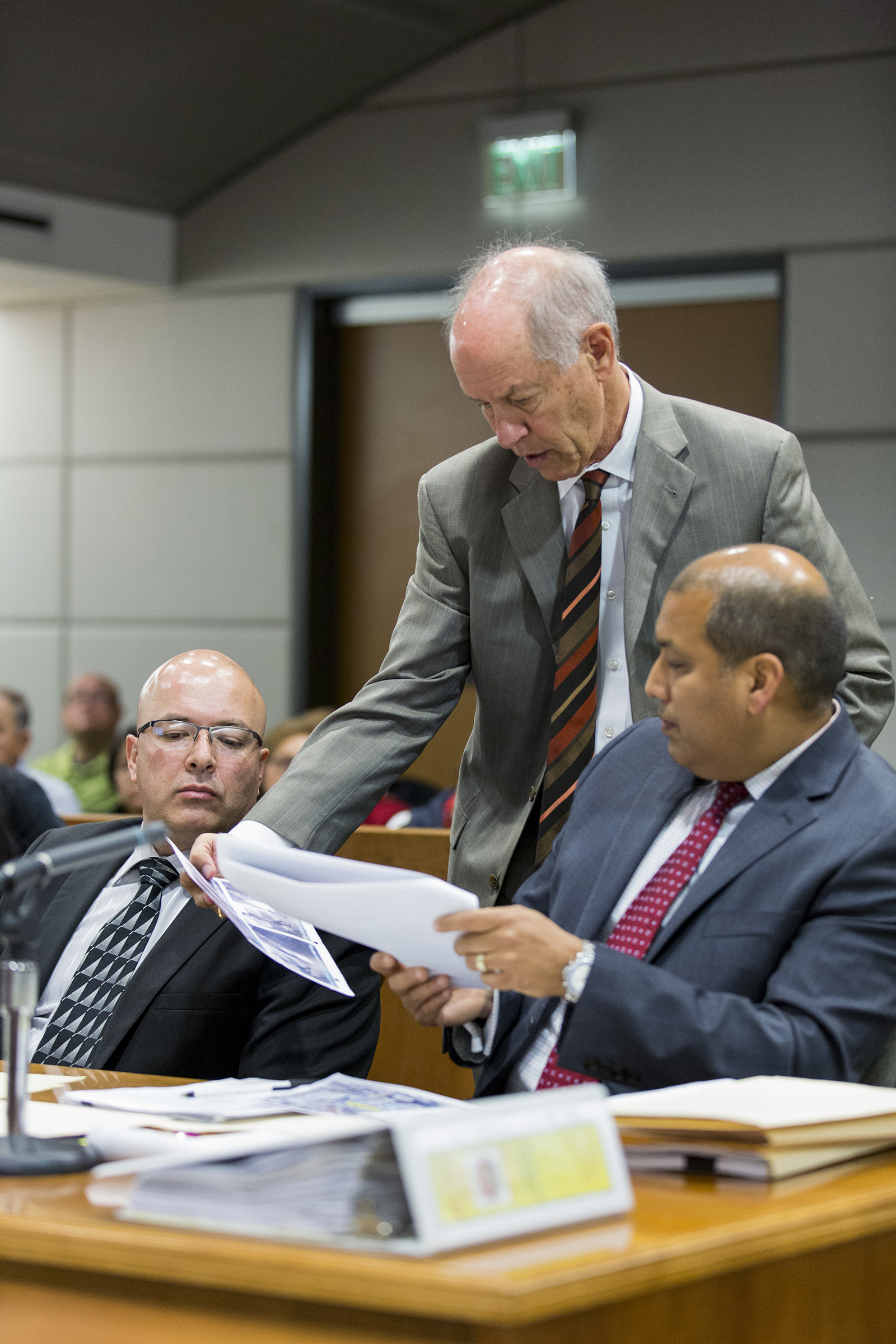 Steve Cron, Eric Marquez's lawyer, examines evidence alongside deputy district attorney Victor Avila pertaining to Andrea "Andy" DelVesco's death. (Jintak Han/Daily Bruin)
March 14, 2016 10:17 p.m.
Two men accused of killing UCLA student Andrea "Andy" DelVesco in the summer of 2015 will be arraigned a second time after their preliminary hearing concluded Monday.
On the final day of the preliminary hearing, Commissioner Mark Zuckman recommended Eric Marquez be tried for aiding and abetting murder and Alberto Medina be tried for murder during a robbery.
County prosecutors accused Medina, a Fresno State University student, and Marquez, a fifth-year biology student at UCLA, of murder in the killing of DelVesco, a fourth-year psychology and Spanish student, in her Roebling Avenue apartment Sept. 21. They also charged both men with burglary, and charged Medina with arson.
On Monday, Zuckman ruled that Medina be tried on a charge of cruelty to animals because DelVesco's dog was later euthanized because of injuries sustained during the apartment fire.
Medina may face the death penalty if convicted with murder during a robbery.
The preliminary hearing lasted three days. DelVesco's roommates and neighbor, Medina's friends and other witnesses testified.
Daniel Jaramillo, a Los Angeles Police Department robbery detective, told deputy district attorney Victor Avila Monday that surveillance footage of Marquez's apartment showed Medina in the same clothes witnesses saw him wearing near DelVesco's apartment before and after her death. Investigators also said they recovered Medina's bloodstained clothing from his Fresno apartment.
Robert McLoud, a Los Angeles Fire Department arson investigator, said Medina started the fire on DelVesco's bed. He said the fire then spread upward throughout her room and severely damaged the apartment.
Zuckman said testimony from Julio Oliveros, a recycling worker who encountered Medina and Marquez shortly before DelVesco's death, indicated Marquez acted as a lookout while Medina robbed DelVesco's apartment. Oliveros said at Thursday's hearing that he saw a man in the passenger seat of Medina's car smile at Medina.
A woman who lived in the apartment above DelVesco's saw Medina run toward the car after allegedly killing DelVesco, suggesting Medina knew Marquez would still be there, Zuckman added.
Zuckman said he thinks Marquez should be held responsible for the murder for helping Medina rob the apartment DelVesco was in.
Avila presented a video recording of an LAPD homicide detective's interview with Marquez after he was detained Sept. 27, to show evidence Marquez denied involvement in DelVesco's killing.
Marquez initially told the detective he and Medina were asleep in his Strathmore Avenue apartment from about 3 a.m. to 8 a.m. However, Sarah Muhr's testimony and 911 call records placed a man matching Medina's description at DelVesco's apartment between 6 a.m. and 7 a.m. Surveillance footage from Marquez's apartment, according to prosecutors, showed that Medina and Marquez left their apartment at 2:40 a.m. and returned at 7:11 a.m.
Footage also showed Medina changed his clothes in Marquez's apartment 10 minutes later. Both men went down to the apartment parking garage in the elevator at 7:28 a.m., and Medina left in his car at 7:30 a.m.
Marquez later said in the interview he did not recall what happened between 3 a.m. and 8 a.m. because he was drunk. He added detectives pressured him to establish a timeline of events he was unsure of.
"Marquez's statements demonstrated consciousness of guilt," Zuckman said. "He tried to distance himself (from the killing) as much as possible."
Medina told detectives when he was arrested that Marquez was the one who murdered DelVesco and set her apartment on fire.
Kristin Rocco, an LAPD criminalist, said she found 15 blood stains in several areas of Marquez's apartment, including the front door jamb and the bathtub.
Medina's attorney, Dmitry Gorin, said in his closing statement the evidence against Medina was largely circumstantial, except for the stolen property and bloodstained clothes found in his apartment. He argued this evidence does not prove Medina is responsible for DelVesco's death.
Marquez's attorney, Steven Cron, emphasized Marquez's clean record, good academic standing and family support throughout the hearing in his final statement. He said he thinks Marquez was not aware that Medina planned to rob DelVesco's apartment, and pointed out that Marquez told Carrillo he argued with Medina and disagreed with his behavior that night.
Zuckman kept Marquez's bail at $1.1 million, despite Cron's request to lower his bail to $250,000. Medina is still being held without bail.
Medina and Marquez are scheduled to be arraigned again March 28. The court has not yet scheduled a date for a trial.
Pauker was the managing editor from 2017-2018. She was previously an assistant news editor for the City beat and a reporter for the City beat.
Pauker was the managing editor from 2017-2018. She was previously an assistant news editor for the City beat and a reporter for the City beat.