Witnesses testify about UCLA student's death at preliminary hearing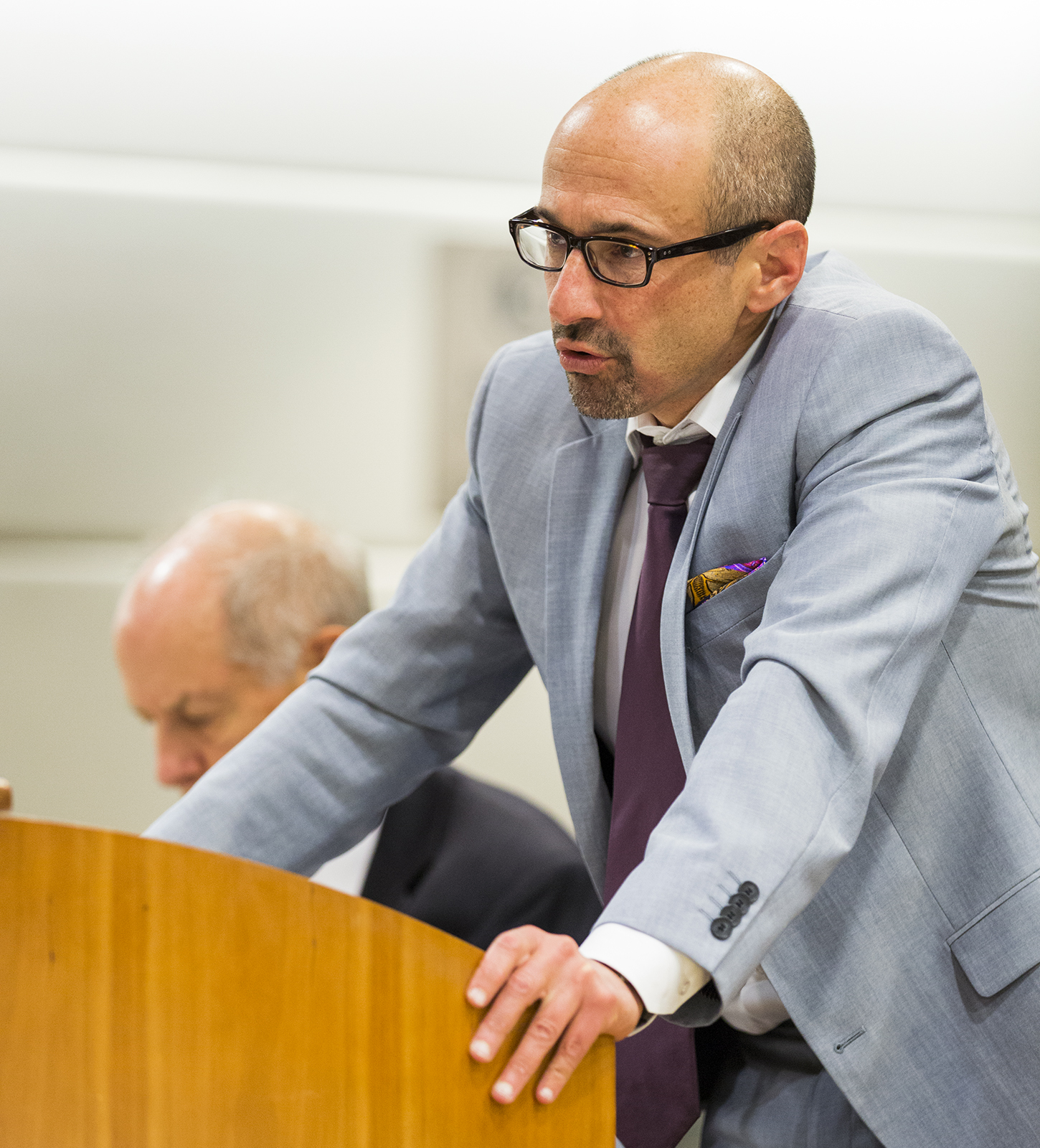 Dmitry Gorin, Alberto Medina's attorney, questioned a witness' account of what happened the day Andrea DelVesco was killed last September. (Jintak Han/Daily Bruin)
Alberto Medina kept glancing over his shoulder at the parents of the UCLA student he is accused of murdering while listening to the student's friends testify what happened the morning she died.
He then stood up and told Eric Marquez, who is also accused of her murder, to look at her crying parents.
On the second day of Medina's and Marquez's preliminary hearing, several of Andrea "Andy" DelVesco's roommates recalled the morning they found her dead in her bedroom that was set on fire. Other students who had items stolen from their apartment that morning also spoke.
County prosecutors accused Medina, a Fresno State University student, and Marquez, a fifth-year biology student at UCLA, of the murder of DelVesco, a fourth-year psychology and Spanish student, in her Roebling Avenue apartment on Sept. 21. They also charged both of them with burglary and Medina with arson.
Medina can face the death penalty because he was accused of murder during a robbery.
Deputy District Attorney Victor Avila said the autopsy performed three days after her death found DelVesco was stabbed multiple times in the upper body region and was probably dead before the fire started.
Samantha Santopoalo, a fourth-year microbiology, immunology and molecular genetics student who lived with DelVesco, said she was in the living room of their apartment when DelVesco was killed.
She said all five of her roommates, including herself, were in the living room at one point the night before DelVesco died. Santopoalo said she and DelVesco eventually fell asleep on the couch.
She said she got up for work at 5:30 a.m. on Sept. 21 but got back to her apartment about an hour later, since her work allows her to work from anywhere after she clocks in. She said DelVesco was in her room with the door closed. She said it was unusual for DelVesco to sleep with the door closed.
She said she heard a sound similar to a cell phone alarm go off 10 minutes later before hearing a student who lived in the apartment above her screaming.
She said the student, Sarah Muhr, a fourth-year business economics student who testified at Thursday's hearing, was screaming at someone about where they were going or what they were doing.
Santopoalo said she went to talk to one of her roommates because she became nervous. Then, she said she smelled smoke. She opened DelVesco's bedroom door to find her lying on her bed with red on her shoulders and neck while her room was engulfed in flames.
She said she called her name, but DelVesco was unresponsive. Afterward, all the students in the apartment went to the balcony and dialed 911.
[Related: LAPD visited student's building hours before finding her body]
Jessica Westling, a fourth-year sociology student who also lived with DelVesco, said Santapoalo woke her up around 7 a.m., and Westling also saw DelVesco unresponsive while her bedroom was on fire.
Two students who lived directly across the street from DelVesco's apartment on Roebling Avenue also testified at the hearing about items they reported missing that were later found in Medina's residence in Fresno.
Mahir Shah, a fourth-year computer science student, said he noticed his laptop and two speakers were missing from his apartment after he returned home around 8 p.m. on Sept. 21 after leaving the morning before. He later identified his items in photos taken at Medina's residence.
Shah's roommate, Nicholas Vincent, a fourth-year electrical engineering student, said he noticed the keys to his car and apartment were missing when he woke up on Sept. 21. He said he used a spare key to get into his car and saw that someone had gone through his belongings and left the glove compartment open.
He said all that was stolen from his car was a pack of Icebreakers, which he later found on the porch of his apartment.
Joseph Macharia, a Fresno State University student and one of Medina's roommates, said Medina left for Los Angeles on Sept. 17 to attend a Chris Brown concert and returned on Sept. 22.
Macharia said he noticed the speakers, as well as other items such as dishware and alcohol, in their garage after Medina returned. He said Medina had told him his friend from Los Angeles who moved out gave him the items.
Marcharia also identified Medina in surveillance footage taken from Marquez's apartment complex in Westwood, including a tattoo on his right arm.
Another of Medina's roommates, Joseph Garcia, said he talked to him two days after DelVesco's death. He said Medina told him about his visit to Los Angeles, including attending a Chris Brown concert and UCLA fraternity parties. Garcia said Medina then brought up DelVesco's death and how he thought it was crazy how someone was killed near where he was.
Garcia said Medina said he thought whoever killed her was smart because they burned the apartment, which would make it hard for police to identify whoever committed the crime.
Garcia also said they began discussing motives as to why she was killed. He said Medina suggested DelVesco may have been raped or did not want to have sex with the person that killed her.
David Holmes, a homicide detective for LAPD who arrested Medina in Fresno, talked about his interaction with Medina, including an interrogation shortly after Medina was arrested, during which Holmes said Medina was nervous and fidgety.
During the interrogation, some parts of which were shown at the hearing, Medina initially denied stealing Shah's speakers before Holmes said police could easily track where they were.
Holmes said Medina gave different versions of the situation, but all involved Marquez being the one who killed DelVesco and setting the apartment on fire. Medina said Marquez met DelVesco at a party across the street from where she lived and afterward left with DelVesco to her apartment to have sex.
According to Holmes, Medina said during the interrogation when he was leaving the party, he stole two speakers and a bottle of alcohol. He said he waited for Marquez outside DelVesco's apartment complex. He said Marquez got out of the complex about 5:30 a.m. with a red blanket around him and blood on his hands. They got in his car and showered in Marquez's apartment before Medina returned to Fresno.
Surveillance footage from Marquez's apartment complex showed that Medina was wearing the red blanket and had the tattoo witnesses identified.
Holmes said Medina had initially asked to remain silent and to talk to an attorney, but later waived this right when he told police that he would show them where Marquez lived.
Medina's and Marquez's preliminary hearing is scheduled to end on Monday and a date for a trial has yet to be scheduled.
Roberto Luna Jr. is currently a senior staffer covering Westwood, crime and transportation. He was previously an assistant News editor from 2015-2016 and a News contributor from 2014-2015.
Roberto Luna Jr. is currently a senior staffer covering Westwood, crime and transportation. He was previously an assistant News editor from 2015-2016 and a News contributor from 2014-2015.