Preliminary hearing begins for suspects charged with murder of student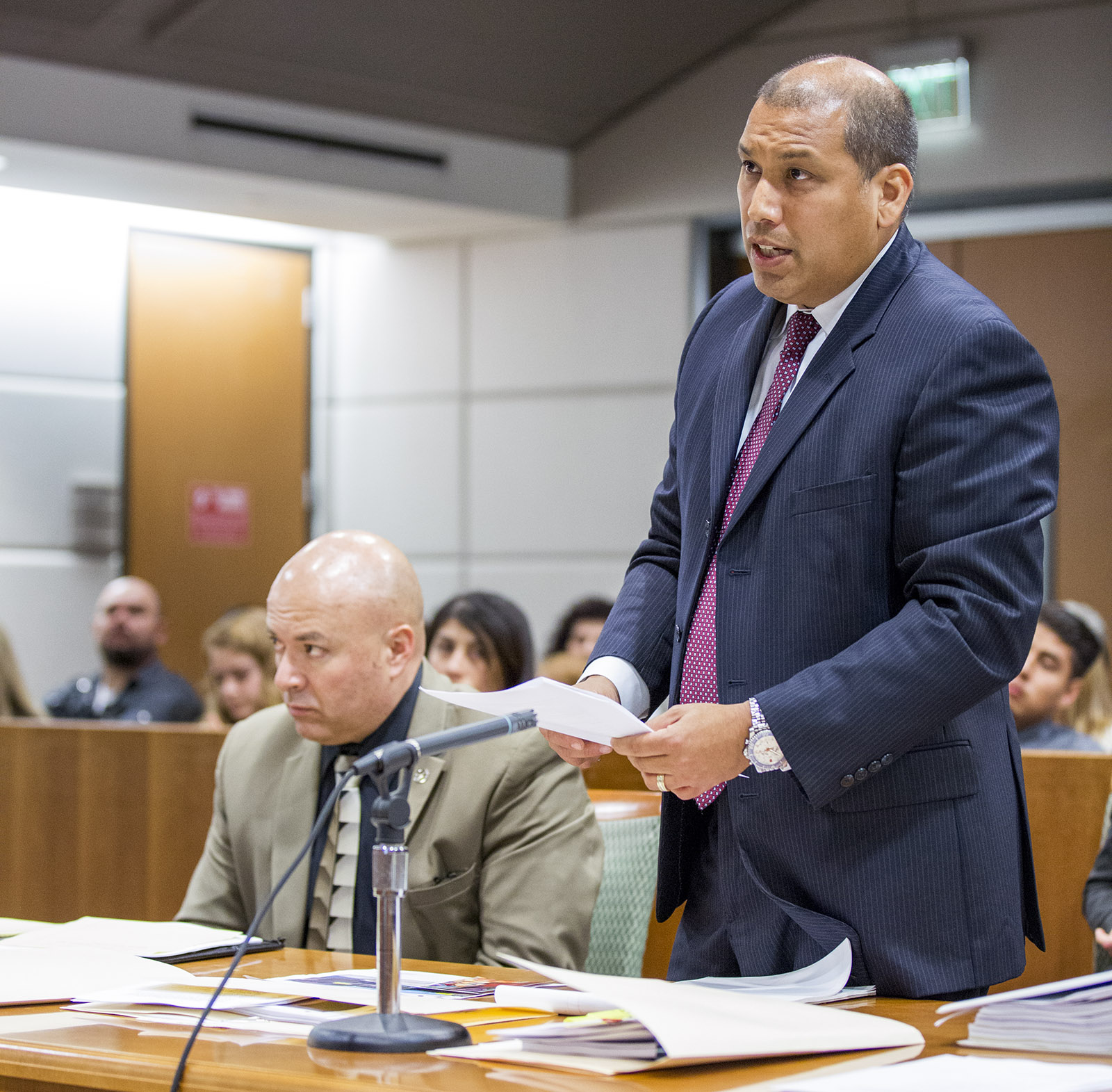 Deputy District Attorney Victor Avila, the prosecutor for the case, questioned witnesses on the charges of murder and burglary. (Jintak Han/Daily Bruin)
Two men accused of murdering a UCLA student looked on silently at a preliminary hearing Thursday as witnesses testified seeing them outside the apartment complex where Andrea "Andy" DelVesco was found dead Sept. 21.
County prosecutors charged Alberto Medina, a Fresno State University student, and Eric Marquez, a fifth-year biology student at UCLA, with the murder of DelVesco, a fourth-year psychology and Spanish student, in her Roebling Avenue apartment. They also charged Medina and Marquez with burglary and Medina with arson. Medina can face the death penalty, said Los Angeles County Superior Court Commissioner Mark Zuckman.
Prosecutors and lawyers questioned Julio Oliveros, a recycling worker who recounted talking to a man who matched Medina's description shortly before DelVesco's death, and Sarah Muhr, a fourth-year business economics student and member of DelVesco's sorority who called police after hearing DelVesco screaming in her apartment.
Victor Avila, a prosecutor, asked Oliveros to describe his encounter with a man outside DelVesco's apartment complex at 5:30 a.m., about one hour before her death.
Oliveros said a Latino man, about 5 feet 8 inches tall and 190 pounds, wearing a black tank top and dark blue jeans with a tattoo on his left arm, approached him outside of the apartment complex on Roebling Avenue. Oliveros' description matched Medina's appearance that night based on surveillance footage from Marquez's apartment building and other witness testimony.
Oliveros said the man, who appeared to be inebriated, asked him, first in English and then in Spanish, if he knew how to fight. Oliveros replied he did not, and the man asked him to help him and his friend meet women in the apartment complex and fight off other men who might be there.
Oliveros added he saw another man, who also looked drunk or high, sitting in the front passenger seat of the first man's red sedan, laughing with the first man and talking to himself. Oliveros described the second man as white with thick hair.
Marquez's attorney Steven Cron questioned Oliveros about a statement he submitted in September describing the second man as light-haired because Marquez has dark hair. Oliveros said he did not remember describing the man's hair color at the time.
Oliveros continued collecting recyclables and watched the first man climb the stairs to DelVesco's apartment complex, walk back down, and sit at the bottom of the steps.
Oliveros told Cron he talked to police after hearing about DelVesco's death from his coworkers on the morning of Sept. 24. Oliveros said he did not call police in the morning because he was at work, but approached an officer outside of DelVesco's apartment complex after he finished working that afternoon.
Muhr, who lived in the apartment complex above DelVesco's, said at the hearing she entered her apartment at 5:35 a.m. after dropping her boyfriend off at the airport.
Muhr said she was walking up the stairs leading to her and DelVesco's apartments when she heard footsteps behind her. She said she turned around and saw a white man, about 6 feet tall and wearing a blue tank top, dark blue jeans and a black baseball cap, at the bottom of the stairs, similar to Oliveros' description of Medina. Muhr said the man ran out of the apartment complex's courtyard and toward the street.
Muhr considered calling university police but decided to go to sleep instead. Muhr said she woke up at 6:15 a.m. to the sound of a woman screaming and a dog barking in a nearby apartment. She dialed 911 and determined the screams were coming from DelVesco's apartment.
Four officers arrived three to four minutes later and looked around the apartment complex's courtyard before leaving, Muhr said.
[Related: LAPD visited building hours before finding student's body]
She said she heard a loud bang in DelVesco's apartment at 7 a.m. and ran out onto her balcony, which was above DelVesco's. She said she saw the same man who was in the courtyard earlier run out of the ground floor apartment, leap over the balcony fence and run toward the street.
Muhr dialed 911 for the second time, ran down to the courtyard, and saw flames engulfing DelVesco's apartment. She ran down the stairs leading to the street and saw a red sedan bearing stickers for the Lambda Chi Alpha fraternity quickly driving up Roebling Avenue toward Landfair Avenue. Investigators found a car matching Muhr's description at Medina's apartment in Fresno.
Medina's attorney Dmitry Gorin said Muhr's description of a white man does not match Medina's race and Oliveros did not correctly identify Medina from a photograph. He added police detained another suspect who had a history of domestic and sexual violence but the defense's counsel was not able to question him because police did not hold the suspect in custody.
Gorin asked the court to dismiss the charges against Medina and Marquez. Zuckman said the hearing will continue Friday and early next week.
Pauker is the managing editor. She was previously an assistant news editor for the City beat and a reporter for the City beat.
Pauker is the managing editor. She was previously an assistant news editor for the City beat and a reporter for the City beat.