ASU, MSA hold vigil for three black Sudanese Americans recently killed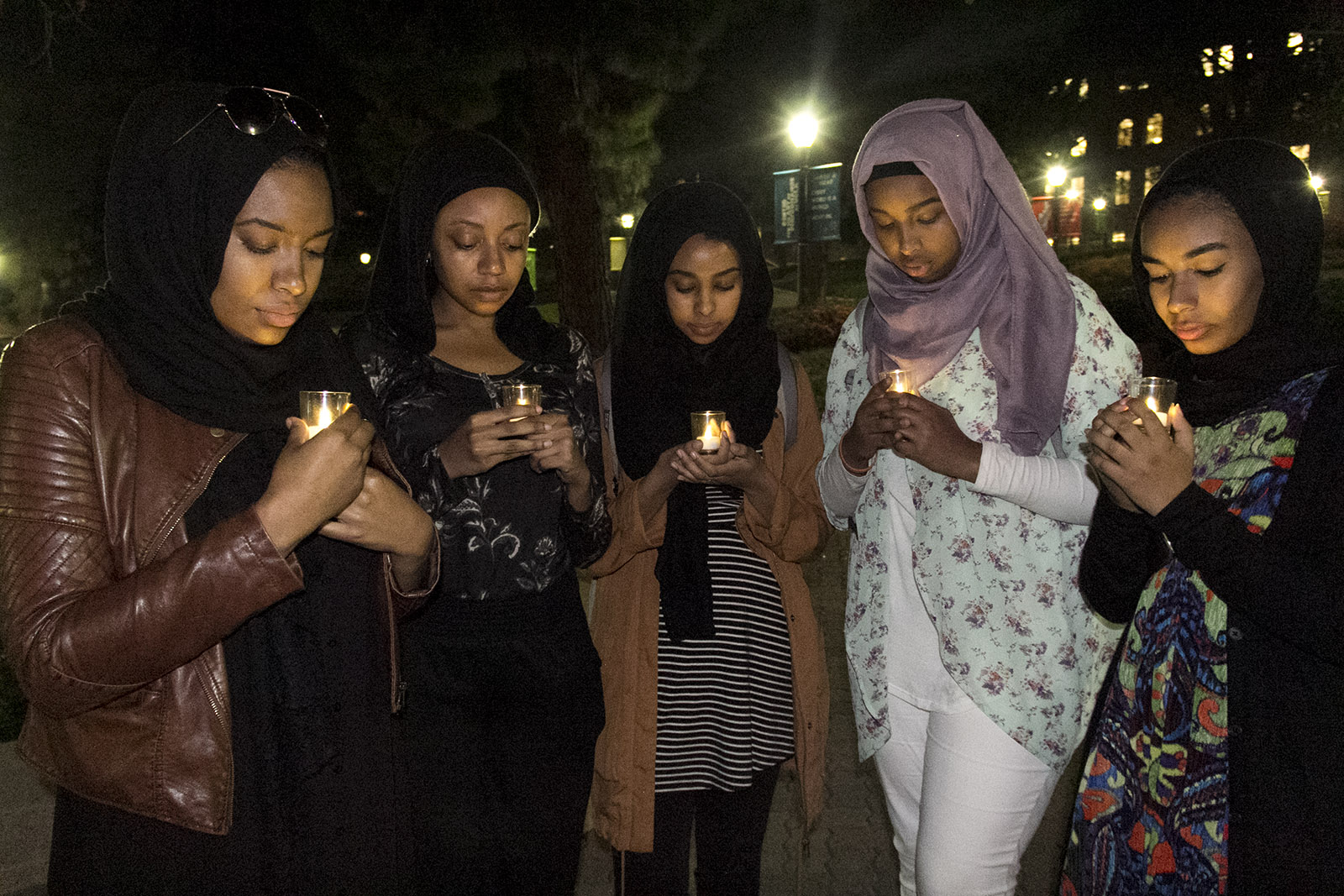 About 50 students attended a vigil to honor three black Sudanese Americans who were shot Feb. 24. (Zinnia Moreno/Daily Bruin)
About 50 students bowed their heads to honor three black Sudanese Americans who were shot and killed Feb. 24, as the sun set on Meyerhoff Park on Wednesday evening.
Members of the Afrikan Student Union and the Muslim Student Association, student groups at UCLA that organized the vigil, said they think the three men were killed execution-style because of their religious and racial identities. Police reported their deaths were not suspected to be hate crimes.
Sharila Stewart, an ASU member who helped organize the event, said she hopes the vigil will bring black and Muslim communities together at UCLA. She added she thinks all members of campus should be concerned about the killings, regardless of race or religion, because actions of violence and prejudice impact everyone.
"This is real, it's not just in the classroom," said Stewart, a third-year comparative literature student. "This is a human issue … whatever the political atmosphere, whatever the race, it should be recognized because it's a life that's been taken."
Maryam Abdul Karim, an MSA activities director, said members of the Muslim community at UCLA didn't hear about the shootings until three days after they happened because coverage on it was hard to find in the news.
"There has been absolutely no media coverage," said Abdul Karim, a second-year sociology student. "There has been no heat."
As a result, she and other students from MSA and ASU felt personally motivated to provide an opportunity for students to discuss what happened and acknowledge the killings.
"Our community cannot be silenced," Abdul Karim said. "It's our job to take the reigns on this."
She added she thinks prejudice impacts media coverage of crimes, and contributes to which shootings are reported and which are ignored.
"We are taught that Muslims are terrorists and that black people are a threat to our society," Abdul Karim said.
Aaliya Khan, an undergraduate student government general representative, said the shootings occurred almost exactly one year after three Muslim students were shot in Chapel Hill, North Carolina. She added she thinks both attacks were fueled by Islamophobia.
Khan added she hopes the vigil will help Muslim students at UCLA recognize a dual identity – being black and Muslim – can lead to even more encounters with discrimination.
"It's important for us to recognize the Islamophobia that the Muslim community is facing now is what the black community has faced for years," Khan said.
Jabril Muhammad, a speaker at the vigil and ASU membership coordinator, said he hopes the vigil provided students with a space to express their emotions with people who could empathize.
Muhammad said he thinks the discriminatory attitude that allowed black individuals to be counted as three-fifths of a person in the 1800s still exists in our country today. He added he wants participants and UCLA students to be more accepting of different backgrounds and perspectives.
"I hope people learn how to open their hearts to people who have experiences they will never be able to go through," said Muhammad. "It's going to take a lot of questioning and introspection about why things are the way they are."
Email Frankel at [email protected] or tweet her @JillianFrankel.