BruinX seeks to improve UCLA experience, campus climate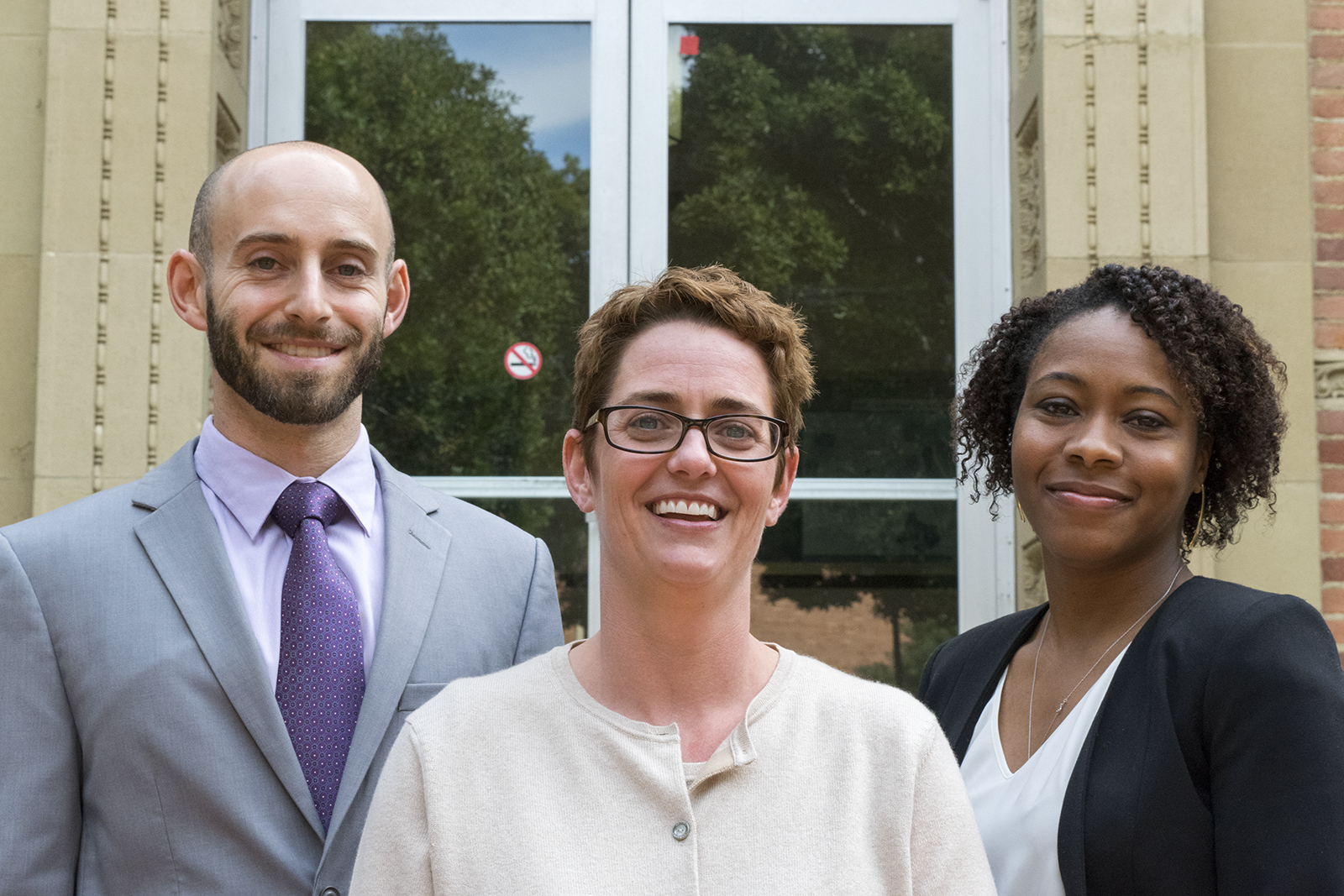 Three staff members make up BruinX, a group part of the UCLA Office of Equity, Diversity and Inclusion that works to detect bias and discrimination. (Diana Chen/Daily Bruin)
The original version of this story misspelled one of BruinX member's name as Carly Straight. In fact, her name is Carli Straight. The article also misquoted members of BruinX, and quotes are edited. The story, and the caption accompanying it, stated that BruinX is composed of faculty members. In fact, BruinX is composed of staff members.
Faculty members are collaborating with the vice chancellor of equity, diversity and inclusion to use social science research to improve student and faculty experiences on campus.
BruinX, a group formed as part of the UCLA Office of Equity, Diversity and Inclusion, is composed of three staff members who specialize in different aspects of detecting bias, stereotyping and threats, said Jonathan Feingold, a member of the team and UCLA alumnus.
The team plans to utilize existing data and research about bias to implement interventions to improve UCLA's campus climate, Feingold added. The group plans to add a fourth member in the summer who will aid in statistical analysis.
In 2012, faculty members voiced concerns about racial bias and discrimination on campus. They approached Executive Vice Chancellor and Provost Scott Waugh and requested the university conduct a survey of the racial climate at UCLA, according to the 2013 Moreno Report.
In response, UCLA officials created Vice Chancellor Jerry Kang's Office of Equity, Diversity and Inclusion. In July, Kang assembled BruinX.
"The concept for BruinX is loosely based on X-Men, or a team where everyone has a specific skill set to add to the group," Feingold said. "Whether we're talking about campus climate, whether we're talking about some of the core debates that go on around campus, at one level they are just really hard intellectual questions, and so (the goal is) to try to assemble a group with different skills, but who can leverage the crazy smarts across UCLA, both in the faculty and the students, to try to problem solve in a smart way."
He added the team will analyze data from UCLA and third-party research studies in order to determine which forms of intervention will be the most effective on campus.
Brandie Henderson Kirkpatrick, BruinX program coordinator, said the team will address issues on campus, such as faculty and student retention problems.
Carli Straight, another BruinX member, said her experience in social psychology helps her analyze data and research to identify potential problems and solutions. For example, she will examine whether one demographic is not as successful in a certain course as another demographic.
She added she hopes to use data to determine whether a particular form of intervention actually improves a student's or faculty member's experience.
"I use the internal data to evaluate whether there are achievement gaps and gaps in success," Straight said.
BruinX also works to conduct faculty search committee briefings when academic departments or schools hire new faculty members, Feingold said. He added BruinX coaches committee members to ensure they are implementing strategies that reduce bias during the hiring process.
Kirkpatrick said BruinX is also working to increase communication across campus by working with different groups and schools, such as the Dashew Center. She recently met with Dashew Center officials to discuss how culture and diversity are interpreted among international students.
BruinX also plans to create a student advisory board, which will give the team a better idea of what is happening on campus, Kirkpatrick said. She added the students will provide recommendations and suggestions on how to move forward and address specific issues.
Kirkpatrick said the team sent out emails to students and held events to find out how they think the board's selection process should work.
She added BruinX aims to create a more collaborative atmosphere across campus, and hopes the student board will help to more accurately assess campus climate issues.
Feingold said he thinks students of every demographic should be presented with equal opportunities to succeed.
"So regardless of social identity, regardless of race or gender, everyone has an equal opportunity to learn. So that if you come in with the same skills, and the same talent, and the same hustle, you'll get the same GPA and you'll have the same access to resources," Feingold said.
Hodges is the Enterprise Production editor. Hodges was previously a News reporter.
Hodges is the Enterprise Production editor. Hodges was previously a News reporter.