Arthur Wang: Peter Liang protests show Asian-Americans must unite against injustice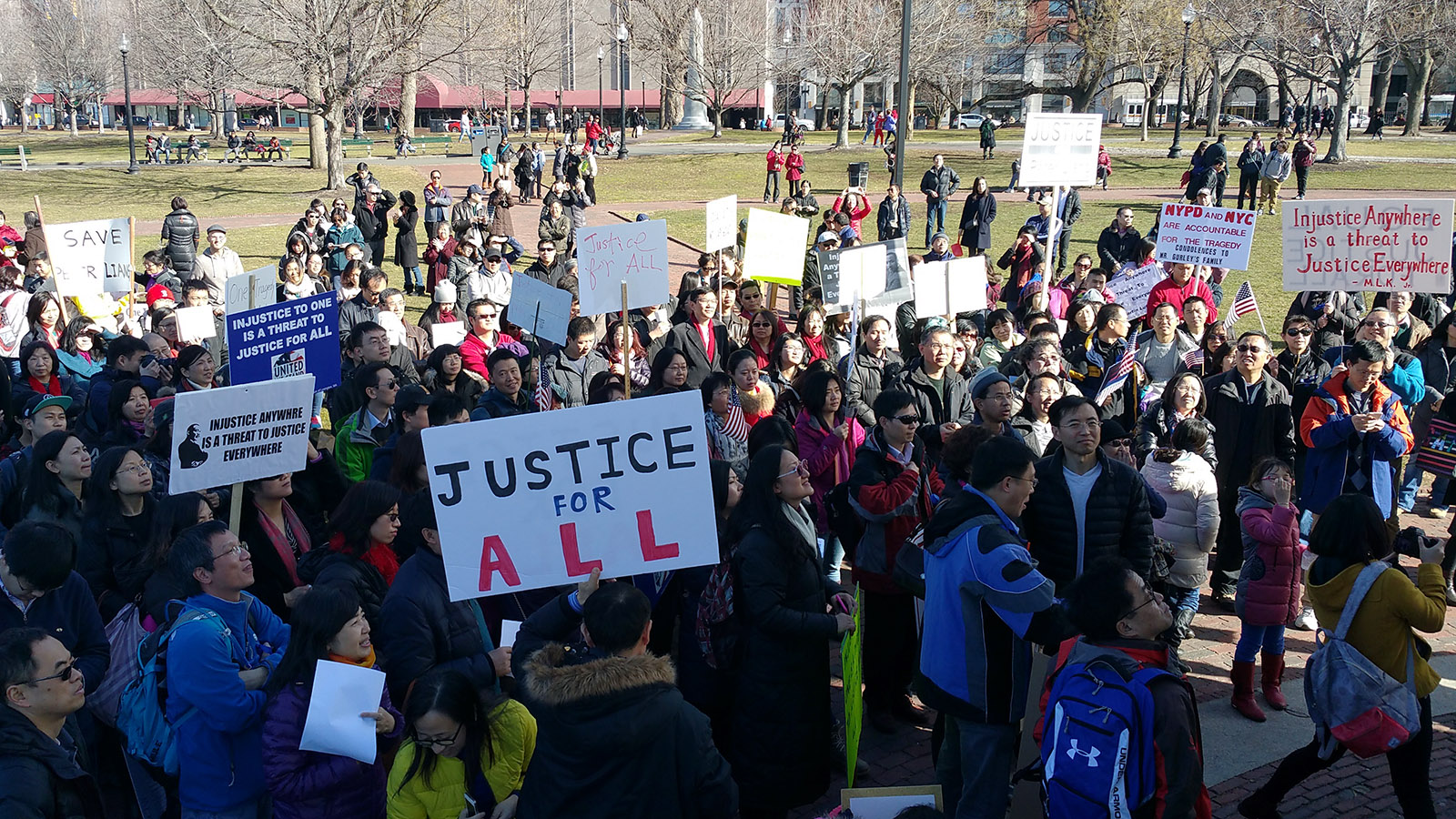 (Creative Commons by Liance via Wikimedia Commons)
The original version of this story incorrectly stated that Peter Liang was indicted. In fact, he was convicted.
For once, a "killer cop" has been brought to justice in America – and how Chinese-Americans have reacted speaks volumes about the multiplicity of racial divides in this country.
In 2014, rookie New York police officer Peter Liang killed Akai Gurley, a black man, when conducting a patrol in a pitch-black stairway; an accidentally-discharged bullet bounced off a wall and struck Gurley in the chest. It was part of a disastrous year for the NYPD and police departments across the country, reeling from the national reckoning over police brutality in America.
Liang was convicted two weeks ago by a grand jury – the first of a NYPD officer in a decade – and faces a sentence of between five to 15 years. Needless to say, the decision has been met with controversy, not the least because he is a Chinese-American rather than a white man – the typical demographic profile of officers in high-profile cases of police brutality. Even as nationwide protests involving Asians are a rare sight, they erupted across more than 40 cities, with the largest one in Brooklyn, Liang's hometown, seeing a turnout 15,000 strong. In Los Angeles, an area with no shortage of Chinese immigrants, several hundred turned out in support of the officer.
Still, the Asian-American community has been split by the decision. Progressive activists, including the niece of 1982 hate crime victim Vincent Chin, believe that the conviction was fair in a country that has, for too long, ignored or allowed authorities to trample over black lives with impunity. Community members who call for a more lenient sentencing argue that both Gurley and Liang are victims: Gurley, of a tragic accident, and Liang, of racially motivated "scapegoating" by a society that has been all too willing to exclude or condemn Chinese-Americans in particular for broader societal ills, à la the 1882 Chinese Exclusion Act. Some even asked why white officers can escape the punishment that will befall Liang.
This divide, between American-born liberal-leaning activists and otherwise politically disengaged immigrants, has a notable parallel – one that reveals particularly troubling political logics of the Chinese-American immigrant community. I am speaking about another topic hotly debated by the group: affirmative action.
The last time Chinese-Americans mobilized and protested against any issue en masse was in 2014, when a California state senator proposed a removal of Proposition 209's ban on colleges' ability to consider race, gender and ethnicity in admissions by way of a state constitutional amendment. Politicians were taken aback as Chinese-Americans, galvanized and supported by an openly biased ethnic media, spoke out vociferously against the plan, in contradiction with surveys indicating that Asian-Americans support it. The amendment was tabled within months.
Why did Chinese-American immigrants, a minority subgroup, speak out against affirmative action, a policy that is designed to remedy discrimination against minorities? For the same reason they protested Peter Liang's conviction: the coupling of a sensitivity toward perceived racial injustice toward our own – I am Chinese-American myself – with an ignorance toward greater injustices leveled against other minority groups throughout American history. Though the issues are radically different and the stakes are as well – this is not an attempt to equate police brutality, a life or death matter, with college admissions – the underlying rationale that have catalyzed both action by the immigrants and distancing from the progressives is the same.
The Peter Liang conviction and affirmative action debate are unique in that they are both issues that involve race and implicate both Asian and black Americans, two groups who know perhaps the least about each other because of the low levels of social and cultural exchanges between the two groups. Be it the belief that Peter Liang's conviction is unfair or the persistent and misguided notion that affirmative action plans are secret Asian quotas, Chinese-Americans are eager to point out incidents of perceived discrimination against their own group.
In both cases, protesters have been quick to appropriate the message and the language of Dr. Martin Luther King Jr. With Peter Liang, it is "Injustice anywhere is a threat to justice everywhere"; with affirmative action, it is "I have a dream that my four little children will … not be judged by the color of their skin but by the content of their character." (Senate Constitutional Act 5 was dubbed "Skin Color Act 5" by its detractors.) Peter Liang has pulled Chinese-Americans into the crossfire that is American racial politics, and, as Jay Kang notes in the New York Times Magazine, we have yet to develop our own lexicon.
Changing this state of affairs will not be easy or quick. Most Chinese-Americans today are immigrants or the children of immigrants who arrived after a major immigration reform in 1965, avoiding the worst of American racism while being steeped in the false idea that we are a "model minority." But the Liang protests have demonstrated that there is a dire need for Chinese-Americans to move away from "selfish" tribalist politics and toward a unified struggle against injustice – even for those injustices that do not affect or even inadvertently benefit us.
Wang is an Opinion and Quad senior staffer, and a sociology graduate student. He was the Quad editor in the 2015-2016 academic year and an Opinion columnist in the 2014-2015 academic year.
Wang is an Opinion and Quad senior staffer, and a sociology graduate student. He was the Quad editor in the 2015-2016 academic year and an Opinion columnist in the 2014-2015 academic year.