How UCLA swim alumna Karen Moe turned the tide for women's sports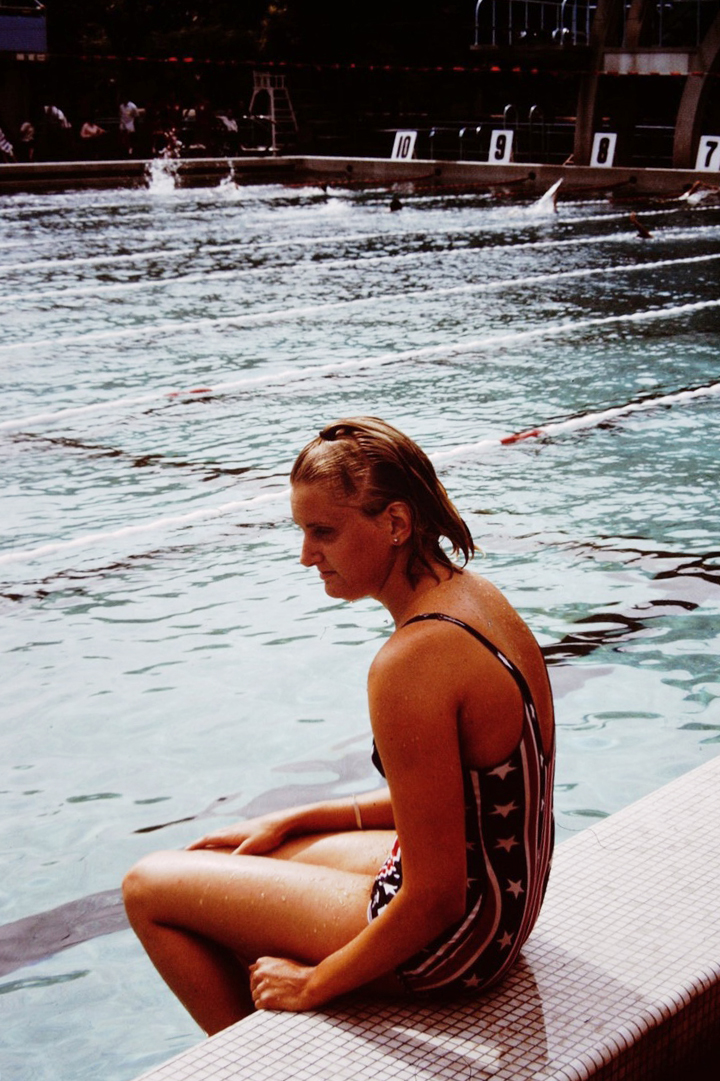 Former UCLA swimmer Karen Moe was a three-time All-American as a Bruin. She won the 1976 collegiate title in the 200-meter butterfly. (Courtesy of Karen Moe)
It was only 43 years ago that Karen Moe became the first woman to receive an athletic scholarship to UCLA. Over the course of the decades since then, the swimmer and eventual Cal coach would break records and barriers, leaving a lasting impact on the sport she loves.
Before enrolling at UCLA, Moe became one of the best female swimmers in the United States. At 15 years old, she competed at the 1968 world swimming championship. Two years later, she set her first world record in the 200-meter butterfly at the Santa Clara Invitation, breaking it three subsequent times.
After high school, Moe entered the 1972 Munich Olympics as the world record holder and presumed favorite to win the race.
"I felt great relief when I touched the wall and realized that I had won because I had felt the pressure of being the favorite," Moe said. "I had had a very good training camp where I went faster than the world record in practice."
The Americans swept the 200-meter butterfly, with Moe setting a then-world record of 2:15.56.
"Standing on the podium with two other Americans, listening to our national anthem and watching the three flags be raised is one of the big thrills of my life," Moe said. "Still today, when I hear certain renditions of the Star Spangled Banner, I am transported back in time to that moment."
In June 1972, Congress passed Title IX, opening up the door for Moe and other female athletes to compete at the collegiate level. Colleges across the nation began allocating scholarship money to women in 1973.
Despite her success on the world's biggest stage, the opportunities available to her still paled in comparison to her male counterparts.
She soon enrolled at UCLA and began swimming for then-coach Colleen Graham. During her time as a Bruin, Moe was a three-time All-American and won the 1976 collegiate title in the 200-meter butterfly.
"I was thrilled and proud to get an athletic scholarship because it meant I could become independent from my parents and use my swimming talents to support myself through school," Moe said. "In some ways I had resented that I had accomplished so much in my sport with world records and an Olympic gold medal and did not have the same opportunities as men to be recruited and to continue to pursue my sport in college."
One of the many athletes who continue to benefit from Moe's precedent is senior Arlyn Upshaw, who is one of the 14 UCLA swimmers on scholarship.
"You strive to get a scholarship when you come here," Upshaw said. "That's not my major goal – my main goal is to become the best that I can be – but it's definitely added incentive to attain that."
Moe once again broke gender barriers by becoming one of the first female collegiate swimming coaches in 1978. At Cal, she helped establish a dominant program that is still among the best today.
Current UCLA swimming coach Cyndi Gallagher was an opponent of Moe's teams both in the pool and on the deck. Gallagher, who swam for UCLA from 1979-83 and has coached the Bruins since 1987, was vocal about the respect she had for Moe's accomplishments.
"She is really a groundbreaker for women's coaches," Gallagher said. "She was the first to really have success in a man's world."
Over the course of Moe's 14-year coaching career, she was named the NCAA Division I Coach of the Year for swimming in 1987 and was also the recipient of three Conference Coach of the Year awards. Moe was the first female to win the national award and the first Cal coach to win in any women's sport.
It wasn't until after Moe had retired that Gallagher said she saw how big of an impact Moe had on the sport.
"Reflecting back 10 years afterward, I was like, 'Wow… she set the standard,'" Gallagher said. "She was a great mentor because you could see what she was doing and know that the bar could be set high."
Moe transitioned to the Cal athletic department and worked as the assistant athletic director for Student Services. Among her responsibilities was to continue pioneering for women's sports by monitoring Title IX compliance and gender equity.
"Twenty-five years ago women had nowhere near the same opportunities as men in athletics at Cal," Moe said. "After the departments merged in 1991 there was an emphasis on becoming compliant with the Title IX requirements and gradual improvements were made."
In 2004, Moe alleged that she was laid off after reporting to the school that the athletics department had become a hostile work environment for women. She filed a gender discrimination lawsuit against the university, ultimately settling out of court for $3.5 million in 2007. Under the terms of the agreement, Moe returned to work at Cal and retired following a 30-year career.
Moe believes that the progress made by Cal in complying with Title IX was gradual but not steady because of the changes in the administration.
"I think it took Cal getting into some problems with non-compliance in the 2000s and the subsequent hiring of female athletic director for them to get to the point where there is equitable treatment of men and women and also athletes of major and minor sports," Moe said.
Although colleges across the nation have improved in their compliance with Title IX, Moe believes that there is still work to be done.
"I think the keys for equity are a university-wide commitment to equity in all aspects of education, regular monitoring, transparency and a staff who knows what they are doing," Moe said.
Last Monday, Moe added to her long list of achievements by being named to the Pac-12 All Century women's swimming and diving team. She joined fellow swimmers Debbie Meyer and Donna de Varona, two Olympic medalists who preceded her at UCLA.
Moe is now retired after almost four decades of advocating for gender equity in collegiate athletics. But, even today, Moe and her husband still support the Cal athletic department – continuing to impact the sport she's already given so much to.
Troop joined the Bruin as a sophomore in 2015 and contributed until 2016. He spent time on the men's water polo, softball and swim and dive beats.
Troop joined the Bruin as a sophomore in 2015 and contributed until 2016. He spent time on the men's water polo, softball and swim and dive beats.