Alums create Indy Plush, line of toys advocating wildlife preservation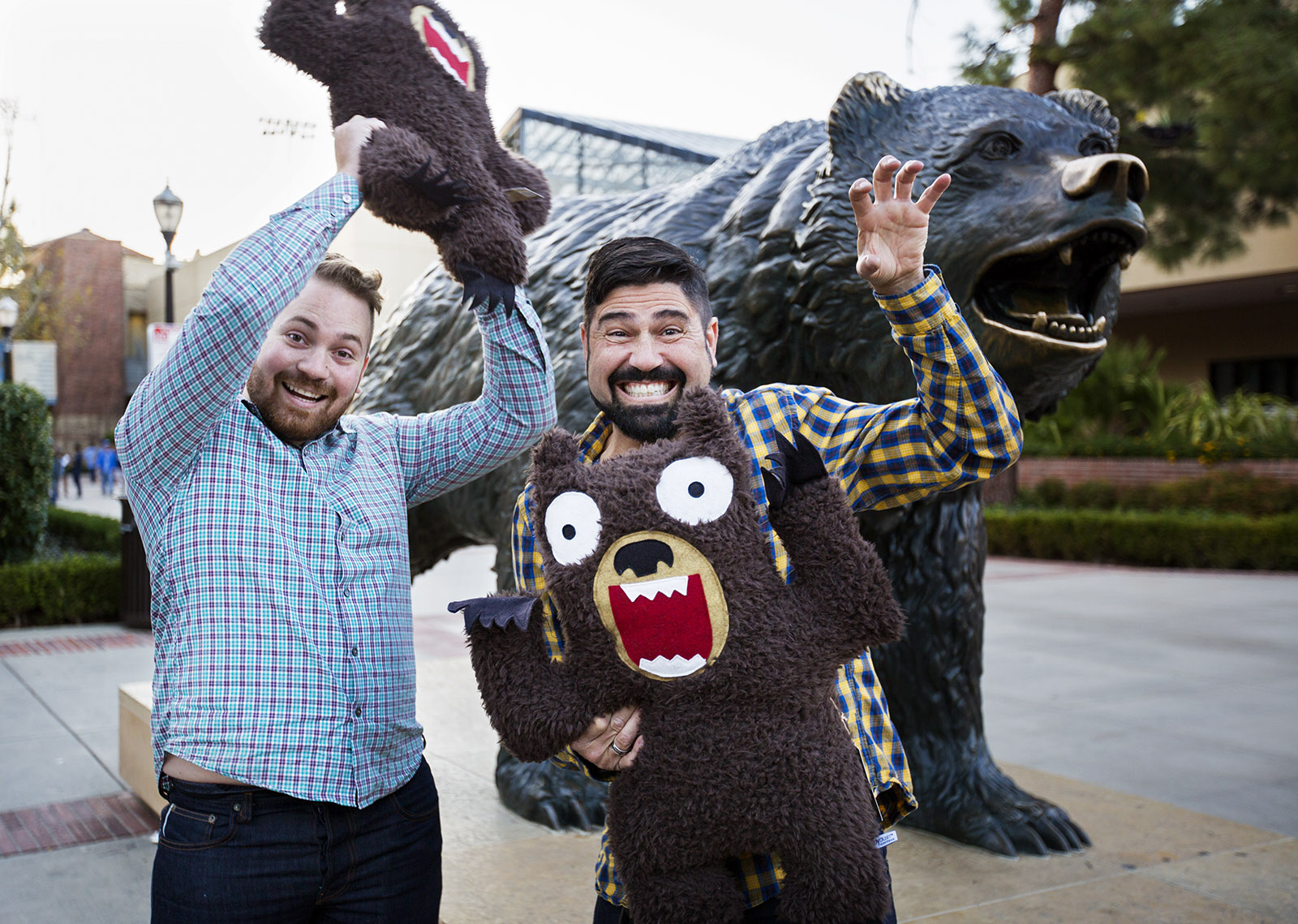 Two UCLA alumni created Indy Plush, a business that designs and creates plush stuffed animals, and donates a portion of the profit to wildlife advocacy groups. (Keila Mayberry/Daily Bruin staff)
Plinio Garcia and Andrew Ruesch were inspired to create their own line of children's toys when their son, Luke, came home from kindergarten one day with a stuffed animal he designed himself.
The two UCLA alumni soon partnered with Luke's kindergarten teacher Franceil Masi, who created stuffed animals based on her kindergrateners' drawings and gave them back to the students as gifts. Together they formed Indy Plush, a business that designs and creates plush stuffed animals, and donates a portion of the profit to wildlife advocacy groups.
"(Garcia and Ruesch) spent tireless amounts of effort to find sellers who can represent my drawings," Masi said. "Now it feels like we're making a difference (by) protecting endangered species."
Ruesch said the company donates 15 to 20 percent of its profit for each endangered stuffed animal species to different organizations, including the Diane Fossey Gorilla Fund, Shark Angels and Orang Utan Republik Foundation.
The three partners decided to create a line of endangered species toys based on Masi's personal animal drawings, after Garcia and Ruesch learned she focused much of her curriculum on teaching students about wildlife preservation, Masi said.
"She saw these toys as tools with which she can tell children early on about endangered species," Garcia said. "When you protect the animals, you protect the earth."
Garcia and Ruesch first sold their products in 2012 at Venice's Abbot Kinney Street Festival, where the toys nearly sold out, Garcia said.
In 2014, Whole Foods began to sell their endangered species toys at their stores throughout the country, and featured them in their holiday gift guide, Ruesch said.
Masi, a University of Southern California alumna, designs all of the Indy Plush toys, and said she experimented with many different animals to see which ones were most popular with customers.
She ended up with a line of endangered species toys that includes the snow leopard, leatherback turtle and grizzly bear, among others.
"I love the grizzly bear … and Whole Foods went wild for it," Masi said. "I thought it was really funny that the Bruin bear was designed by a Trojan."
Each stuffed animal comes with an educational tag that provides information on the species and how many of them are left in the wild, he added.
"Through these toys, you're able to educate a whole generation," Ruesch said. "It's a fun and easy way to educate kids about animals that we don't want to disappear."
Many environmentalists use graphic images of endangered species that can't be shown to kids, making the stuffed toys a useful alternative, Garcia said. He added Indy Plush uses domestic materials for the animals and recycled plastic bottles as filler for the toys, and is a Green America Certified company.
Garcia said his time as an economics student at UCLA gave him the business skills the team needed to get their fledgling company off the ground.
Since he graduated in 1982, Garcia has served on the board of directors of the UCLA Foundation, the UCLA Latino Alumni Association and the UCLA Alumni Association.
"UCLA has such a different outlook than other universities about giving back and helping people," Garcia said. "That influenced our decision to (educate through) toys."
Ruesch, who graduated from the UCLA School of Theater, Film and Television in 2011, said he found his costume designing talents handy when constructing the first set of toys.
"The time I spent in the costume shop at the theater department gave me the skills to … make patterns and sew when we first started the company," Ruesch said.
Garcia said the team wants to expand its product line to the global market, while manufacturing them locally.
"Wherever (the toys) are made, they would use the endangered animals in that location and local fabrics and fillers," Garcia said.
Garcia and Ruesch recently received a call from an 8-year-old boy from Orange County, California, who bought one of the toys at Whole Foods and wanted to buy every single animal to share with his friends, Garcia said.

"His parents drove 50 miles to come to Marina Del Rey so he could get the Javan Rhino," Garcia said. "To me, that was amazing."