Bruin hitting star Eric Filia gets second chance after two seasons away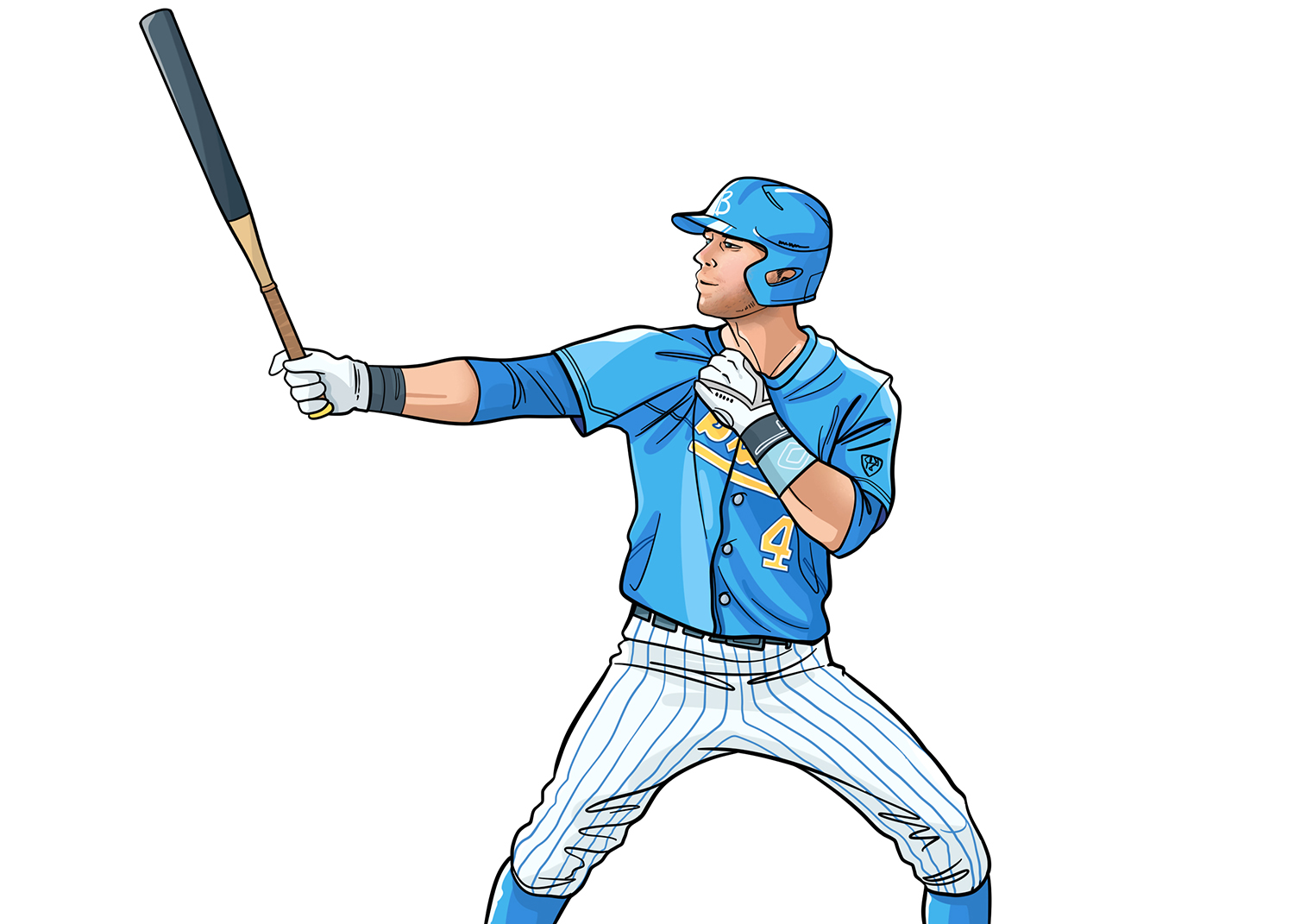 (Devin Le/Daily Bruin senior staff)
John Savage believes in second chances, but this decision wasn't easy.
"I went back and forth," the UCLA baseball coach said. "I didn't really ask other people's opinion. I didn't go that direction, I basically used my experience."
Night after night, Savage slept on it – running through the conversations he'd had with Eric Filia, considering whether the outfielder had learned from his mistake.
Savage decided he had. He decided to let Filia back into the UCLA program.
"I feel confident that he's turned his life around," Savage said. "He's just more mature, he's figured it out. He knows what's at stake, as well. This is it, this could be his whole career."
***
There might have been more impactful players on the 2013 UCLA team that won the baseball program's first national championship, but there was no bigger star than Eric Filia.
Then a sophomore, Filia batted third and led the team with a .444 postseason average, driving in eight runs over five College World Series games to earn a spot on the All-CWS team.
ESPN cameras repeatedly fixated on his then-girlfriend throughout the tournament, turning her into somewhat of an internet celebrity and even earning her modeling offers.
Filia went 4-for-6 in the two games of the CWS final, adding a defensive gem in the first game when he tracked down a deep fly ball and hung on as he slammed into the right field wall.
His success wasn't exactly a surprise. The lefty had pummeled pitchers for years.
BASEBALL: Freshman Brian Gadsby steps into shoes of legendary closer
As a freshman on varsity at Edison High School in Huntington Beach, California, Filia hit an even .500 – tying a school record set by 2000 National League MVP Jeff Kent – and garnered team MVP honors as the everyday center fielder.
It was not much longer until Filia was committed to the Bruins, telling the coaching staff that he wanted to be a part of the first UCLA team to win a national title. By the end of his sophomore season in Westwood, he had accomplished that goal.
In the wake of the title-clinching game, in which Filia knocked in five of the Bruins' eight runs, his career path seemed to be shaping up nicely. He would cement his rising prospect stock in the prestigious Cape Cod Baseball League that summer, return to Jackie Robinson Stadium to star for the Bruins the next spring and become a high pick in the 2014 MLB Draft.
None of that happened.
Filia went 1-for-15 on the Cape before heading home with an injury to his right shoulder. He performed physical therapy throughout the fall, but it didn't prevent him from needing labrum surgery. He was sidelined for all of the 2014 season.
That summer, instead of playing in a summer league, Filia took classes at UCLA. Toward the end of the summer, he was caught plagiarizing part of a philosophy paper.
Filia was suspended from UCLA for the 2014-2015 school year and ruled ineligible for the 2015 season. From a baseball perspective, he had options: He could sign a free agent contract with a professional team or he could transfer to a National Association of Intercollegiate Athletics school and wait for the next draft.
Instead, he moved back to Huntington Beach to live with his great-aunt and worked a couple jobs – one at a kite store on the pier and one at a car wash. He eventually landed a gig as an in-house butler at the Playboy Mansion, conversing with guests and cleaning up after parties.
In light of his mistakes, Filia said he's become very cognizant of his responsibility as a role model to his younger brothers, Michael and Bubba. He didn't grow up with them – they lived in Irvine with his dad and stepmom, while he lived in Huntington Beach with his mom, grandma and great-aunt – but he saw them every other weekend.
Filia wants each of them to develop into better ballplayers than he is, but more importantly, Filia said, he wants to convey the importance of school.
So even after the academic suspension, Filia wanted to make sure he earned his degree from UCLA.
In January, Filia approached Savage about returning to the program to play in 2016. The coach was unsure at first whether he could put his faith in Filia, who, even as he carried the Bruins in 2013, had never been Savage's most trustworthy player.
"He was kind of the funny guy, loose-cannon guy," Savage said. "He's kind of a white liar, a small liar."
Although Savage was surprised and disappointed by Filia's academic misstep, he wasn't shocked, he said.
"He was walking a tightrope," Savage said. "He was trending the wrong way, let's put it that way."
Back in Savage's office before the 2015 season started, Filia had to convince the coach he had matured.
"I had to learn from it," Filia said. "It really showed me who I had to be. … I just took it as, 'Hey, get your head out of your butt.'"
After plenty of deliberation, Savage decided that Filia had done that.
"It's a different presence about him, there's a different trust factor," Savage said. "He's doing things right, all the little white lies are gone."
The change in Filia goes beyond natural maturation, Savage said.
"What happened had to happen, I think he needed a left and a right," Savage said, pantomiming a punch with each hand.
"We took something away from him that he values the most – other than, I'm sure, his family," Savage said. "Baseball. Without baseball, this guy – I don't know. This guy needs baseball."
***
If Filia ever makes it to the big leagues – that's his goal, and Savage thinks he can reach it – it will be because of his ability to hit.
"He's one of those guys that has a magical bat, so to speak," said hitting coach Rex Peters. "One of those kids that can just get out of bed and hit." In his first at-bat last summer for the Kenosha Kingfish of the Northwoods League – almost two years since his last at-bat – Filia roped the first pitch he saw into center field for a single. He went on to hit .340 for the Kingfish.
"It felt like I never left," Filia said. "Yeah, I was out of the game for two years but when I came back on the field, I just felt right."
He looks right, too, when he strides into a batter's box.
"When he steps in the box, you can tell he can hit, just by the way he steps in the box and the way he carries himself," Peters said. "His confidence is very high. I don't think there's a pitcher out there that he doesn't think he can hit."
Peters said Filia has more natural hitting ability than all but two players he's ever coached – one is major leaguer Daniel Descalso, the other a 10-year minor leaguer. Former Edison coach Steve Lambright said he's never had a better hitter in his 23 years of coaching.
"Right now, if you took a poll of all the area scouts in our area that are watching Filia, they're seeing the same thing I am," Savage said. "I mean, this dude can hit. This isn't 'Oh, he's got a good swing.' No, this dude can hit."
College baseball has changed since Filia last played – the NCAA introduced new baseballs last year, pulling the sport out of a so-called dead-ball era and raising offensive statistics significantly.
"You're going to see some numbers from Filia – knock on wood – I think he's going to catch a lot of people off guard," Savage said. "I think he's one of the best hitters in college baseball and people are going to find out this year."
Filia, who stands to benefit from the new offensive environment, has changed, too.
Whereas the 2013 team saw Filia as a jokester, Savage said, the 2016 Bruins look up to him.
"Even though he's not labeled as a captain, his leadership qualities seem to be off the charts," Savage said. "He's a much better practice player, he plays harder. There's no agendas. There's no underlying fakeness to it. It's legitimate."
Cummings joined the Bruin as a freshman in 2014 and contributed until he graduated in 2018. He was an assistant Sports editor for the 2015-2016 academic year and spent time on the football, men's basketball, baseball, cross country, women's volleyball and men's tennis beats.
Cummings joined the Bruin as a freshman in 2014 and contributed until he graduated in 2018. He was an assistant Sports editor for the 2015-2016 academic year and spent time on the football, men's basketball, baseball, cross country, women's volleyball and men's tennis beats.