On the media frenzy surrounding faith and football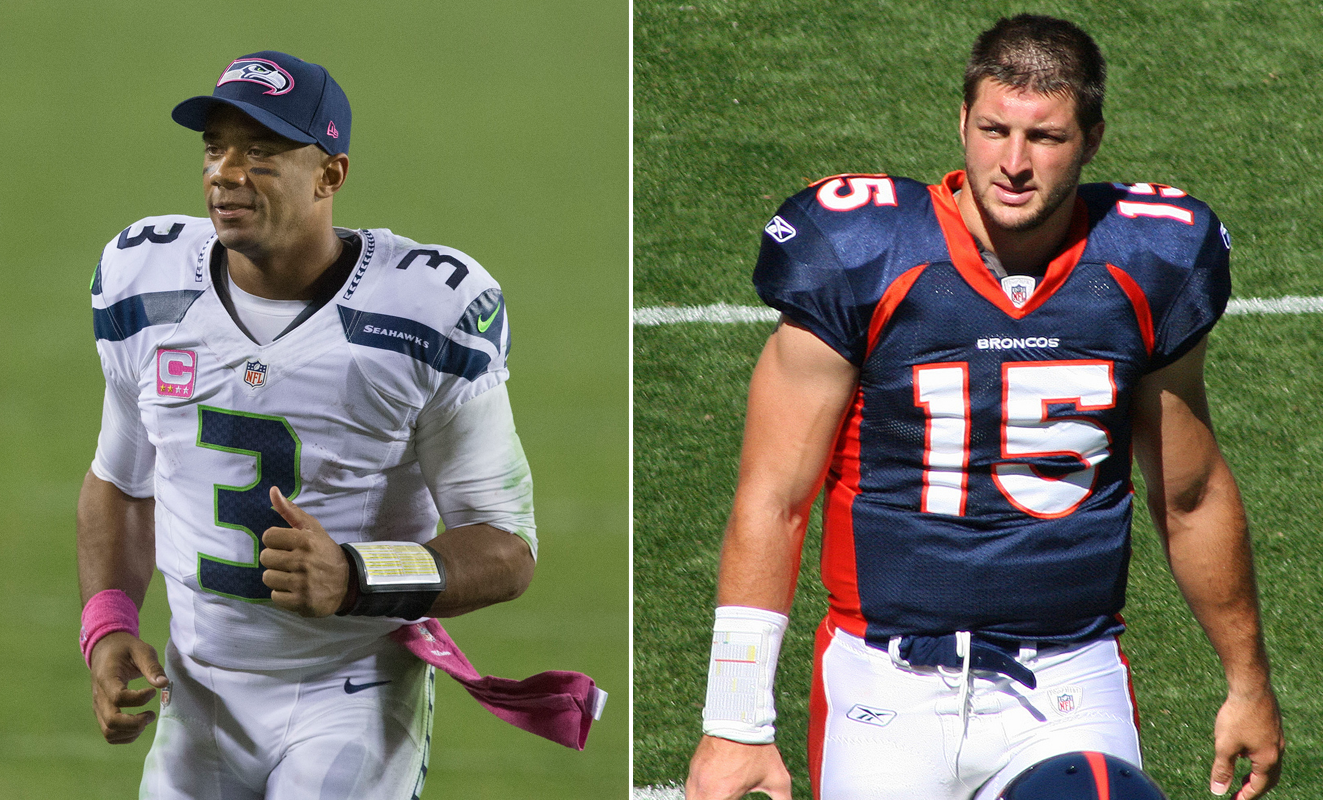 In the NFL, Seattle Seahawks quarterback Russell Wilson and former Denver Broncos quarterback Tim Tebow have been subject to extensive media coverage due to their public statements relating to their Christian faith. (Creative Commons photos by Keith Allison and Jeffrey Beall via Flickr)
February 17, 2016 7:28 pm
What do quarterbacks Russell Wilson and Tim Tebow have in common?
Judging by their playing careers, probably not a lot – they might even seem like opposites if you think about it.
Tebow led the Florida Gators to two national titles but ended up a first-round bust in the NFL after his pro career fizzled out in three seasons. Wilson, on the other hand, managed to transform himself from a third-round pick into the Seahawks' Super Bowl-winning franchise quarterback.
I guess what they have in common has more to do with what they haven't done.
In July 2015, Wilson made headlines after the national media scrambled to report on his decision to honor God by keeping his relationship with singer Ciara celibate. During the Seahawks' slow start this season, if you happened to be on Twitter, you might have chanced upon Seahawk sexual innuendo, ranging from tweets asking Ciara to "unlock the box" and let Wilson "get them goodies," to the less creative tweets imploring Wilson to get laid so Seattle can start winning again.
A few months later, in December, reports surfaced regarding Tebow's one-way trip to splitsville by ex-girlfriend Olivia Culpo for choosing to remain chaste.
Cue the headlines from news outlets about Tebow failing to find the end zone – yes, that actually happened. And here's one for the haters of puns out there. The ugly truth is the media's penchant to dig up athlete gossip comes as a byproduct of a Kardashian-era society where it's assumed anyone with a Wikipedia page should have their details of their private life disclosed for the world to see.
But I don't doubt that this level of scrutiny also comes because the religious beliefs of these individuals deviate from cultural norms that normalize promiscuity and premarital sex. In this case, maybe it's also a rare chance to point and laugh at the perceived shortcomings of society's athletic paragons and take them down a peg.
To be fair, there is a strong association between football and religion. It's almost a given that coaches and players will praise the Lord in a post-game interview, but anything beyond that devolves into a media frenzy.
The media's infatuation with the outspoken religious fervor of Tebow ascended the son of Baptist missionaries into a household name in 2011. But many believe that his faith-based fame became a double-edged sword, and the media circus that follows his every step was a potential team distraction that has condemned the former Jet and Bronco in the eyes of NFL coaches and general managers around the country.
Some may attribute that aversion to Tebow's questionable throwing arm, but there are others, such as ESPN's Skip Bayless, who argue Tebow's proven winning record as a starter would have warranted him more chances under normal circumstances.
We can keep speculating on what the reasons are, but we'll never know the real answer. The media outlets have already engineered a potential red herring by opening a Pandora's box.
There's also been recent speculation on TMZ Sports about the interior struggle that must be going on between Wilson's religious beliefs and biological functions solely based on Ciara's Grammy outfit. Good thing he managed to win a Super Bowl before announcing his recommitment to celibacy, or who knows if he'd still be playing.
The media has oftentimes been maligned for blowing minor situations out of proportion, but if we look at the case studies of Tebow and Wilson in a bubble it's hard to argue against those who resentfully opine against the press.
That same desire to cover religious oddities is why even after Tebow Time's 15 minutes of fame is long gone, rumors still keep piling up on what the former NFL player's new team might be – by the way, there's speculation about him joining the Cowboys or 49ers now. This is in spite of how most former players who fall to the wayside of the NFL quickly fade into obscurity. But I mean, wouldn't you love it if Tebow was picked up by a team and you could read a new article about him every day?
In all seriousness, the over-scrutinization of the personal lives of devout athletes has become an epidemic in sports media coverage, and it really shouldn't have a place in sports journalism, whether or not it's a slow news day.
So when we encounter the next batch of pious athletes, how about we stop making a big deal about it, and just let 'em pray?