Brazilian restaurant owner pours passion for cuisine into Westwood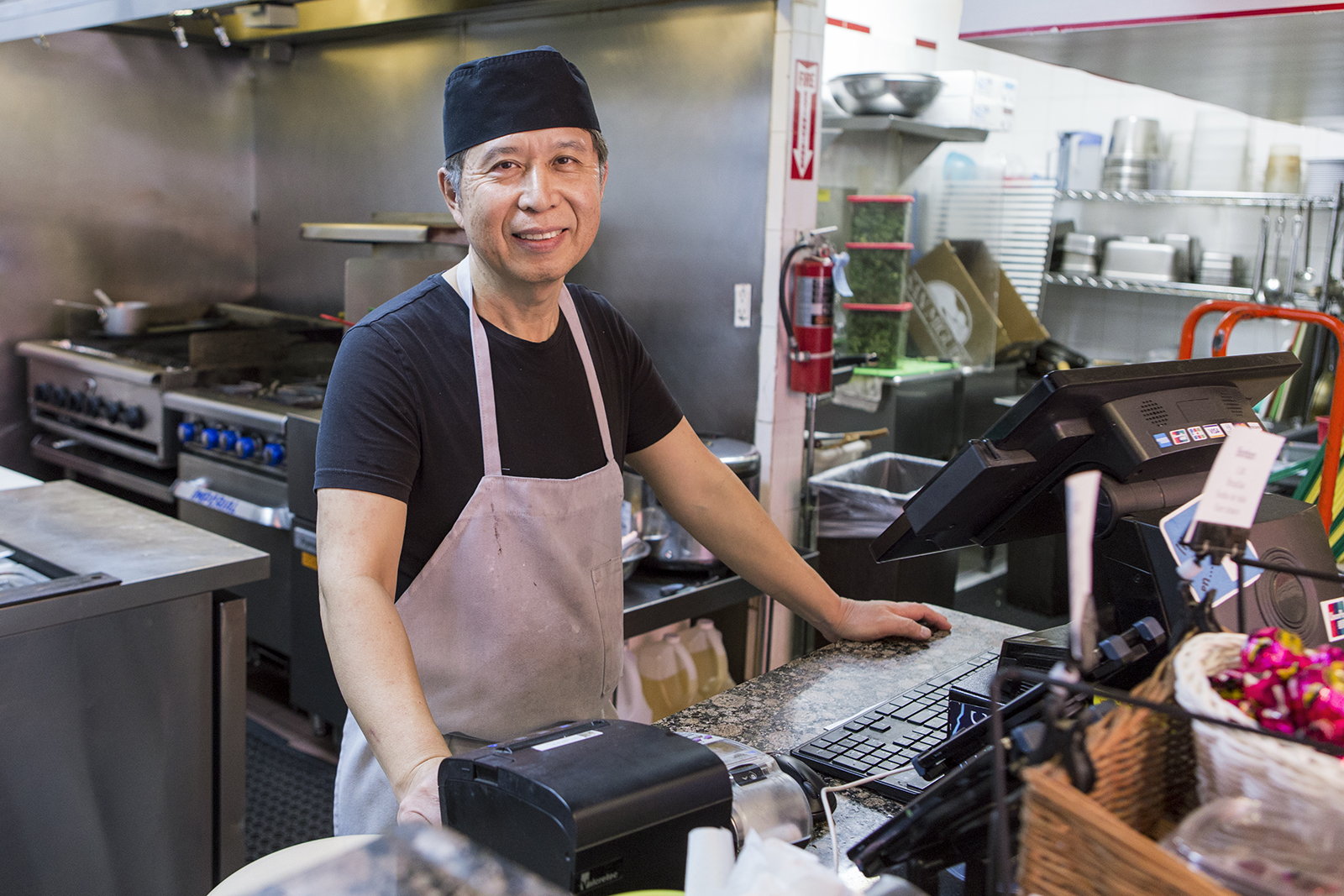 Do Hun Kim, who grew up in Korea, founded Mesa Brazilian Eatery after living in Brazil for 34 years. (Marley Reid Maron/Daily Bruin)
Nine-year-old Do Hun Kim walked into Paraná, Brazil, excited to begin what he thought was a vacation. At the time, he was unaware Brazil would be his home for the next 34 years.
Kim's knowledge of Brazilian cuisine and culture later helped him make a living for his family in Westwood Village. Kim, now the owner and head chef of Mesa Brazilian Eatery on Lindbrook Avenue, cooks traditional Brazilian dishes – meat, beans, rice and cheese balls, among other selections – inspired by his upbringing in Brazil.
Kim grew up in Kumho-dong, South Korea, before immigrating to Brazil shortly after the Korean War. He was born three years after the war ended, but said he experienced the poverty and unemployment that came with its aftermath.
"Even after the war, everyone suffered from poverty and competed for a limited number of jobs," Kim said. "My father had escaped from North Korea to the South for a better life, but in doing that he had to leave my oldest brother behind. We haven't heard from him since the war."
Kim said he refused to let the challenges he experienced bring his spirit down and instead bonded with his community in Kumho-dong. He still fondly remembers playing with his friends and having only two worries – living and eating.
Kim said his father lived a simple life but in 1965 grew impatient waiting for post-war situations to improve. He said his father wanted to be a landowner who could provide better opportunities for his children.
That November, Kim's family boarded a cargo ship with about 60 other Korean families and began their two-month journey to Brazil, rumored to have large plots of land for sale and friendly people.
Kim said he quickly assimilated to his new hometown once he arrived. The Brazilians' hospitality helped the families settle in, and he discovered a knack for learning Portuguese and making new friends.
"Over time, I became culturally Portuguese and considered Brazil my home country," Kim said. "I still feel my Korean identity, but now Korea is just a country to visit and not my home."
Kim said he noticed food had a huge role in Brazilian culture. He would often run into his friends' houses without invitation and go straight to the kitchen, because many Brazilians were too poor to eat out all the time.
"Brazilians tend to cook their own food, which made it easier to bond with others," Kim said. "It wouldn't matter if there were five servings and 10 people, we would always share."
Kim's parents started a farm in Paraná, where they raised chickens, pigs and soybeans. Pyeonghwa Broadcasting Corporation, a South Korean cable company, created a documentary that featured the Kim family's farm, as more Koreans immigrated to Brazil.
Kim studied industrial design at a university in Curitiba, Brazil, but dropped out after deciding to open a women's clothing store. He met his wife through the business and eventually moved to Sao Paulo, where he started his own family. He continued to work in retail, but food was always in the back of his mind.
"I enjoyed business from an early age, and I always wanted to open a restaurant," Kim said. "Brazilians love to host barbecues on the weekends, but cooking was always just a hobby and I didn't feel like I knew enough about food to sell it."
Kim said he decided to move his family to Los Angeles because he believed the United States offered more education opportunities for his children, mirroring the decision his father made for him 34 years ago. He continued to sell clothing in the Fashion District in Downtown Los Angeles until 2014, when he decided to use what he had experienced in Brazil to open Mesa Brazilian Eatery in Westwood Village.
Kim said he noticed the Westside lacked diverse restaurants where college students could order fast, good-quality food.
"Brazil offers a lot of seasonal and regional variety, but not many have tried the cuisine," Kim said.
Anna Huang, a first-year undeclared social science student, said she thinks the limited number of menu items shows the owner's focus on providing only the best, which keeps her coming back regularly.
Kim said the most important thing the restaurant has done is allow him to understand his children and his customers on a more personal level.
"I feel very fulfilled by this restaurant," Kim said. "Nowadays, life is so individual because everyone is always on their cell phones. But by cooking for others and seeing them enjoy my food, I am able to connect and interact with all different types of people."
Filipe Kim, Kim's middle son, said family members depend on each other to make the business work.
"Before I didn't spend that much time with my father, but now cooking together every day is a chance to get to know him better," Filipe Kim said.
Kim said he uses this restaurant to test out different cuisines and cooking strategies, and is still considering taking up other business ventures.
"Of course there's bound to be hardships and conflicts in life," Kim said. "But isn't that what living is all about?"
Janae Yip is currently a news contributor covering Westwood, transportation and Los Angeles.
Janae Yip is currently a news contributor covering Westwood, transportation and Los Angeles.