Submission: Lasting love makes long-distance college relationships worth the plunge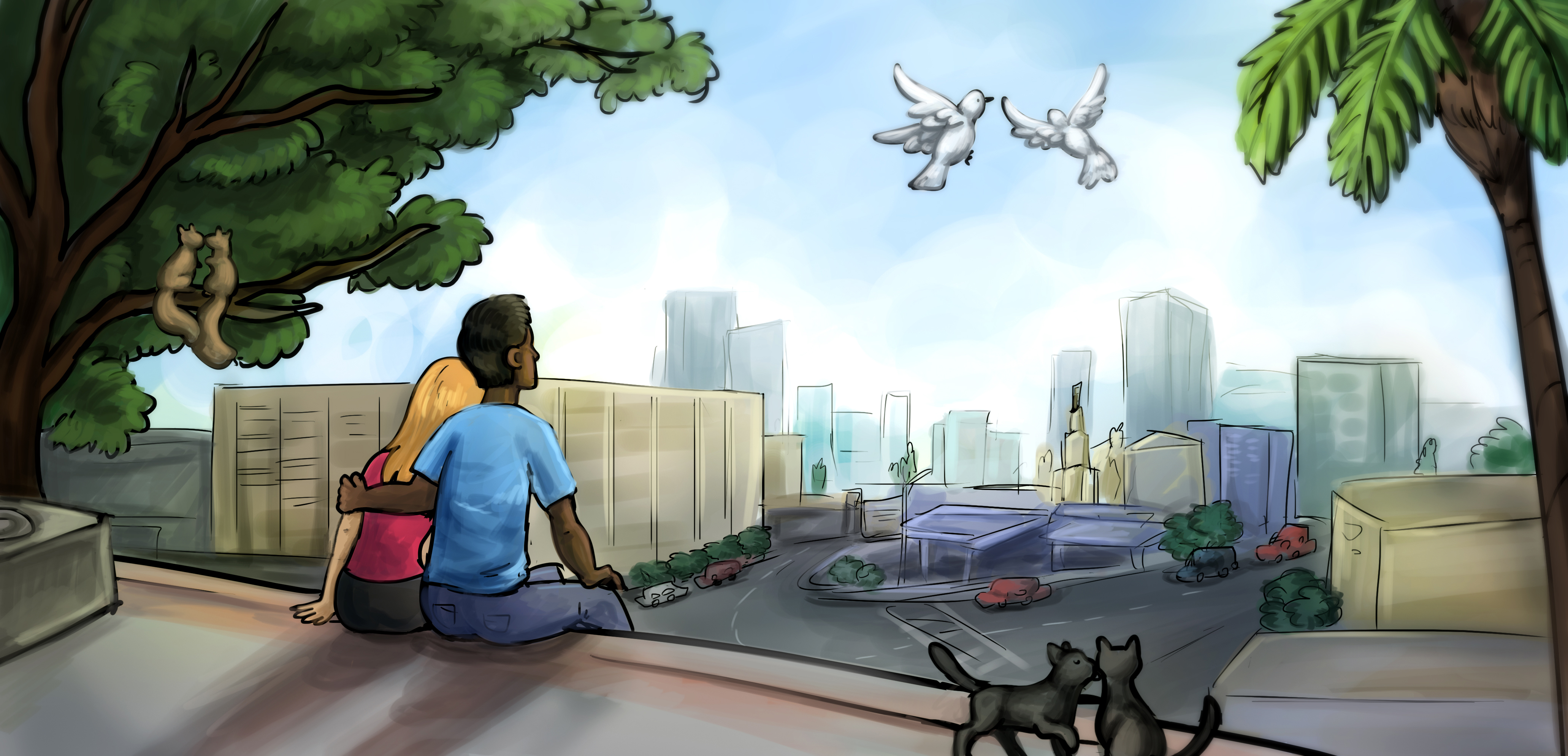 (Kelly Brennan/Daily Bruin senior staff)
By
Daily Bruin Staff
Feb. 12, 2016 11:19 a.m.
We're standing in front of a beer-covered Christmas tree, tucked in the corner of a dimly lit apartment, illuminated only by the cheap $5.99 twinkle lights randomly strung up all around us. He and I are alone – except for the faint sound of music from the party down the street. Though the conversation is great, what strikes me most is the feeling. It's a feeling I know we both felt, where the earth is slowing, it's spinning by just a fraction of a second to give us one more chance to enjoy this moment. That distinct, beautiful, I'm-going-to-remember-this-forever moment. The moment you think of most when you spend most of your relationship almost 3,000 miles away.
I didn't always have to cling to that memory. For a seemingly endless amount of time, the relationship felt like a fairy tale, a feeling buoyed by the fact that he was no farther than a quick text away. But with a whole world outside of this small life we've all made here, there are endless possibilities – many of which are not very proximate. Then one day, it happens. He gets into his dream school. And it just so happens to be 2,986 miles away. Your shoulder angel tells you to smile, to be proud – someone so special deserves the absolute best. Yet the devil on the other side weeps for you, because what was once the most predictable and stable part of your life has just become a ticking time bomb.
And sure enough, those months turn into weeks. I sit at his graduation, squished between relatives, wondering if in a year he'll do the same. Then, weeks turn into days – and soon he's about to leave. I say, "How could 168 hours possibly fly by?" Then, suddenly, 48. Then 24. Then we're sitting on your rooftop, staring out into Westwood. You leave in 12 hours. We tell each other it's temporary, but we don't know that. Armed with only optimism, we let those 12 hours pass. And then things changed.
When I say things changed, it's often seen as pessimistic. And that's the problem – people can be so afraid of change that even the slightest hint of it can drive one to nihilism and fear. Our time at UCLA is temporary, to be replaced by boundless opportunity and a bright future. But just as a bright light leaves us blind for a few moments, the future holds that same disorienting uncertainty that brings us to a paralyzing distress. And when classes, work, internships, career paths, extracurriculars and social lives suffocate us to a point of anxiety and the ever-so-familiar sense of sleep deprivation, the one never-failing solace is the thought that no matter how far away, someone out there is thinking of you with clear and unconditional love.
And so that cheesy Christmas tree moment turned into a memorable time at UCLA. And that memorable time turned into a strong and lasting relationship that just so happens to frequently rely on telecommunications. But in a time where students spend an intangible amount of time updating their lives for all of their followers on endless social media platforms, it doesn't seem unreasonable to update my life to the one I love.
I won't say it's the easiest thing in the world. When tragedy happens, little is more painful than being kept apart from the unconditional love you need to save you. But relationships should serve to augment your happiness, not solely define it. That time apart allows you to rely on yourself to get you through your days – whether good or bad. And while it may have lessened our physical time together, it has truly heightened our emotional connection. And instead of seeing our situation as a deficit, we took it to our advantage – the thousands of cities between each of us represent opportunities, not obstacles.
Long distance is just about reinventing love in a creative way that works for you. It's accidentally falling asleep on a FaceTime conversation together, or coming home to a huge bouquet of sunflowers at your door. It's the scheduled surprise food deliveries from a place you've never heard of, or the not-so-scheduled 3 a.m. phone calls after a long night out. It's seeing each other after a draining month apart, and still knowing at every moment that this is all worth it. And it's being OK with the uncertainty of the future, because that's what makes you both the happiest today.
So to anyone faced with this decision – or indecision, more accurately – and to those filled with fear: Take the plunge. You'd be surprised at how strong you can be.
Ann is a fourth-year molecular, cellular and developmental biology student.